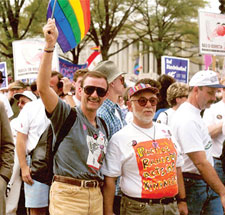 Stuart Wilber
At 71, Stuart Wilber may be of retirement age. But put away your brochures for age-restricted golfing communities or shuffleboard tournaments — he's just getting warmed up.
"I'm just a marcher who saw a need and wanted to get more people to D.C., so I started writing letters," says Wilber, who'll be making the trip to from Seattle to D.C. with his partner, John Breitweiser, 61. "Several were to [Parents, Family and Friends of Lesbians and Gays], because PFLAG had not endorsed the march. They've come around."
Although he's been something of a march cheerleader, Wilber shares many of the concerns of those who have been critical of the event since it was announced. He and Breitweiser even cancelled their initial Washington reservations, succumbing to their own ambivalence.
But considering today's political climate, the progress — and lack thereof — since the couple last marched in D.C. for gay equality, 1993, as well as his own mortality, they re-booked the trip and committed wholeheartedly.
"I think we're at a point where gay people, where we have done almost everything we can to fight for our rights. Part of the reason I am going to this march is frustration, but also the need to bring this up again and again.
"With a Democratic Congress and Democratic president, whom we helped elect, this may be our last chance – in my lifetime – to achieve equality."
---
.