Tears, laughter, applause and praise to Jesus Christ filled the walls of the D.C. City Council Chambers Monday afternoon — and far into the evening — as nearly 100 people came before the Council's Committee on Public Safety and the Judiciary to testify about a bill that would grant marriage equality in the District.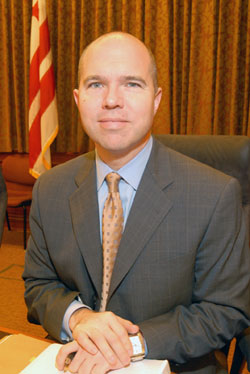 Councilmember David Catania (I-At Large)
(Photo by Ward Morrison)
Oct. 26, the first of two days of testimony, to be continued Nov. 2, on the Religious Freedom and Civil Marriage Equality Amendment Act of 2009, the overwhelming majority of speakers at the Wilson Building supported the bill, which was introduced by Councilmember David Catania (I-At Large), one of the Council's two gay members.
Local lesbian Shana McDavis Conway was among those supporters. She testified about how vulnerable she felt after she and her partner were involved in a car accident and taken to the hospital.
"I feel lucky to live here in D.C.," she said before breaking into tears. "Most straight Washingtonians do choose to allow us to operate as though we were married, even those who are sometimes uncomfortable with same-sex relationships. But I don't want my ability to take care of [my partner] to be dependent on the whims of strangers."
Marisa Levy, who is straight, talked about her wedding day when testifying in favor of the bill.
"It was a perfect day with one exception," she said, also crying. "My brother Ryan had to look on as his younger sister took a rite of passage that he has been categorically denied.
"My brother Ryan and his partner have been together for 15 years. … I just don't understand what makes me so special. Why am I allowed to choose my partner and be recognized by Washington, D.C., and my brother cannot?"
Sitting with his partner at the witness table, another public witness, Edward S. Grandis, testified in favor of the bill and lightened the mood by concluding: "As Beyoncé would say, 'Put a ring on it."'
And Barbara Helmick, a lesbian whose wedding was embraced by her family back home in Iowa, where marriage equality is the law, declared, "Iowa is handling this. I think we can too."
But the tone of the hearing wasn't entirely light-hearted or pro-equality. It was much different when Bishop Harry Jackson Jr. and his supporters were inside the chambers, happy to address questions like the ones Levy asked in her testimony with stickers declaring "Marriage equals One Man and One Woman."
Benjamin Thomas brought a dictionary as a prop, offering that when he reads the definition for marriage, it is still described as a union "between one man and one woman."
And there was also Kathryn A. Pearson-West, who did not take kindly to Catania's opening remarks in which he compared today's marriage-equality struggle for LGBT people to Loving vs. Virginia, the 1967 Supreme Court case that struck down Virginia's ban on interracial marriage.
"I'm outraged," Pearson-West said loudly, as others applauded her remarks. "I think it's a joke. We talk about Loving vs. Virginia, which is between a man and a woman, and it's about race, and you insult the African-American community. I think it's just so outrageous to connect this issue with civil rights…. All of us have gay people in our family, or friends, or whatever. We love them. But that does not mean that they're guaranteed the right, or they're entitled to marry."
Jackson and his supporters opposing the bill left the Council Chambers immediately after Jackson testified, about two hours into the nearly eight-hour meeting, reducing the overflow crowd to a chamber of mostly bill supporters. Jackson concluded his testimony by saying it is important that D.C. residents have a chance to vote on the bill, before he offered a brief history of voting rights in the District.
"We're faced with the very real possibility that this Council will deny the people the right to voice their opinion on the largest public-policy issue of our time, the definition of marriage," a soft-spoken Jackson said.
Catania countered Jackson's testimony by offering insight on the only other time D.C. has allowed its citizens to vote on the rights of a minority group: Dec. 21, 1865.
"That advisory referendum was placed there because Mayor [Richard Wallach] at the time was fearing what the radical Republicans wanted to do in Congress, which is to extend the right to vote to free African-American males in the city," he explained. "The vote was, in Georgetown, 712 to 1 against expanding the franchise to free African-American males. In the rest of the city it was 6,591 to 35.
"So, as you can tell, there is an opportunity from time to time to have tyranny at a ballot box that would take away the rights of some because the majority thinks differently. That is why I reject that as a proposition."
Catania also shed light on Jackson's voting record in the District.
"I've been in the Maryland suburbs," was part of the response Jackson uttered when asked by Catania about how many times he has voted in D.C. during the past decade.
Among those testifying in support of the bill were Rev. Dennis W. Wiley, who is straight, of the Covenant Baptist Church in Southeast; Michael Crawford of DC for Marriage; attorney Michele Zavos; and Rick Rosendall of the Gay and Lesbian Activists Alliance.
"Bishop Jackson talks as if gay people just arrived here from another planet," Rosendall said during his testimony. "In fact, our roots in this city run deep. We have helped build our communities, and we will defend them from the ministers of fear and intolerance.
"To our opponents: Our lives are as worthy as yours. Our love is as strong as yours. And our resolve is as great as yours."
Public testimony regarding Bill 18-482 continues Monday, Nov. 2, at 9:30 a.m., 5th Floor Council Chambers of the John A. Wilson Building, 1350 Pennsylvania Ave. NW.