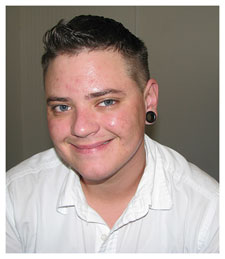 Tobias Packer
Florida has a reputation. Two, actually.
The glamorous one involves the miles of sizzling beaches, the excruciatingly hip South Beach and the final frontier of Cape Canaveral.
The second, and far less glamorous reputation involves an extreme ban on gay people adopting children, a town that fired its city manager when she announced her gender transition, and a hospital that separated longtime same-sex partners as one died alone behind closed doors.
"I live in a state that has no protection for me," says Tobias Packer, 26, a gay transgender man, and a native Floridian living in Miami. "The way I came to Equality Florida was looking for assistance after being denied employment repeatedly. I fight every single day for the right to live as an equal citizen in my home state."
Turning to Equality Florida, the state's primary group fighting for GLBT equality, was more beneficial than Packer could've imagined: They hired him. Today he's the group's new media manager.
Come Oct. 11, he'll be speaking onstage to those rallying for equality in D.C. Having been selected to speak means canceling attendance at a Democratic convention in Orlando, among other obligations — as well as mustering the nerve to speak before a larger crowd than any he's addressed before.
Far from seeming nervous about the engagement, Packer exudes a kind of charming righteousness.
"As a trans person, I can say I know the sting of what it's like to be denied employment or treated as less than human in an emergency room. All equality legislation is important. Here in Florida, we have a gay adoption ban. To me, while I may not be immediately considering adopting a child, that it's on the books is a dehumanizing insult to me. We always have to fight in every corner, on every front that we possibly can.
"This is a moment for so many people – me, too – for real inspiration. This is a moment we can come together and stay committed."
---
.