It was the inverse of the "perfect storm." Rather than forces of nature converging for maximum destruction, elements of society were converging for maximum exposure — exposure of GLBT equality, and the lack thereof.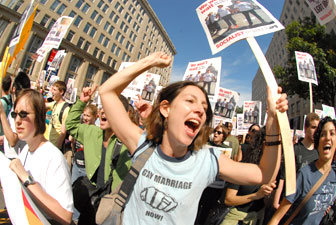 National Equality March
(Photo by Ward Morrison)
That convergence had emotions running high in Washington, making for a weekend marked with laughter and tears aplenty. Earlier in the week, D.C. City Councilmember David Catania (I-At large) introduced legislation Oct. 6 to bring marriage equality to the District. By Saturday night, President Barack Obama was speaking at the Human Rights Campaign's 13th Annual National Dinner, which also included Matthew Shepard's parents, Dennis and Judy, that night — a day shy of the 11th anniversary of their son's death — becoming the first recipients of HRC's new Edward M. Kennedy National Leadership Award. On Sunday, Cleve Jones's call for a march on Washington was realized as tens of thousands walked through the city to the Capitol in the National Equality March.
The president opened his highly anticipated speech with a moment of levity.
"It's a privilege to be here tonight to open for Lady Gaga" he joked. "I've made it!"
While Obama's speech, including his reiterated pledge to end the military's "Don't Ask, Don't Tell" policy, made the headlines, Saturday's real stars were neither him nor Lady Gaga. The night's greatest outpouring of admiration went to the Shepards.
Dennis and Judy Shepard were visibly moved by the prolonged standing ovation they received as they walked onstage.
"What we received tonight is a family affair — our family, and the rest of our family," said Dennis Shepard, gesturing to the crowd. Their appearance was the highlight for many.
"Seeing the legacy of Matthew Shepard honored, and seeing his mother and father here standing arm in arm with the gay community was just really moving," said Ajit Joshi, a member of HRC's board of governors, after the dinner. "It's great to know his life was not in vain."
Added HRC's Candace Gingrich, half sister of Newt Gingrich: "I don't think in all the 13 of these [dinners] that I've been to that I've ever cried as much."
Eric Alva, the gay man with the distinction of being the first American soldier injured in the Iraq War in 2003, and who has become a leading proponent of ending the Pentagon's Don't Ask, Don't Tell policy, was listening closely to Obama's DADT comments.
"It was very inspirational," he said of the president's speech. "He has a tough job, but I have full optimism that the president will deliver on his commitment."
Saturday's exclusive, black-tie soiree gave way Sunday to an egalitarian action that brought thousands to the capital — with just four months of preparation — to demand full equality for GLBT Americans.
One of the Sunday chants captured the day's mood of anger, cheekiness, resolve and pride: "We're here, we're queer, we're fabulous, don't fuck with us!"
The large turnout drew onlookers, supporters and even a few protestors, the latter holding signs and megaphones, condemning participants to "AIDS, hell and salvation," as one sign read. But not that, nor the vandalized entrance of the Human Rights Campaign building on Rhode Island Avenue — responsibility for which was claimed by a band representing the "queer liberation movement" — nor the cars displaying placards decorated with homophobic speech did anything to dampen the participants' enthusiasm.
Billie Tadros, 21, and her girlfriend Katie Falvo, 20, of North Jersey, N.J., were among the marchers, wearing wedding veils as they walked, stopping occasionally to kiss for photo ops.
"I want to secure that in the future I can marry this woman," Falvo said, gesturing to Tadros, adding that the large turnout had moved her to tears.
"I've cried more than once. It's just incredible that this much support, in all ages, in all sexual orientations, in all genders, are out here."
Speakers like former Clinton White House advisor, Democratic activist and author David Mixner continued to inspire marchers throughout the all-day event, speaking on a stage in front of the Capitol, about his own personal struggle for civil rights, which has included losing his partner to AIDS.
"When people tell me to be patient … all I can think about is how many more tears should be shed so some politicians in a back room can figure out when it's convenient to join us, and to fight for our freedom."
Derrick Smith, 23, from Cleveland, said he was most moved by Iraq War veteran Lt. Dan Choi, an Arabic linguist currently being discharged under DADT, who appeared onstage in uniform with black tape across his mouth, and Cynthia Nixon, the lesbian actress of Sex and the City fame, who introduced Judy Shepard.
"I'm not one who really cares about gay marriage, but after hearing [Nixon's] words, I can say that now I understand why it's so important," Smith said.
Nixon says restricting marriage rights to couples of opposite genders sends a message to the population that gay people are somehow inferior.
"That message is heard loud and clear by the worst elements in our society," she added. "And it instructs them that if they are looking for someone to bully, or beat, or even kill, if they are looking for someone vulnerable to prey upon, gay people are a ready target."
Tif Fernandez, 44, a Radical Faerie from New York City, walked the march route wearing leaves on his head.
"Whenever the community gathers, we try to make it festive and magical," he said of his outfit. "I think this is a marvelous success and it's overwhelming. I was moved to tears."
Other speakers at the rally included Julian Bond, chair of the National Association for the Advancement of Colored People (NAACP); Dustin Lance Black, Oscar-winning screenwriter of Milk; Kim Coco Iwamoto, a transgender woman who is a member of the Hawaiian Board of Education; and Lawrence Webb, a gay member of the Falls Church City Council.
Longtime activist and Harvey Milk protégé Cleve Jones, who originally called for the march at Utah Pride Fest on June 7, spoke loudly before the cast of Hair performed "Let the Sun Shine In."
Jones said Equality Across America, the group formed to organize the event, and the California-based Courage Campaign will launch a national campaign for equality.
"We are going to build action teams in all 435 congressional districts and we are going to say to our president, to our Congress and to the leaders of our own organizations, no more compromise, no more delays," he demanded loudly. "We are equal."