Some times one simply has to say, "Enough."
For Phil Attey, that time came in the aftermath of the recent decision by Maine voters to repeal the state's new law that had provided marriage equality to its gay and lesbian citizens. A primary force in that repeal was the Catholic Church — the same church in which Attey grew up, the same church in which he almost served as a priest.
Through "second collections" and other efforts, the church raised huge sums to fight the pro-gay law, a fact that caused Attey to go "ballistic." He says the Archdiocese of Portland was essentially "laundering money for the Catholic Church."
And what happens in Maine is unlikely to stay in Maine.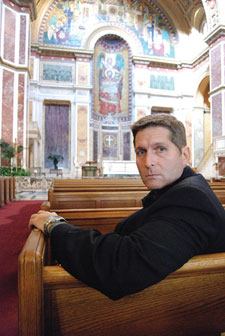 Phil Attey
(Photo by Todd Franson)
"We can expect them to flip the switch and turn on the money hose again," he says of the marriage equality battles still on the horizon.
Or the battle currently underway in D.C., where the Archdiocese of Washington, under the leadership of Archbishop Donald Wuerl, has taken a public and strident stand against the marriage legislation currently being considered by the City Council, and Catholic Charities has threatened to suspend its government-funded programs serving the homeless and others if marriage equality becomes the law of the nation's capital.
Attey's response — his "enough" — is what he calls an attempt to expose the hypocrisy of a church that depends daily on the existence of gay men: a web-based campaign by the name of churchouting.org.
From the site's opening page: "This site was created to provide you with the opportunity to save LGBT youth from the hypocrisy of priests in the Archdiocese of Washington who are socially, romantically or sexually active gay men, yet stand silent while Archbishop [Donald] Wuerl and the U.S. Conference of Catholic Bishops increase their dogmatic war against gay families."
Attey says the hypocrisy is built on compliance from a priesthood that has traditionally been a home for gay men: "If every gay priest were fired, the Catholic Church would stop in America."
Despite the provocative name, Attey insists the site isn't about publicly outing priests: "That is not our intent to do that."
The goal of churchouting.org, he says, is to gather stories and information about closeted gay priests — particularly those who may be out socially but closeted professionally — in the Washington area that, after the stories are researched and confirmed, will allow those priests to be approached about signing on to support the declaration of Clergy United for Marriage Equality, a D.C.-based group.
"It's like an intervention, with the tough love and support you need," says Attey. "Consider this a spiritual intervention."
While reaction from conservative blogs and publications was predictably condemnatory, reaction from LGBT web sites tended toward the mixed. D.C. activist Mike Rogers, well-known for his work on outing such public figures as disgraced Sen. Larry Craig, wrote, "Applying my thought process on outing political players, I think it's a good thing to expose hypocrisy like this when the clergy are leading the fight against us. I am not sure where I fall in terms of outing clergy who are merely silent on the issue."
Gay blog Queerty poked some fun at the "no outing" stance of a web site named "churchouting": "What's the fun in that? There is none! Sure, we get the noble mission: Find the gay priests and then engage in dialogue with them. But no single (gay) priest is going to convince the Archdiocese's leadership … to give up on its anti-gay crusade just because a website has the name of an allegedly gay priest."
Still, even those who don't directly support Attey's effort understand why it is happening and what good may come of it.
Joseph Palacios, a Georgetown University professor and organizer for Catholics United for Marriage, understands the difficulties those silent priests face, which is why he remains "ambivalent" about churchouting.org. He's an openly gay priest himself, the only Catholic priest thus far to sign the Clergy United declaration.
"I know priests who are gay," he says. "There are priests who in my opinion are complete hypocrites, [who] are probably leading a gay lifestyle in violation of their vow of celibacy. What pressure is there other than this tactic to kind of put some pressure on them."
However, his own experience as an out gay priest cautions against prejudging a priest who may be gay.
"Where I'm not for it is gay men who are in the priesthood and actually celibate, but because they're out in the community like myself, people might [assume we are] in violation of our vows." Palacios says the misperception is that because "one is vocally gay, one has a lover."
He also notes that in his experience, the ranks of priestly hypocrites include many heterosexual priests with lovers.
"I think professional men like this are very adept at compartmentalizing their lives."
Attey, who has worked for the Human Rights Campaign and currently consults on the use of web-based and social media for political campaigns, himself planned to enter a Catholic seminary in the late 1980s, following a time-worn tradition of later-born Catholic sons — often gay — entering the priesthood. He left because he determined he couldn't face the dilemma that has become so prominent for today's gay priests: knowing one is gay while being ordered by the church hierarchy to take action against LGBT rights.
"I chose not to have to face that decision," he says.
Now Attey hopes to convince priests who do face that decision to finally say "enough" themselves. But, in the end, will he be able to convince those silently gay priests to speak up against the church's hierarchical demands to battle marriage equality?
God only knows.
For more information, visit churchouting.org, follow on Twitter @churchouting, or e-mail . The D.C. group Clergy United for Marriage is on the web at clergyformarriage.com.