Longtime gay activist Larry Stansbury, 61, died Saturday, Oct. 31, following a weeks-long struggle at the Veterans Affairs Medical Center in the District.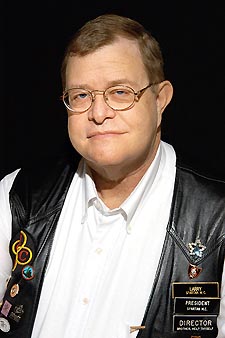 Stansbury
(Photo by Todd Franson/file photo )
"It was an ordeal," says Steve Blum, Stansbury's roommate and friend of many years, responsible for making medical decisions on Stansbury's behalf. "It started about eight weeks ago when he fell and broke his hip. They didn't want to do surgery till he stabilized. Then he got an infection. Eventually his kidney and liver shut down."
Stansbury had a history of renal problems, Blum says, including two kidney transplants.
Blum says that on the advice of Stansbury's physicians he allowed them to cease "all aggressive treatment," save for those efforts that served to keep Stansbury comfortable, last Tuesday, Oct. 27.
"It seemed everything we were doing was making him uncomfortable," Blum says. "It was futile."
Stanbury's deep community roots include volunteering for decades with Capital Pride, as well as serving as a founding board member of the Capital Pride Alliance, which took responsibility for the annual event in 2009; heading Brother Help Thyself, a gay philanthropic group, for several years; and being a member of the Spartans MC of Baltimore, Md., and Washington, D.C.
Stansbury earlier wrote a directive that in the case of his death he would like those three organizations to be remembered in his nam
Blum says that, per Stansbury's wishes, his remains will cremated. Blum adds that a memorial celebration of Stansbury's life has been set for Saturday, Dec. 12, beginning at 1 p.m. in the lobby-level reception room of the Alexandria Knolls West condominiums, 6101 Edsall Road, Alexandria.
An extensive biography of Stansbury has been posted on the Rainbow History Project website, rainbowhistory.org. Stansbury is among RHP's list of "community pioneers" for his longtime devotion to and action within the local LGBT community.
To read our 2001 feature interview with Larry Stansbury, please click here.