Watch a random episode of The Simpsons and you may well hear a panicked Helen Lovejoy — the reverend's wife — screaming, "Won't somebody please think of the children?"
In the real world that lament is not parody, as youth are in dire need of advocates. Whether it's homelessness, poverty, abuse or an array of other societal shortcomings, youth are likely to suffer disproportionately. Adam Tenner is one of those needed advocates.
Beginning his career in Seattle during the city's "grunge" decade of the 1990s, Tenner, a New York transplant, worked with homeless youth, compelling him to help found the National Youth Advocacy Coalition. His work with NYAC brought him to the District in 2000, serving as the organization's interim director. It wasn't long, however, before he made the move over to Metro TeenAIDS.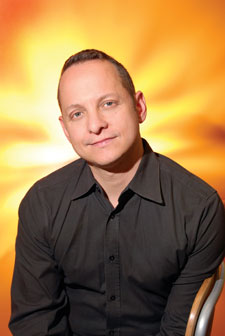 Adam Tenner
(Photo by Todd Franson)
"When I took over [Metro TeenAIDS] in 2001, there was a $150,000 debt and a maxed-out $50,000 line of credit," Tenner says of the organization working to protect area youth from HIV and to advocate on behalf of those already infected. "There weren't a lot of choices about how we operated. We said 'no' to everything."
While saying "no" has helped the organization get to where it is now, having marked its 20th anniversary with money in the bank, enjoying a renovation to its Capitol Hill offices and youth drop-in center courtesy of the Catholic University of America Design Collaborative, and new educational standards crafted for D.C. Public School (DCPS) students, Tenner may be feeling it's time to say "yes."
During a 2005 interview with Metro Weekly, Tenner's tone was hardly optimistic. "Our city systems fail young people, and have consistently been failing young people in a number of ways."
Today, Tenner sees improvement. "We are failing a lot less," he says. "Ideally we're putting the building blocks in place for the right things to happen."
While that might seem a cautious optimism, Tenner is actually more optimistic than he's been in any of his eight years at Metro TeenAIDS. Perhaps that's an optimism that comes with being a new father. Maybe it's the fruits of all he's worked toward. Regardless, it's not an optimism that allows him time to slow down and take a rest. Living in the epicenter of America's HIV/AIDS epidemic, he knows better.
Instead he offers one of his favorite maxims: "Hope is not a strategy."
Hope may be a crucial component to pulling us out of decades of HIV/AIDS, but Tenner's toolbox also includes experience, dedication and calculated thinking.
METRO WEEKLY: Marking 20 years of Metro TeenAIDS must be bittersweet. You can be proud of the work you do and that the organization is strong, but resent that HIV/AIDS is still with us. Can you point to specific things we're doing wrong in this fight, or is it not that simple?
ADAM TENNER: There is no magic bullet. But I do think that we are at the beginning of a period of the most possibility to affect HIV/AIDS in the District. In December 2007 we helped to pass new health-education standards for the District, which includes HIV/AIDS education. It's some of the most progressive in the country.
We're going to start conversations about diverse families, sexual orientation, real skills and information about HIV, how it's transmitted, how to protect yourself and, ideally, a lot of that is going to happen before young people are sexually active. Sex ed starts in elementary school. Historically, some kids in D.C. public schools have gotten great sex education and great HIV education. But not all of them have. Like almost all parts of DCPS, historically, there was a very unequal distribution. That's as true for language arts as it is for math: If you've got the great teacher who took the time to make sure you knew that information, you got it. If you didn't, you many not have.
MW: There is data cited on your website indicating that parents in D.C. want comprehensive sexual education for their kids. Can you tell me about that?
TENNER: We did that survey around the same time that we worked with the School Board to pass these new comprehensive health-education standards, so we have a stage that's being set. We now have standards that say, "Here's what every student should get." We have DCPS moving forward, really doing an excellent job of training DCPS health teachers, bringing in groups like Metro TeenAIDS and others to supplement HIV and reproductive-health education. We have a cooperative Health Department interested in working with the schools so we're doing the [sexually transmitted infection]-screening program in all the high schools, reducing STIs. That's also helping reduce HIV infections because a young person or anybody who's already infected with an STD is more likely to get HIV.
The standards were passed in December 2007. It's moving forward. DCPS has already begun to roll out their curriculum and they are both refining the curriculum and working very aggressively on teacher competency.
MW: DCPS Chancellor Michelle Rhee has been a somewhat controversial figure. Working so closely with DCPS, how do you feel about her?
TENNER: From a student-health, health-education and an HIV perspective, I think she is amazing. She's never flinched or shied away from talking about what was really important to the lives of young people and their health. She understands our local epidemic and has been very willing to participate and be a good partner in making the schools a place where kids get the kind of HIV education that they deserve.
MW: Is she pushing bou ndaries?
TENNER: Absolutely. She has helped to keep health education and HIV education on the radar and a priority within the schools. In my eight years, I have never seen DCPS so responsive to being a part of the solution to end the HIV epidemic in Washington, D.C. She, in my mind, is a hero on that level.
MW: That's a pretty substantial endorsement. What about Dr. Shannon Hader, head of the city's HIV/AIDS Administration?
TENNER: Dr. Hader, a pediatrician by training, has a clear sense that is shared with a number of us that the long-term solution to HIV means an investment in D.C.'s young people to have the information and skills that they need to choose a lifetime of healthy choices. We've seen an increase in funding for youth services. We've seen an effort to expand who participates in HIV education to non-traditional actors, so Metro TeenAIDS is helping to train other youth-serving organizations. We have trained [the Department of Parks and Recreation], school nurses…. We want to make sure that all the people who touch the lives of young people at least know basic information about HIV and [can] make a reasonable referral, all the way to actually being able to address some of the HIV concerns, either from an HIV-positive youth or a young person who potentially is on a path to coming into contact with HIV because of high-risk behavior.
MW: How long has Metro TeenAIDS been helping with that training?
TENNER: This is our third year training school nurses. It's our second year working with the Health Department to train youth organizations throughout the city to incorporate more HIV into what they do.
MW: What's your gauge of how young people affected by HIV in any way in the District have changed in your eight years with Metro TeenAIDS? Do they have greater knowledge of HIV and AIDS? Is there less stigma? Any changes?
TENNER: I think a few things are changing. In the old days, Metro TeenAIDS was primarily doing remedial HIV education because the schools had not been doing it. What I heard most often from young people in the early days was, "Wow, I had no idea that HIV was really such a big thing."
One of our young staff members who passed away a few years ago, Monica, had testified at the School Board saying that she had 10 minutes of HIV education in 10th grade and that it wasn't enough. So, again, we're really at the beginning of a turning point where we have concentrated on consistent efforts to improve those systems. We went from having 10 to 15 young volunteers and staff people involved, to now more than 40. There is a sense that as the information gets out, as health-education teachers are doing a better job, as we become better partners, there is increased awareness of the injustice of HIV and the injustice that there is not an equitable distribution of HIV education.
We created a coalition called the DC Healthy Youth Coalition in 2007 to ensure the passage of high-quality health-education standards. Since then we've been working on making sure that those health-education standards are implemented — and implemented in a high-quality way.
MW: How far do we have to go?
TENNER: DCPS is doing a great job. There is still a big question mark in terms of charter schools. On the most recent Appleseed Report Card, they did some informal polling showing some [charter] schools are doing HIV education and health education, and some schools are doing no health education at all.
We definitely partner with several charter schools that are doing really, really great work. [Some] are bringing groups like us in to help augment what they are already doing. But there are 50-something charter schools in the city. I guess the question we are asking ourselves now is do we want to try to get that, charter school by charter school, knowing that they have uneven resources? You've got a Friendship [Public Charter School], an enormous school with a lot of resources. You also have "mom and pop" schools, very small schools, and they couldn't possibly build the kind of health-education systems the kids need.
I'm kind of a "system thinker." From that perspective, somebody needs to be holding people accountable. We have yet to identify whether real accountability exists or whether the state superintendent [of education] should be, at least at a minimum, understanding what charter schools are doing and, second, pushing to see what D.C. schools in general are doing to meet these health standards.
MW: The youth that you see at Metro TeenAIDS, do they seem more savvy than they did eight years ago?
TENNER: Define "savvy."
MW: Overall, do youth seem more sophisticated in their understanding of the biology of HIV? Have they jettisoned some myths about HIV?
TENNER: I don't exactly know how to answer that. I'm a big fan of measuring things and I don't think that we've really measured that per se. Anecdotally, I don't know. I want to believe.
I guess the other piece of that is we're kind of in the middle of this sea change. While not enough has changed yet, the potential and the change is happening now. So ask me that question in two years and I think I can hopefully give you a more informed answer because young people have been so deprived of real HIV education in our public schools that I still think that a lot of the work of Metro TeenAIDS has been remedial HIV education. My vision is that there is an equitable distribution of high-quality HIV education for every D.C. student.
If that's met, the conversation that we ought to be having is that we've now given people the basic skills and information they need, what's the next level that we need to be working on to help those young people put those messages to work for a lifetime of healthy choices? Because what we see in the adult studies that the city has done are very high rates of concurrent partners and very, very low condom use. What we show already is that in the 2007 Youth Risk Behavior Survey, you can see condom use go down between 9th and 12th grades. As people get older and have more sex, they tend to use condoms less often.
MW: Why is that?
TENNER: If we knew that….
MW: Within DCPS, how easy is it to get free condoms?
TENNER: Another thing we're happy to report is changing, DCPS high school students can go to the school nurse to get condoms. The condom policy changed so that it used to be that kids were required to get counseling [to receive condoms]. The next step is a rollout. Hopefully within the next few months, more people in schools — not just the school nurse — will be able to distribute condoms. There's an effort, in general, by the Department of Health, by Dr. Hader, to make condoms much more available.
We know that the Health Department is moving toward expanded condom access so that there are fewer barriers and the schools are onboard with that even for young people. That's going to take a while to step up. We know that testing is more universally available and continues to be available. Last year, the Health Department tested twice as many young people [for HIV] as they tested the year before. So the next conversation that we're looking at is what do we need to do to address some of the attitudes and the multi-generational mythology that continues to influence peoples' HIV-risk behavior. How do we get to that?
Now the older generation is having a lot of sex with multiple partners without using condoms. How can we make sure that the next generation is making different choices?
MW: You're hoping the new health standards will have a pronounced impact on exactly that front?
TENNER: It's all got to work together. The most cost-effective way to really educate the most people is through the schools. Dropouts usually start about the 10th grade. We have nine grades before that — and kindergarten — to begin to do the work. It's about building a strong system so that kids have all the information and skills they need before they drop out. Once they've dropped out of school, it's very hard to reach people with information.
MW: So you've got the allies you need to make that happen, and aren't facing much resistance. There aren't people saying, "Don't spread your dirty AIDS education in our public schools."
TENNER: There are people who probably are saying that, but they're not in charge. Michelle Rhee, the mayor, Dr. Hader have been incredible leaders around this issue for young people and HIV in general. I really can't say enough. The thought that even within the D.C. public schools that every young person will get high-quality HIV education before they graduate, that hasn't been true ever. Ever, ever. We are now at the point of actually seeing that really happen.
There's some disagreement with the charter schools. I don't think that the charter schools are trying to be malicious and withhold HIV information, I just think they're focused on what they feel like they should be focused on. We're going to help them understand that they have a moral responsibility — and potentially a legal responsibility — to ensure that their students also get HIV education because if they're not going to do it, where will the kids get it from?
All the building blocks that need to be in place are put into place. It's the most hope I've ever had for the future of our local HIV epidemic. And Michelle Rhee, Dr. Hader and the mayor have been incredible leaders.
MW: That's saying a lot. Another component of this effort that has little to do with good will is the economy. Is that affecting Metro TeenAIDS?
TENNER: We've economized over the past year. We've been fortunate to not have any layoffs. We have about 60 percent of our dollars coming from federal and city [funds], which is relatively stable.
MW: Has it gotten trickier to raise the rest?
TENNER: I think that we have proven ourselves, that we are good people, we're honest brokers, we deliver on what we say we're going to deliver, and we don't over-promise. We have a lot of foundation supporters. This year we'll probably see some reduction as belts get tighter within the foundation community.
Next year, I imagine, it might be more difficult for foundations. And in 2011. It's pretty darn likely because there's an 18-month lag, generally. Most foundations give based on the normal calculations on the prior three years of what their assets have earned, so you have this huge delay. There's a great report about the future of foundation funding in the next while and it's kind of bleak.
But that said, we got a Bank of America award a year and a half ago for nonprofit excellence that came with a $200,000 unrestricted grant.
MW: How many of those do they award?
TENNER: Two locally and about 90 nationally. We have not touched that money. We're very grateful to Bank of America and we've used the money as a safety net so we know that if we have to make difficult decisions we have a little bit in the bank to fill some holes.
MW: What actually brought you to D.C. in the first place?
TENNER: I was one of the founding board members of the National Youth Advocacy Coalition. When Rea Carey left, I stepped in to be the interim director. I came here because it seemed like a great opportunity and I thought it was a better place to find a Jewish husband. [Laughs.]
MW: And did you find one?
TENNER: I did.
MW: Prior to D.C., what were you doing in Seattle in the 1990s?
TENNER: That's where I started doing work with homeless youth and then I worked at the Health Department. I guess the stories that really stick the most, that I really identify with, are probably the LGBT kids.
I remember Danny, who was basically raised by the shelter system. His mom asked him whether he was gay or not, and he said yes. She kicked him — at 12 — on the streets. By the time he should have been graduating from high school, he couldn't read a newspaper, he was HIV positive and he had functioned a lot as a younger kid by being just a really cute, sweet kid. I actually don't know what happened to Danny. He was kind of compelling.
A similar story: He was from Portland [Ore.]. Mom kicked him out. Within a very short time, he was involved in sex trading on the streets, completely victimized very quickly. At some point people tried to help him reconcile with his mom, feeling that that was going to be the safest place. She ripped up his birth certificate in his face and asked him to leave.
So I'm kind of okay with not having to be around some of that, not on that kind of level, every day. There are folks here who are better at doing that, have more skills doing that. And because of my experience, we try to provide as much support [as we can] to those people because the stories are really no less difficult here in D.C.
MW: And now you're a father, too. How does fatherhood suit you?
TENNER: It's been amazing. So far, it's hard. I'm sleepy. [Laughs.] I'm more forgetful. But I'm just in awe of him. Babies are so interested in learning and I think it has really inspired my awareness of babies and young people.
We start learning from weeks after we're born and, really, there's no reason for us to stop. Teenagers and middle school students, in particular, are often very good at making you feel like they're not interested in learning, but I don't think that's the case. I feel reinvigorated just remembering how important it is and how much kids want information.
MW: Before I let you go, can you tell me if there's anything you'd like to emphasize to readers?
TENNER: I'll just throw this out: There have been a lot of articles in the Washington Post about HIV/AIDS programs in the District, very negative articles.
I want people to know that there are really great people doing great HIV services in the District of Columbia.
I was outraged by the articles — by the misspending, the fraud. As somebody who has dedicated the last eight years to doing high-quality HIV services in the District, I'm outraged. What an incredible waste of money. But I think the story that didn't get told in those articles is what's good that is happening now.
There used to be some pall over HIV services. "We have a terrible epidemic here, so what good is any of this?" I don't want to go back there. I do think that people should ask all the questions they want of Metro TeenAIDS and other organizations that they support, to make sure that we're accountable, to make sure we're filing our taxes.
The story that's about to be told in D.C. — if we allow it — is a very hopeful story. I'm more hopeful than I've ever been in terms of the potential for turning around this epidemic. It's not going to happen overnight, but I think the Department of Health now is a different department. We used to try to tell the Department of Health what to do. We now have real public-health leadership in the department. It's a new world and I really want people to know that. They shouldn't be afraid of supporting their favorite HIV organizations — including Metro TeenAIDS, of course.
For more about Metro TeenAIDS, visit metroteenaids.org.