"Tonight I'm recording – ahem – a holiday CD," Kathy Griffin says at the top of her new recorded set, Suckin' It For The Holidays.
"I know it's a very touching and emotional title," she continues. "And I hope you all sit around with your families and celebrate a lot of dick jokes for Kwaanza and Navidad and Christmas and all those other holidays." She mentions all this just two minutes into the CD, before announcing that the rest of it has nothing to do with the holidays. And it doesn't.
It took Griffin several years into her multiple-Emmy-winning My Life on the D-List project before she realized she could earn a Grammy nomination even though she's not a musician. And boy, is she making CD music now. She's run away with the idea, churning out a second set in as many years, this one recorded last summer at a casino in Atlantic City. Why? Well, because last year's set failed to garner her the Grammy she covets, losing to a posthumous George Carlin.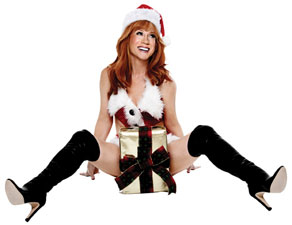 Kathy Griffin
So this reprise is another unabashed ploy to game the Hollywood system. In fact, the set, released physically last week, was quietly released digitally all the way back in late August just so she could meet the new, month-earlier cut-off for nomination.
Even if you don't find Griffin all that funny, or you find her a bit too annoying, you can't deny the ingeniousness of her technique at staying in the celebrity spotlight. In fact, all her hard work these past few years has increased her star power several times over, to the point that some people don't even remember her from guest turns on TV, most notably NBC's '90s hit show Suddenly Susan (Brooke who?). The brilliance of it all is as hard to explain as it is easy to appreciate.
Griffin has become our era's leading comedian, exposing and criticizing specific celebrities and our celebrity-driven culture in general – a fact of life she naturally loves to hate more than she hates to love. Even if you've already heard much of the material on Suckin' It For The Holidays, the way she enthusiastically regales the audience with her astute observances or entertaining anecdotes keeps you engaged nonetheless.
Over the course of 56 minutes, Griffin talks about her run-ins with "the white Oprah" (the "scrappy" Katie Couric), Oprah's "boyfriend" (Gayle King), one celebrity who didn't appear on her star-studded show last season (Justin Timberlake) and another she thinks should be the next president (Suze Orman).
KATHY GRIFFIN
Suckin' It For The Holidays
Music with a Twist
$17.98




Perhaps the best moment is her take on Nobel laureate Maya Angelou, spouting what many might think but few would have the balls to say.
"Doctor Maya Angelou is insufferable!," she says. "I admire her, I respect her – and she's awful. They are not mutually exclusive."
One of Griffin's strengths is her ability to sound spontaneous, seemingly speaking to us off the cuff, even when you know – thanks to her show – pretty much everything was written and planned out beforehand. But she is also quick on her comedic feet, responding to the crowd's reactions.
"Hello, gays! Oh, you're here. I was a nervous wreck!"
Gays have really made her career. In fact, gays made this CD, released as it is on the Logo offshoot label Music With A Twist. But she's not just using us: She's a wholehearted supporter of the gay cause.
Should Griffin garner another Grammy nod? If she doesn't it's because she's put off industry insiders less by the quality than by her shamelessness and chutzpah – and not just for the content. Think about it: a holiday comedy CD that has nothing to do with the holidays?
As with any standup comedian, a good portion of Griffin's comic firepower draws from watching her deliver the jokes. Her slightly shrill voice and Chicago-derived nasal accent can be off-putting, making things less amusing to listen than to see.
Griffin ends by criticizing the hyper-sunny way those in Hollywood shower each other with praise – "Congratulations!" – even without meaning or reason.
If nothing else, her accomplished CD proves that Kathy Griffin deserves lots more genuine praise to come.