With Thanksgiving and the winter holidays upon us, it's time for many to travel over the river and through the woods. And for those with pets, travel schedules can become a huge headache.
Taking a pet along for the ride can be expensive by air, prohibited by rail, and cumbersome by car. Besides, does Mister Pugly really want to be dragged to your sister's house in Tempe? Does your sister even love Mister Pugly half as much as you do?
The tried-and-true option is finding a friend to burden with pet-sitting duty. Friendships may be priceless, but straining one with litter-box cleanings or middle-of-the-night howling from a stressed-out hound can be too high a price to pay when there are so many other reasonably priced options.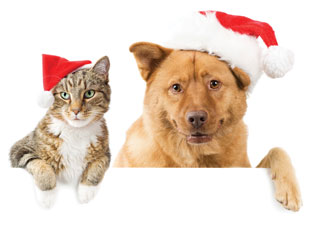 "The average rate for a dog, depending on the type of room, is $23 to $37," says Jennifer Simmons, a PetSmart spokesperson. The price she's quoting is for a night at one of the chain's PetsHotels. "For a cat, it's $16 a night. The range of additional services is $4 to $22."
Those additional services will assure you that, recession or not, we are a truly wealthy people. How about "Treat Time," featuring "dog-safe soft serve ice cream with a side of crunchy dog biscuits"?
"Right now we have hotels in more than 150 stores," out of about 1100 stores, says Simmons. "It's a pretty popular service."
Aside from the on-site grooming services and Banfield Pet Hospital, locals may also appreciate the convenience of having a PetSmart PetsHotel practically nuzzled next to the runways at Ronald Reagan Washington National Airport in the Potomac Yards plaza.
Then again, Mister Pugly may appreciate the convenience of never leaving home at all.
"There is a difference between boarding and in-home pet sitting," says Gus Elfving, owner of Pet Peeps, a local pet-sitting service. "We go to the home and take care of the pet when you're away. The pet is safer, more comfortable and less stressed in their own environment."
A couple of advantages with Pet Peeps are that this service is also good for birds, hedgehogs, rabbits and other "exotics" that can't find a room at the PetsHotel — though Elfving admits he's grateful that he's not yet been asked to care for any snakes — and a good value if you have more than one pet, as Pet Peeps charges for the number of visits rather than the number of animals. Elfving and his crew will also take care of little chores such as bringing in your mail or watering houseplants.
"There is a $25 start-up fee," Elfving explains, adding that his base price is $20 per visit, which could include feeding, watering and a walk. "We don't have any last-minute fees. We have a fairly liberal cancellation policy. There's no holiday or weekend surcharge."
Other options, such as Dogs by Day at 1724 14th St. NW, may vary fees for weekends or holidays. Dogs by Day's $48 overnight charge goes to $60 for holiday weekends. One of the advantages of Dogs by Day, however, is a cage-less environment for dogs who like other dogs. It's not a place to show up at the last minute, as there are obvious reasons to screen and socialize a dog before it's, well, thrown to the hounds.
"Those places exist and they're good," says Elfving. "Taking a cat out of its home environment can be very stressful, but dogs bond more closely to human beings so a facility can be good."
Regardless of the route you choose for Mister Pugly, the important point is that you not let pet care add to your travel headaches. Make sure your pet's shots are up to date, reserve a sit or a stay, and settle into your Tofurkey or dreidel-spinning this holiday season secure in the knowledge that your pet is doing the holidays its own way — and you won't be losing any friends over it.
For more information about Dogs by Day, call 202-986-6301 or visit dogsbyday.com. For Pet Peeps, call 202-232-PETS or visit petpeopledc.com. Visit PetSmart PetsHotel online at petshotel.petsmart.com, or call 888-839-9638.