Before wrapping up his Nov. 2 testimony in favor of the marriage-equality bill the City Council is considering, Andrew Hertzberg got down on one knee and popped the big question.
"You bring out the best in me," he said to Andrew Rollman, his partner of the past three months, also testifying that day. "As we talk about the hopes for marriage here today, I would like to ask you, will you marry me?"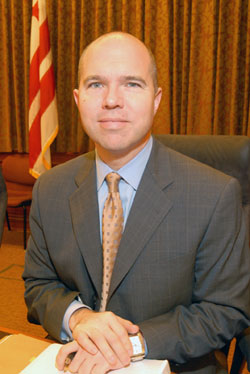 Councilmember David Catania (I-At Large)
(Photo by Ward Morrison)
With Rollman answering "I do" and accepting an engagement ring, the Council made an exception to its own rules by cheering along with the majority of the audience in the Council Chambers at the second day of testimony regarding the Religious Freedom and Civil Marriage Equality Amendment Act of 2009, now before the Council's Committee on Public Safety and the Judiciary.
While D.C. recognizes marriages between members of the same sex performed in other jurisdictions, this legislation, introduced by Councilmember David Catania (I-At Large), who is gay, would allow the District to grant such licenses. The first hearing was held a week prior.
Councilmember Jim Graham (D-Ward 1), also gay, joined Catania and Councilmember Phil Mendelson (D-At Large) to hear testimony from more than 200 people Monday.
Vince Micone and his partner Thomas Metzger, D.C.'s first same-gender couple to register as domestic partners, were among them. They testified about the hardships they have faced without marriage rights, including an incident in 1992 when Metzger was hospitalized.
"The staff at the emergency room tried to block Vince from being at my side," Metzger said. "I still remember the nurse muttering anti-gay epithets as she left the room."
Local actress Holly Twyford, who lives in Washington with her partner and their daughter, also testified in favor of the bill.
"I won't talk about the extra money we've spent or the exhausting legal preparations for every conceivable threat to our family, or even the minor annoyance of having to write in 'life partner' on emergency contact forms, instead of checking off 'wife' or 'husband,'" she said.
While much of the testimony was emotional, and most of it in favor of the bill, Robin Wilson, a professor at the Washington and Lee University School of Law engaged more of the committee's time than most arguing in favor of religion-based exemptions.
"There are essentially two constitutional principles at play," Wilson said. "There's marriage equality, which obviously this bill is recognizing, and there is the right of religious liberty. And we're trying to find a way to turn down the temperature on same-sex marriage, by balancing both of this so that it doesn't become a winner-take-all proposition and that one side walks away with the whole enchilada."
Catania countered that Wilson was suggesting what amounted to a "get out of jail free card," likening her exemptions to a public employee having legal grounds to refuse to hire women if his religion frowned on women in the workplace.