"We're going to try and do our best to make sure there is always an Eagle [in D.C.]," says Bill Cappello, owner of the DC Eagle, which this weekend celebrates 38 years of cocktails, cruising and charity for the leather community. Among the activities on tap: the bar's main charity auction Friday night, and its Mr. DC Eagle contest Saturday night. The winner of the popular contest, to be judged by three former Mr. DC Eagles, will represent the bar at Chicago's prestigious International Mr. Leather Contest.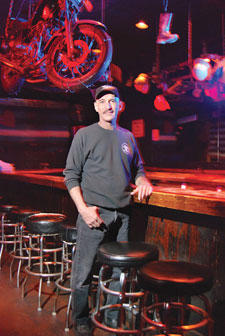 Bill Cappello
(Photo by Todd Franson)
When the DC Eagle opened in 1971, it was only the third leather bar in the country adopting the prized bird of prey as a name. It's been in its current location – its third – for 22 years. But Cappello says they've only got a year or so left in the space, due to the area's continuing development.
"We are looking for a new roost," he acknowledges, adding that the plan is to keep the bar in the Shaw area.
"I started working for the Eagle in 1981 when it was on 7th Street," says Cappello, who originally moved to D.C. from Colorado in 1974 while in the military. He's had an ownership role in the Eagle for 17 years. "The Eagle was a place where I just loved being. I appreciated what it does for the community." At least several nights any given week the bar hosts events for charity.
The 38th Anniversary festivities kick off Friday, Nov. 20, with an open bar from 8 p.m. to 10 p.m., followed by the Annual Eagle Wings Charity Auction, which starts after 10:30 p.m. and is hosted by Jo Arnone. "I could pull lint out of my pocket and she could get something for it, I'm telling you," says auction organizer Peter Lloyd.
There's a little bit of everything at the auction — from artwork to clothing to event tickets to adult "toys."
"Every penny that is made that night goes to the charities," says Lloyd. This year's beneficiaries are the Duke Ellington School for the Arts, Pets DC and Brother Help Thyself.
BHT is also the expected beneficiary of the anniversary celebration's final event, set for Wednesday, Nov. 25. The bar's license allows it to stay open until 3 a.m. on All Colors Night, when area leather groups come together to help usher in Thanksgiving.
"It's always a very busy night," says Cappello.
The 38th Anniversary Celebration starts Friday at the DC Eagle, 639 New York Ave. NW. Call 202-347-6025 or visit dceagle.com for more details.