"Yeah, you make me wanna listen to music again," Adam Lambert sings at the top of his debut, For Your Entertainment. The album is as brash as you'd expect from the flamboyant hard-rocker, this year's American Idol runner-up.
But listen once and chances are, you won't want to listen again.
So it goes with three of this year's most anticipated albums: Lambert's, Rihanna's Rated R and Leona Lewis's Echo. All are overproduced monstrosities that leave much to be desired.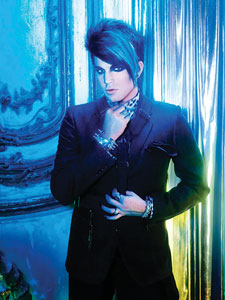 Adam Lambert
Lambert's debut opens with a bang and stays strong through several tracks. "Oh, I bet you thought that I was soft and sweet," he taunts on his first single, the sexually charged, rhythmically jugging title track. "Well I'm about to turn up the heat." At his best – working with super-producer Max Martin, for example – Lambert is charting his own way, a hard-rock-propelled dance sound. If you ever doubted it, the gay Lambert proves his forebear Freddie Mercury right: You don't have to be straight to strut and swagger.
But as it progresses, the album becomes too much to take. I guess I was hoping those who know better could talk him into holding back – into restraint – from time to time. (And no, I don't mean toning down his sexuality. Lambert thrusting a male dancer's head into his crotch, or locking lips with a male keyboard player on national TV? Works for me.) But what's that old adage? Less is more, and more is a mess.'
And musically, Entertainment is a mess. Lambert mewls all over the place here, like an anxiety-plagued horse bucking and neighing before a race. Add in crunchy and constantly screeching electric guitars – and many overwrought, '80s-esque hair-metal ballads – and you can understand the racing horse's frustration. Let's get to galloping!
Rihanna channels into Rated R the lessons from her very public tragedy – the February battering by her now-ex, fellow singer Chris Brown – in a way artists have been doing immemorially. The artist seems to be particularly following the course set out by so many hard-knock-life rappers; she sounds hardened and singularly focused on cashing in – bling bling – on her past adversity. With utmost respect for her situation, it comes off as a little distasteful. And disappointing.
"I got my middle finger up, I don't really give a fuck," she says on "Rockstar 101" – just one of many times she drops vulgar word bombs like never before. Not to mention loading up on peeling electric guitars – here, courtesy Slash, adding angst and an earache.
But far more affecting than the braggadocio is when she shows glimmers of insecurities, as she ponders her predicament ("Stupid in Love," daring first single "Russian Roulette," the bittersweet "Photographs"). It's not easy for even the toughest among us to lose the person considered to be "the one."
ADAM LAMBERT
For Your Entertainment
RCA
$13.98


RIHANNA
Rated R
Def Jam Recordings
$19.98




LEONA LEWIS
Echo
Sony Music
$13.98



Those of us who've been enamored since she first called on the DJ to "Pon de Replay" several years back – and who still get lost in her amazingly expressive, multi-colored voice – feel for Rihanna, really, madly, deeply. And we're eager to hear what's to come, once her head and heart heal, but this seems too soon.
Leona Lewis's Echo proves that hiring the best producers that money can buy doesn't automatically produce an enjoyable album. Even working with industry hotshots, Lewis's Echo is nowhere near as enjoyable as, say, any recent Britney Spears set.
Lewis decided to experiment a bit on Echo, and it makes for a marked improvement over her debut Spirit. She busts out a verifiable dance ditty with the sleek "Outta My Head," for example, and then there's "Love Letter," a sweeter version of Kelly Clarkson's classic "Since U Been Gone."
Still, all too often Echo echoes Spirit, finding her voice curling and floating between octaves in that ostentatious, ultimately indecisive way that Mariah Carey patented.
I guess I'm still waiting for Ms. "Bleeding Love" to show us her "scars," to exhibit some personality or spunk. She's echoed others long enough.