"She's the one who really encouraged us to get married," says singer-pianist Michael Feinstein, referring to his "close friend" Judith "Judge Judy" Sheindlin. Judge Judy officiated Feinstein's marriage to Terrance Flannery, his partner of 11 years, before Prop 8 last year, while same-sex marriage was briefly legal in California. "She felt that it was important for couples who are visible in the world to show their support for the legal act."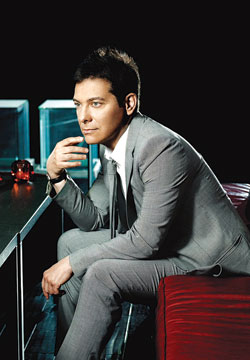 Michael Feinstein
Nearly 25 years since his professional recording debut, Feinstein has become something of a gay activist. But he remains best known as a leading interpreter and archivist of the Great American Songbook. In addition to a forthcoming PBS special on the subject, Feinstein is currently touring with an "extraordinary, 17-piece big band in a celebration of that great era of music," which loosely spans the two world wars and encompasses songs from early Broadway and the Jazz Age.
In the concert, based on last year's Grammy-nominated album The Sinatra Project, the 53-year-old Feinstein specifically pays tribute to that most famous of all songbook interpreters, Frank Sinatra. "[Sinatra] made it acceptable for male singers to be sensitive," he says.
Feinstein is in the early stages of work on several stage musicals, including an adaptation of The Thomas Crown Affair. And he just released a recording of duets with gay Broadway star, Cheyenne Jackson. The Power of Two is based on a live show at Feinstein's eponymous cabaret in New York. The album features several songs with gay themes, including "We Kiss In A Shadow" from The King and I.
"It was originally recorded about an interracial couple not being able to openly have a relationship," says Feinstein. "Without changing a syllable of the original lyrics, we were able to sing it about two men living in oppression and wanting to express who they are in a free society."
Michael Feinstein performs The Sinatra Project this Sunday, Nov. 8, at 7 p.m. Music Center at Strathmore, 5301 Tuckerman Lane, North Bethesda. Remaining tickets are $65. Call 301-581-5100 or visit strathmore.org.