During his final days Larry Stansbury didn't quite resemble the dedicated community activist and organizer so many in the D.C. area remember. Lying in a bed at the Veterans Affairs Medical Center in the District, he was immobile, his eyes and mouth closed. Each day included a barrage of about 45 pills that would help Stansbury survive to the next day as comfortably as possible.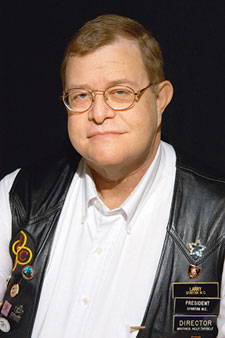 Larry Stansbury
(Photo by Todd Franson)
Yet there was a quality Steve Blum, Stansbury's roommate and close friend of nearly 30 years, recognized, a certain look on Stansbury's face, facial expressions hinting at his determination to fight the ailments resulting from a broken hip the 61-year-old suffered after falling from his bed eight weeks earlier. It was the same look of determination Stansbury had given him in the 1990s when he was diagnosed with diabetes.
"I would stand over him and tell him, 'Hi Larry, it's Steve,'" says Blum. "[I would] stroke his arm and his eyebrow would move up a little bit, so he was aware I was there. But he was very sick at that time."
For Stansbury, a two-time kidney transplant recipient, the diabetes diagnosis was a turning point in the wrong direction because he knew the condition would make him less eligible for successful transplants in the future.
"Once he developed diabetes, he kind knew that they wouldn't want to give him a transplant, because it's going to reject," Blum says. "Then he started to develop a cyst that caused his kidney to fail, which started to develop on his liver too. It wasn't until the very end until the liver went. He managed to control that with some aggressive treatment."
Stansbury was already familiar with his ailments, as he had already watched his mother and sister die of similar illness.
"He was born with that," Blum says of Stansbury's renal problems. "It's hereditary genes, and he would say, 'I'm going to have to battle this all the way."'
Stansbury, who died on Saturday, Oct. 31, was prominent in the local LGBT community as the first executive director of the gay philanthropic group Brother Help Thyself (BHT). He was also a founding board member of Capital Pride, and a member of the Spartan Motorcycle Club.
According to Blum, Stansbury became an activist as a result of his inability to work shortly following his first kidney transplant in 1984. Blum met Stansbury just a few years before that after moving to Alexandria from Harrisburg, Pa., in 1980.
Stansbury was working at the DC Eagle at the time and the two, along with Stansbury's then-partner James Kenner, became roommates. Though Kenner died from AIDS-related complications many years ago, Blum and Stansbury remained roommates. Before working at the DC Eagle, Stansbury served in the United States Navy from 1969 to 1973.
"He was in the medical field, so he went to work for hospitals," Blum says. "He was what they call the materials guy — he was the purchaser for the hospital. He did that for years.
"When he stopped working, he got involved with one organization after another," Blum says. "He went to Whitman-Walker Clinic, then BHT. He was already active with the Spartans, and he started doing charity work. He just wanted to keep busy.
"He wasn't all that sick," Blum continues. "He was able to function very well, but he wasn't able to go out and get a job, so he just dedicated his life [to volunteerism]. And he was relentless."
As an example of what could be accomplished with Stansbury's dedication, Blum points to BHT's budget. The group awarded only a few thousand dollars per year in grants when Stansbury first got involved. Under Stansbury's leadership, the number grew to approximately $100,000 per year in awarded grants.
Mark Meinke of the Rainbow History Project says Stansbury has played an important role in D.C.'s local LGBT community since the 1960s.
"He was very active with the leather community," says Meinke. "He was very active with BHT, from its beginnings. He was active in the Pride celebrations from the late '70s on. He did security after he retired, because of his disability. He liked having a good time. He was one of the organizers of Gay Day at King's Dominion each year. Larry never struck me as a man who sat still very long. He was always doing something."
While Stansbury's dedication to the community was unwavering, Blum says there was one goal that went unaccomplished: an HIV/AIDS memorial monument or park in the District.
In a directive Stansbury entrusted to Blum, Stansbury asked that those wishing to remember him in some way upon his death should make donations to BHT, the Capital Pride Alliance, or the Spartan MC. Stansbury also directed that his remains be cremated.
A memorial celebration of Stansbury's life has been set for Saturday, Dec. 12, at 1 p.m. in the lobby-level reception room of the Alexandria Knolls West condominiums, 6101 Edsall Road, Alexandria.