Chadwick Cipiti is an addict, trapped by the relentless grip of that wicked white powder… snow.
"I started skiing at the same time I started to walk," said Cipiti, 36, a website developer in D.C. and self-described very advanced snow junkie.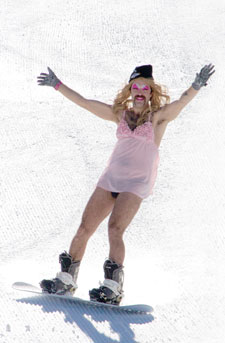 (Photo by Courtesy of Chad Cipiti)
In 2001, Cipiti attended his first gay ski event in Aspen and was hooked. He now makes a point of doing at least one big gay trip each year, rotating between Aspen's and Whistler's gay ski weeks. Since that first event, he's also given up his skies for a snowboard, and is now a fan of OutBoard, an annual gay snowboarding week.
For Cipiti the opportunity to combine his passion for skiing and snowboarding with the opportunity to be surrounded with other gay and lesbians who share in his love of swooshing down a mountain of fresh powder is a perfect combination.
He is not alone, at least judging by the more than a dozen large multi-day ski events that are now held across the country and around the world. While the various events focus on skiing (and a growing amount of snowboarding) there are plenty of activities happening off the slopes large and small parties and other social gatherings.
Cipiti recommends, especially folks attending for the first time, traveling with a group or at least one friend. He finds it helps with the planning and the cost sharing. These events can often require big bucks when you start adding together the cost of travel, accommodations, meals, equipment, lift tickets and admission for all the special events.
Having made some close friends through his various travels, Cipiti credits the Internet for growing the online networking opportunities for others like himself who are seeking their next snow fix.
The granddaddy of all the gay skiing events, Aspen Gay Ski Week (Jan. 17-24, 2010) was established in 1976 by a small group of local residents to host social events and organize educational forums. Since then is has morphed into a week-long celebration packed with events that include skiing, snowboarding, après ski parties, dining, shopping, comedy, a down-hill costume competition and more. Activities occur across four mountains that provide hundreds of trails of various difficulties for up to 4,000 annual attendees.
"What started as a forum for the gay community has expanded to a week of premier skiing and outstanding entertainment for all," says Peter Helburn, acting executive director for AGSW. "This year we are working with a new board of directors who have brought new ideas and innovative approaches to this historic event."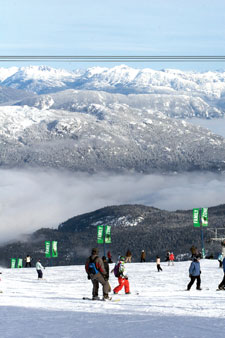 (Photo by Photo courtesy of Chad Cipiti)
In British Columbia's Coast Mountains north of Vancouver, it's been nearly two decades since the Whistler resort launched WinterPRIDE: Whistler Gay Ski Week (March 1-8, 2010). Attendance has grown to rival that of Aspen, drawing many participants who enjoy the more centrally located activities. In 2007, Whistler combined its gay ski week and its Pride, adding to the event's appeal. The upcoming celebration is drawing heightened attention, as Whistler will host the 2010 Winter Olympics (Feb. 12-28) just days prior to the gay ski week, as well as the Paralympic Games that immediately follow (March 12-21). And while most of the gay ski weeks are male dominated, Whistler is one of the more lesbian-friendly events with many woman-oriented offerings.
Skis aren't the only equipment that draw people to the slopes. OutBoard Gay and Lesbian Snowboard Week (March 30-April 4, 2010) in Breckenridge, Colo., was originally founded in 1995 by a small group of gay snowboarding enthusiasts seeking to attract more members of the community to the sport. Fifteen years and hundreds of attendees later, it has grown to attract beginners and advanced snowboarders as well as skiers. Much like its ski-oriented counterparts (which do include snowboarders as well), OutBoard now encompasses many affiliated parties and special events and expects hundreds of snowboarders to attend.
Ski Bums, a national membership organization of gay skiers/snowboarders, recently held a networking event at Nellie's and is currently forming a D.C. chapter. More information is available at ski-bums.org.
For more info on Aspen Gay Ski Week, visit gayskiweek.com. For more info on WinterPRIDE, visit gaywhistler.com. For more info on OutBoard, visit outboard.org.