Some would argue that languages say so much about the cultures that create them. For example, the lore that the indigenous people of the northern polar region have a varying number of words for "snow," depending upon the source to which one turns. The implication is that Eskimos see a helluva lot of snow and therefore have several words to describe it.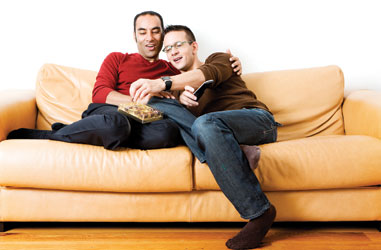 Whether or not that's the case, it may say something about English-speaking North America that we have several terms for that large piece of furniture sitting in our living rooms, the contemporary nest from which to enjoy the modern hearth of television. What is a chesterfield in Ontario may be a couch in California. Or is it a sofa? Divan? Settee? Davenport?
"I think 'sofa' is more formal," says David Dennis, owner of U Street's RCKNDY (pronounced Rock Candy). "I don't like the word 'couch.'"
From Ryan Obermiller, manger of the Mitchell Gold + Bob Williams on 14th Street: "To us, that's the 'c' word. We prefer 'sofa.'"
And Erin Mara, co-owner of Homebody on Capitol Hill's Barracks Row, makes it unanimous, preferring "sofa" as well.
There's another point of consensus: A sofa is an investment. Granted, there is a range. With a trusty Allen wrench at the ready, IKEA's EKTORP Sofa can be yours for $399 and a bit of sweat equity. On the other side of the spectrum, there's the Lowland Composition Sofa by Patricia Urquiola for Moroso, in the neighborhood of $13,000. But whether you're furnishing student digs or sitting on a Trump trust fund, a sofa is an investment, your central room's centerpiece. So don't be dismissive of the selection process.
"It's pretty top-of-the-list," Obermiller says of furnishing priorities. "You spend a lot of time there, watching TV, hanging out with friends… You want that to be the most comfortable piece."
Dennis offers similar perspective.
"It's probably the primary piece of furniture in any living room, and it's going to get the highest use. You certainly want to look at the quality of materials, as well as a style that suits you."
Your considerations include the size of your space, a realistic self-evaluation on your chances for christening the new sofa with a clumsy spill of red wine, and whether it will be doing double-duty as your guest room. If sleepover duty is a requirement, all three promise that sofa-beds have come light years from the back-breaking torture devices of your childhood.
Obermiller cautions about placing a sofa in a room with abundant natural light. If you happen to have that airy, urban loft with direct sunlight pouring through floor-to-ceiling windows, be careful about darker fabrics, as they might fade.
But, speaking of fabrics, the good news is "microfiber." In imitations of crushed velvet or suede, these soft synthetics do a wonderful job of resisting stains and fading, though even with technology on your side, pets or young children may rule out lighter shades.
"You can get microfiber fabrics that may seem impervious to most stains, but they're not impervious to Sharpies," says Mara. She adds that whether the shade is light or dark, her watchword is "neutral."
"Just get a simpler form that looks good, that you can dress up with pillows and throws," she advises. "You might get tired of that orange sofa pretty quickly."
If your taste demands the orange — or any of the rainbow's louder colors, for that matter — there is one easy answer if you do get sick of it. Obermiller recommends A Wider Circle, the Bethesda-based nonprofit working to end homelessness includes a program to collect donations of used furniture right from a donor's home. Assuming, of course, it's still in great shape.
For more about RCKNDY, 1515 U St. NW, call 202-332-5639, or visit rckndy.com. For Mitchell Gold + Bob Williams, 1526 14th St. NW, call 202-332-3433, or visit mgbwhome.com. For Homebody, 715 8th St. SE, call 202-544-8445, or visit homebodydc.com. For more about A Wider Circle, send e-mail to , or visit awidercircle.org. '