When a play arrives emanating even the vaguest whiff of the avant garde, even a theatergoing stalwart, finger poised over the "buy tickets" button, may suffer a moment's private hesitation: Will this be one of those obtuse, self-congratulatory offerings that only the Facebook friends of the cast and crew — with a reason to lie — could love? For although there is nothing quite like the subtle thrill of the play or interpretation that tickles the boundaries of convention, there is also no greater hell than two hours of badly-executed outré theater. Luckily for all, the Washington Shakespeare Company has made it their mission to attain that elusive balance between absorbing, entertaining drama and a creative, original subversion of the norms. No one can get it right all of the time, but the WSC, with director Christopher Henley at the helm, consistently deliver high-octane, sardonic and edgy theater.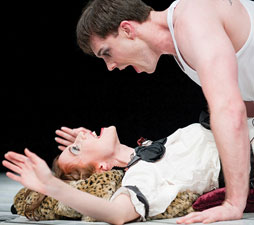 Looking for Mr. Goodpub
Following on the high heels of Camille, the company continues its study of the femme fatale with Frank Wedekind's late-Victorian tale Lulu, in which we watch the title character work her way through a series of husbands as she descends from German high society to the impoverished streets of London. Though at first Lulu seems confident and entitled, we soon learn that she has paid dearly for her status, and it doesn't take much for her world to begin to unravel.
Adapted by Nicholas Wright to give us a Wedekind uncensored by Victorian mores, Lulu refuses to behave even before the influences of director Henley. It is by turns a comedy of manners, a tragedy and a morbid morality tale. Like Lulu herself, the play never seems to show its true face. And in the alternate "tradition" of the concept piece, it is also a play whose conclusion throws everything that has come before it into a new light — a light strong enough to make one want to see the whole play again, just to savor the unfolding with hindsight. Even though it is delivered as a very accessible story filled with wry humor, telling moments, and sometimes visceral drama, there is something else going on here, a not-so-subliminal message about masks, victims and the end of innocence.
Still, not everything works with optimal impact. Sara Barker's Lulu, though a distinct presence with her questing, sometimes fevered eyes is almost too elusive. Yes, the mystery of this woman holds the play's center — but we must also see what so fascinates the men and women who have loved and abused her. When Barker stretches like a cat on her chaise lounge in an effort to seduce or manipulate her latest lover, one doesn't sense the irresistible draw, whether it be vulnerability, ruthlessness or good old-fashioned animal magnetism. Something about Lulu's very essence has saved her from a life on the streets, at least for now, but what is it? And if the answer is "nothing," it is rendered too subtly.
A defining character in Lulu's life, Dr. Schoning, as played by Angel Torres, is also slightly off-base. Speaking with a German accent, his words are sometimes indecipherable and, again, we do not get a sense of the relationship that he has with Lulu.
LULU



To Dec. 13
Clark Street Playhouse
601 S. Clark St.
Arlington
$16.50-$36.50
703-418-4808
washingtonshakespeare.org
S. Lewis Feemster, a confident stage presence, also fails to show us his connection with Lulu. A few silent moments of embrace between Lulu and these men, perhaps using the clever shadow-play employed elsewhere to such great effect, could have given us a glimpse of what lies beneath the powerful attractions.
On the other hand, engaging fully — and consequently drawing a lot more from Barker — is Kim Curtis as Lulu's less-than-noble father figure, Schigolch. Bringing a big, rueful presence to the role, Curtis conjures much of the dark wit of the piece and deftly suggests the dangers lurking along the edges of Lulu's life. Frank Britton, as The Marquis Casti-Piani, stands out for his interesting use of voice and the way he truly looks at Lulu when speaking to her. He feels credible and real. Camping it up without batting an eye at his supposed lust for Lulu, Jay Hardee makes for a hilarious Alwa Schoning, even though at times he seems like a character from another, much more lighthearted, play. James Finley, up for just about anything – and admirably so — reveals more richness of expression and depth with each WSC production.
Finally, Karin Rosnizeck, tackling the challenging role of Countess Geschwitz, works hard to show us how madly in love with Lulu she is – even if we don't quite get the reason for her passion.
All told, this is a gutsy, compelling production as unsettling as it is entertaining.