Sometimes advertising becomes art. Case in point: Andy Warhol's iconic Campbell's Soup cans. Thinking broadly, Jeff McElhaney's advertising campaigns of the 1980s and '90s might be in the same vein. Just throw in some desperation and determination.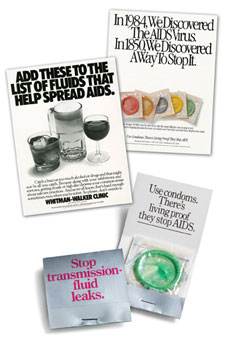 Ads vs. AIDS
"I was just having my first relationship with a man and I was scared to death like everybody was," McElhaney recalls. It was 1985. He was fresh out of college and had just landed a job with a prestigious Baltimore ad firm. AIDS panic was everywhere, and McElhaney was beginning life as a gay man. "I was looking for answers."
The answers he was finding were lacking. McElhaney was looking for information on how live healthily and happily — not how to live in fear.
"One of the things I was kind of reacting to, was all these death-oriented messages. 'Is love worth dying for?' It was ridiculous. 'Have sex and die.' I was just coming of sexual age. I thought, 'I'll be damned if I'm going to stop having sex.' Our ads tried to be upbeat."
The one ad he spotted that he did appreciate, a man at a bar wrapped head to toe in latex with the caption, "Go ahead, use me," carried the logo of a Baltimore HIV/AIDS-related health organization, the recently closed Health Education Resource Organization (HERO).
"I found it very charming. It told me this was a client with some guts who would take some risks."
HERO did become a client — a pro bono client. And one that McElhaney's day job was none too happy about, considering the HIV/AIDS stigma of the age. McElhaney says he was allowed to continue, crafting dozens of messages to fight HIV/AIDS, though he was instructed to avoid letting anyone know for whom he worked during the daytime. The stigma was so severe that modeling agencies would turn down calls to have their models appear in HERO ads.
But that was then. This is now. And McElhaney's work is about to reappear not as a provocative, life-saving campaign, but as a revisiting of how one man responded to darkest days of AIDS-fueled confusion and death with creativity and wit.
"The ads are near and dear to my heart. There are a lot of ghosts standing next to me when I'm holding these ads. I've lost so many friends."
Thanks to his ads, however, it's likely McElhaney saved quite a few, as well.
"Ads vs. AIDS: 25 Years of Communications for the Cause," benefiting the Whitman-Walker Clinic and Food & Friends, opens at Long View Gallery, 1234 9th St. NW, Dec. 1, and runs through the month. For more, visit longviewgallery.com.