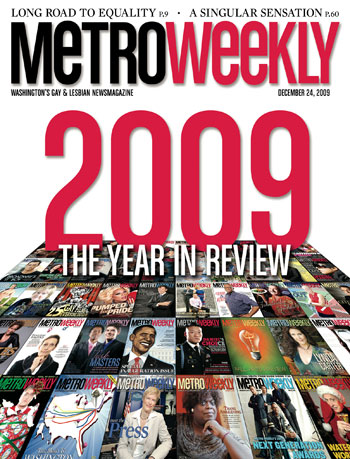 If ever there were a roller-coaster year, 2009 was it. Oh, there were highs, much like the one that helped close out the year with the signing ceremony of the Religious Freedom and Civil Marriage Equality Amendment Act of 2009. But there were also lows, particularly in the area of crime and punishment — and others lost by illness or accident.
On either end of the spectrum, 2009 certainly included more than can be contained in these pages. But to help us get where we're going, Metro Weekly offers at least a partial look back on 2009. For some it's worth a pat on the back. Others may be embittered remembering some of what the LGBT community has endured in 2009.
Whatever this brief retrospective leaves you with, Metro Weekly wishes you a happy and rewarding 2010.
JANUARY
THE BIGGEST NEWS of January was the inauguration of Barack Obama as the nation's 44th president and its first African-American president. Put another way, Obama became the first U.S. president who is not a white male.
But first things first. Before there was an Inauguration Day, there was a Mid-Atlantic Leather Weekend — but just barely before. The Centaur Motorcycle Club's weekend, including the 25th annual Mr. MAL Contest, ran Jan. 16 to 18. Inauguration Day was Jan. 20, but with days of attendant celebrations beginning as early as Jan. 16, the celebrations almost become two-in-one. Almost.
While Rev. Rick Warren delivering the Inauguration invocation became a substantial controversy among those supporting LGBT equality, the controversy over at MAL was substantially different.
The Illinois-based Americans for the Truth About Homosexuality (AFTAH) got wind of an MAL-related — but in no way official or Centaur-sanctioned — event borrowing from the historic scene in the nation's capital: the Obama Inauguration Pig Sex Orgy. "This is a great victory for truth, decency and public health!" AFTAH cheered on its website after successfully lobbying the corporate parent of the hotel that was to be the site of the raunchy revelry to quash it.
A cancelled orgy was, however, the smallest of potatoes next to the Inauguration celebrations. The People's Inaugural Premier helped set the tone Friday, Jan. 16. The Obama Inaugural Celebration at the Lincoln Memorial the following Sunday saw members of the Gay Men's Chorus join a lineup that included Beyoncé, Bono and the Rev. Gene Robinson, the openly gay bishop of the U.S. Episcopal Church in the diocese of New Hampshire. The Tuesday, Jan. 20, parade included a contingent from the D.C. Different Drummers marching with the Lesbian and Gay Band Association, marking the first time the group joined the Inauguration Day Parade. "We're really excited that we're representing GLBT people from around the country in this parade," DCDD trombone player David McBee offered at the time.
Also in January, Councilmember David Catania (I-At Large), held a three-hour "community roundtable" looking into management of the Whitman-Walker Clinic in the wake of the late-2008 layoffs.
Closing out the first month of the new year, Brother Help Thyself held its annual grants reception at Remingtons, spreading more than $100,000 around the local community.
FEBRUARY
HELPING TO SECURE LGBT history, the D.C. Historic Preservation Review Board voted to add gay-rights pioneer Frank Kameny's upper Northwest home to the District's Inventory of Historic Sites. Meanwhile, the local Rainbow History Project, a group promoting and securing LGBT history, took Feb. 20 to celebrate the decades' worth of contributions made by Barbara Chinn and Pat Hawkins. Both were laid off from their WWC jobs in late 2008.
The WWC controversy continued with the clinic releasing to Catania a review of its workings that found no substantial mismanagement. The councilmember responded, "It doesn't surprise me that the Whitman-Walker Clinic has acquitted itself of poor performance…. [The authors of the review] had no interest in getting to the bottom of this. Their only interest was in whitewashing the issue."
On Feb. 6, a D.C. Superior Court judge sentenced Ruddad Abdulgader to 30 months' incarceration for attacking a gay man with a vodka bottle in Georgetown in October 2008. Intra-community violence was the subject of data from Rainbow Response, just in time for Valentine's Day. In a survey of 568 people from the local LGBT community, 28 percent responded that they had been in abusive relationships.
Despite the winter chill, February saw some steam with the re-opening of Ziegfeld's/Secrets, a club with nude-male dancing and drag entertainers, displaced in 2006 by the city's "eminent domain" land grab for the Nationals Park. But as one stalwart returned, another seemed less secure as New York's Gay City News reported that the investment fund controlling Window Media, and therefore its publications including the Washington Blade, had been placed into receivership — in August 2008 — by the Small Business Administration.
So much of the news of the day couldn't compete, however, with the "gay Super Bowl." In February 2009, Milk was a major contender at the 81st Academy Awards, with Sean Penn taking Best Actor for his portrayal of the assassinated gay maverick, and Dustin Lance Black winning Best Screenplay.
A day earlier, Feb. 21, D.C. saw the first rally for boosters of the city's bid to host the 2014 Gay Games, an effort that would build through the coming months.
MARCH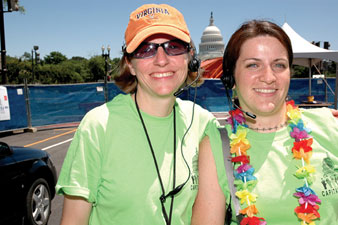 Capital Pride ED Dyana Mason (l) with Laura McGinnis of Renna Communications
(Photo by Randy Shulman)
AS MARCH HERALDED the return of spring, LGBT roots took firmer hold. The region saw its third Capital Queer Prom, for example. Capital Pride selected its first executive director, Dyana Mason, formerly executive director of Equality Virginia. Activists in nearby West Virginia solidified their efforts with the founding of Fairness West Virginia. The Gay Men's Chorus of Washington not only put on a show — everything gAy to Z — but also hired a new executive director, David Jobin, to succeed Robert Johnson. WWC's CEO Don Blanchon firmed up his own roots amid Catania's scrutiny, contacting press to emphasize, "I have no intention of resigning."
DC for Marriage, the marriage-equality advocacy effort affiliated with The Center, D.C.'s LGBT community center, launched its "I Do in D.C." campaign to collect supportive signatures and further engage with the community. Meanwhile, Catania met privately with leading local activists to discuss marriage-equality legislation.
March 5 saw the 13th annual Dining Out for Life event, benefiting Food & Friends, while HIV/AIDS faced a head-on attack March 20 as DC Fights Back rallied in front of the John A. Wilson Building. Traffic was stopped, no arrests were made.
APRIL
PEN, AKA THE Potomac Executive Network, made a splash in March with its inaugural "PEN Mega-Network Event" at Town. In April, it made a bigger splash by changing its name to the Capital Area Gay & Lesbian Chamber of Commerce and welcoming a new president Ken White, as longtime president Joe Kapp stepped down. At that April gala, the new CAGLCC named Metro Weekly's own co-publisher and editor-in-chief Randy Shulman as "male business person of the year." Metro Weekly did some awarding of its own, launching the Next Generation Awards. First up: Eboné Bell, Linh Hoang, José Ramirez and Brian Watson.
April's Miss USA 2009 pageant did not go as smoothly, as contestant Carrie Prejean and judge Perez Hilton had words over marriage equality. While Prejean went on grabbing headlines with news of her breast implants and sex tape, she also became a spokesperson for social conservatives, thanks to her one-man-one-woman worldview.
Prejean be damned, her influence did not prevent Vermont legislators from passing marriage equality on April 6. She must have gotten to Gov. Jim Douglas (R), though, as he vetoed the legislation. No matter, the Vermont General Assembly overrode the veto the following day and marriage equality went into effect in September.
April also saw added incentive for D.C. to get its own marriage-equality law passed as UCLA's Williams Institute on Sexual Orientation Law and Public Policy released a report finding that the District could expect an economic boost of more than $50 million over three years should same-sex couples be allowed to marry here.
April was full of transitions as D.C.'s annual Cherry party re-tooled as Taste4Life, Youth Pride Day returned to P Street Beach, Bet Mishpachah announced Rabbi Toby Manewith would lead the congregation as Rabbi Bob Saks ended his years of service, and April 3 marked what may have been the final Guerilla Queer Bar invasion in the District.
On April 7, the City Council voted 12-0 to recognize same-sex marriages from other jurisdictions, prompting another transition: Marion Barry's move from LGBT ally to animus. "You've got to go across the street and walk the halls of the City Council, confront all 12 of [the councilmembers], eye to eye, morality against immorality," Barry, not present at the vote, told a crowd of about 150 on Freedom Plaza April 28, equating marriage equality to immorality.
MAY
ON MAY 5, MEMBERS of the City Council cast their second votes for marriage recognition. With Barry present for this second round, he was able to cast his dissent in the 12-1 vote.
The community's own disaster-preparedness expert, Dr. Philip B. Terry, gave some commonsense cautions as H1N1 fear rolled across the world: "Use hand sanitizer and frequently wash your hands."
More dangerous threats were homegrown — at least for Mike Rogers of BlogActive. During a mid-May taping of Channel 8's Let's Talk Live in which Rogers discussed the movie Outrage, anchor Doug McKelway threatened Rogers, apparently for his support of outing closeted gay politicos who work against equality for LGBT people. "I'd take you outside and give you a punch across the face," McKelway said. "I think you're hurting innocent people."
As we said good-bye to Be Bar, we said hello to EFN Lounge/Motley Bar, a top-to-bottom transition for the Shaw neighborhood gay bar. Metro Weekly marked its 15th anniversary with its May 7 issue. Adventuring topped that with a 30-year anniversary, celebrated with a hike May 10. Arlington's Jerry Cowden — a 56-year-old, gay, HIV-positive man — wasn't marking an anniversary, just celebrating life and his retirement, as he set out on his weeks-long journey to Oregon by bicycle. "A lot of my friends have died," he said near the end of the journey. "Had they lived long enough, they might have joined me on this trip."
Gays and Lesbians Opposing Violence (GLOV) remembered the dead, as well as the injured, with a candlelight vigil and march on May 19, stopping at the spot at 11th and Q Streets NW where Durval Martins, a gay man, was killed in late 2008.
Memorial Day Weekend saw the return of D.C. Black Pride with four days of events under a theme of "Pure Love." Though some last-minute venue hiccups may have been a nuisance, the May 24 festival went on as planned at Love Nightclub.
JUNE
WITH YOUTH PRIDE in April and Black Pride in May, there were piles of pride still to come. DC Leather Pride ran June 4 to 7, Capital Trans Pride was June 6, DC Latino Pride returned June 12, and Baltimore reveled in some Charm City pride June 20 to 21. Then, of course, there was plain ol' Capital Pride, the 34th year for this huge annual celebration, and the first under the new leadership of the Pride Alliance. RuPaul headlined the Sunday, June 14, event and Valerie Harper — eternally known as Rhoda — served as Grand Marshal the evening before at the annual parade.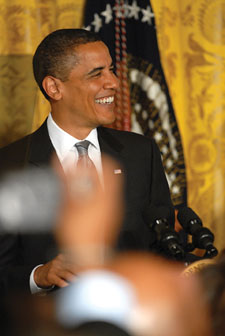 President Obama at the LGBT reception
(Photo by Ward Morrison )
Over at Utah Pride Fest in Salt Lake City, June 7, longtime activist Cleve Jones advised us Washingtonians we'd also be getting a national march come October.
On top of all that pride, June was simply divine with the formation of D.C. Clergy United for Marriage Equality, should anyone try to argue that those opposing marriage equality have a monopoly on godliness. Bishop Harry Jackson of Hope Christian Church in Beltsville, Md., may or may not have been paying attention, likely preoccupied with his push for a referendum to roll back D.C.'s new recognition of out-of-state, same-sex marriages. The D.C. Board of Elections and Ethics (BOEE) rejected that effort June 15.
With so many distractions, you might've missed the global gay soccer tourney June 14 to 21, the International Gay and Lesbian Football Association (IGLFA) World Championship, which brought hundreds of players from around the world to the D.C. area. The championship last landed in D.C. in 1997.
Gov. John Lynch (D) of New Hampshire signed marriage equality into law June 3, effective early 2010. More good news came with the D.C. budget, pledging $500,000 to help The Center find a permanent home. Whether good news or bad was a subjective call as the D.C. Office of Motion Picture & Television Development announced June 10 that locals were getting a new neighbor: MTV's The Real World DC.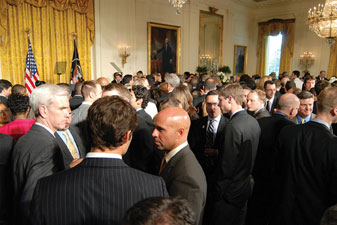 Awaiting the arrival of President and Mrs. Obama at the White House LGBT reception
(Photo by Ward Morrison )
The month closed with stunning evidence of a new day in America. On June 29, the Obamas hosted a reception marking the 40th anniversary of the Stonewall riots at the White House. "We've been in office six months now," the president told the crowd. "I suspect that by the time this administration is over, I think you guys will have pretty good feelings about the Obama administration."
JULY
IF JUNE WAS about hope for the future and community goodwill, July crashed the party. That half-million dollars from the city that The Center was counting on disappeared in an effort to put the city's budget back together. Also evaporated: and expected $150,000 for The Center's Crystal Meth Working Group; $150,000 in funding for Transgender Health Empowerment; and the $200,000 Mautner Project for Lesbians with Cancer. "I'm nervous," said David Mariner, executive director of The Center. "We can't operate without support from the city."
Dollars, of course, cannot compare to a loss of life. And the community was dealt a tragic blow with the death of Desi Deschaine, 29, who apparently drowned in Baltimore Harbor sometime between July 12 and 13. The young gay activist worked at Councilmember Jack Evans's (D-Ward 2) director of communications.
"Desi involved himself in every sector of D.C. society and loved to build bridges and facilitate connections across communities," Jeffrey D. Richardson, president of the Gertrude Stein Democratic Club, wrote shortly after Deschaine's death. "Desi will be missed, but through the joy he shared with us and his deep commitment to the District, his spirit will live on."
Farther from home, E. Lynn Harris, the gay African-American author, famous for a number of bestselling novels, died in Los Angeles at the age of 54.
AUGUST
DESPITE THE HEAT, there was much movement in August — literally. Equality Maryland left Silver Spring, returning its statewide headquarters to Baltimore, and the National Organization for Marriage (NOM) moved its headquarters for fighting marriage equality to the District. One In Ten announced an address change of its own, securing the Shakespeare Theatre Company's new Harman Hall for the bulk of its Reel Affirmations film festival programming in October.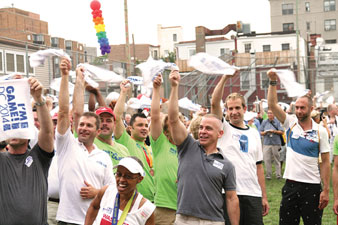 Participants at August's Gay Games Rally at Stead Park
(Photo by Brian Walker)
The goodwill between the Obama administration and the gay community took a hit in August as the Department of Justice argued on behalf of the Defense of Marriage Act (DOMA), although the president also posthumously awarded a Presidential Medal of Freedom to Harvey Milk in this month. Tennis great and lesbian, Billie Jean King, also made the presidential cut. An undisputed loss at the federal level was the death of longtime LGBT ally Sen Ted Kennedy (D-Mass.), one of the few members of Congress to have voted against DOMA.
August got sporty with the "I'm Game 2014!" rally, another enthusiastic outpouring to bring the 2014 Gay Games to the nation's capital, as well as the DC Strokes historic win at the USRowing National Championships in Camden, N.J, where they became the first openly LGBT team to medal at the event with a gold and two bronze.
But locals will likely remember August 2009 primarily for one person: Tyli'a "NaNa Boo" Mack, 21, a transgender woman fatally stabbed Aug. 26 on the streets of D.C., not far from Transgender Health Empowerment, where she was a client.
SEPTEMBER
SEPTEMBER BEGAN with marriage equality taking effect in Vermont. Vermont-based Ben & Jerry's Homemade Ice Cream celebrated the occasion by temporarily renaming the "Chubby Hubby" flavor "Hubby Hubby." Nine days later, New England progress was counterbalanced by a Southern setback as the Atlanta Eagle suffered a full-on bar raid.
Obama spoke to a historic joint session of Congress to push health care reform, where Rep. Joe Wilson (R-S.C.) heckled him as a liar. Of more note to the LGBT community, among First Lady Michelle Obama's guests in the audience was Easter Spencer, a local client of and volunteer for The Mautner Project.
The community was furious this month to learn that the young man who hit Tony Randolph Hunter a year earlier had agreed to a plea bargain charging him with "simple assault." Hunter died from head injuries after striking the pavement as a result of Robert Lee Hannah's initial blow. As the community worried about its safety, news came that Sgt. Brett Parson, the dynamo behind the Metropolitan Police Department's Gay and Lesbian Liaison Unit (GLLU) was being transferred from his position as head of all Special Liaison Units to a position supervising patrol officers at his request.
More bad news came Sept. 29 as D.C. learned it lost the 2014 Gay Games to Cleveland, which now joins the ranks of San Francisco, Amsterdam, Chicago, Cologne, New York and Vancouver. The selection left Washingtonians and Bostonians — who also vied for the 2014 games — scratching their heads in bewilderment.
The next day, however, direct from his flight back from Germany where he had been part of the final push for the games before the Federation of Gay Games in Cologne, David Catania attended the Convocation for Marriage Equality. At the convocation, which attracted hundreds to the True Reformer Building on U Street, Catania pledged to introduce marriage-equality legislation in October.
OCTOBER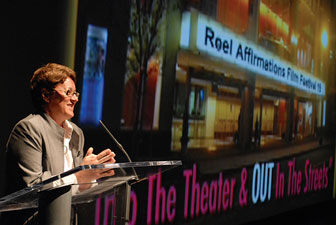 Margaret Murray addresses the opening night crowd at Reel Affirmations 19
(Photo by Ward Morrison )
TRUE TO HIS word, Catania made history at the Oct. 6 City Council meeting by introducing the Religious Freedom and Civil Marriage Equality Amendment Act of 2009. But this was just one day in what may have been the gayest month of 2009.
Cleve Jones was true to his word, too, making good on his June pledge and the National Equality March landed in D.C. Sunday, Oct. 11, bringing thousands of people with it. The mood was only enhanced by the Human Rights Campaign's 2009 National Dinner Oct. 10, including an appearance by the president. "It's a privilege to be here tonight to open for Lady Gaga," Obama joked with the audience. "I've made it!"
Joking aside, the most heartfelt outpouring was for Dennis and Judy Shepard, whose gay son Matthew became a martyr after being beaten two death 11 years earlier, almost to the day.
The 19th installment of D.C.'s Reel Affirmations LGBT film festival began Oct. 15, kicking off with An Englishman in New York. On Oct. 21, the Rainbow History Project celebrated a new installment of Community Pioneers, from Vic Basile to Jim Zais, alphabetically speaking. Sadly, someone who likely would've been included in RHP's ranks had he lived locally was Marcus Hernandez, aka Mister Marcus. The San Francisco-based chronicler of the leather community died Oct. 8 at age 77.
Along with Marcus, two other deaths challenged October's designation as gayest month. Instead, it was perhaps the saddest of 2009. Longtime activist Larry Stansbury, who gave years of support and leadership to Capital Pride and Brother Help Thyself, died of infections related to his renal system following hospitalization for a broken hip. He was 61 when he died, Oct. 31. Brian Picone, just 22, died of cardiac arrest Oct. 26. The openly gay student at Falls Church High School and then George Mason University participated in the NEM earlier in the month, marching with the La Clinica del Pueblo contingent.
Aside from mourning, there was also tension as both sides of the marriage-equality debate spent hours testifying before both the BOEE and the City Council Committee on Public Safety Oct. 26.
Also adding to October's tension, Hannah, the man who hit Tony Randolph Hunter, who later died, was sentenced Oct. 14 to 180 days.
Welcome news came Oct. 30 with Obama's signing of the Ryan White HIV/AIDS Treatment Extension Act of 2009, which included provisions to continue an effort begun in the George W. Bush administration to end the nation's HIV travel ban.
Regardless of which way the wind blows, whether there is good news or bad, one force of nature cannot be stopped — not that anyone wants to stop the annual High Heel Race on 17th Street NW. It may have changed directions in 2009, but the 24th race went off without a hitch Oct. 27.
NOVEMBER
NOT A PARTICULARLY good month. Nov. 3 was an election day and the Maine electorate voted to reject the marriage-equality law signed in May. Ken "homosexual acts are wrong" Cuccinelli, won the Virginia attorney general race.
Margaret Murray stepped down as head of One in Ten on Nov. 6. The February revelation of receivership caught up with the Blade Nov. 16 as employees arrived at the National Press Building to learn Window Media had shut down operations, just weeks after celebrating the newspaper's 40th anniversary. The brutal murder of 19-year-old Jorge Steven Lopez Mercado, a gay man, Nov. 13 in Puerto Rico resonated as far as Washington and well beyond. The community's interaction with the MPD was particularly sour, first at a Nov. 19 "open house," then at a Nov. 20 hearing before the City Council's Committee on Public Safety and the Judiciary — then in regard to a Nov. 30 to Dec. 4 training meant to increase MPD officers' awareness of the LGBT community.
On the upside, the BOEE rejected Bishop Jackson's second attempt to subject marriage equality to a popular vote. Andrew Hertzberg popped the question to Andrew Rollman during testimony before the Public Safety and Judiciary Committee Nov. 2 — Rollman said yes. And the International AIDS Society announced that the International AIDS Conference would return to the U.S. in 2012 — to D.C. specifically — in light of the HIV travel ban coming to an end. It was last held in American in 1990.
DECEMBER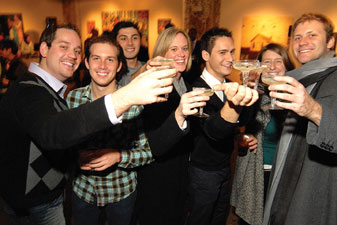 Celebrating the D.C. Marriage Bill victory at Long View Gallery
(Photo by Ward Morrison )
WORLD AIDS DAY was marked Dec. 1. For her part, Secretary of State Hillary Clinton indirectly advocated on behalf of Uganda's gay community who are dealing with proposed legislation to possibly jail and even execute gay people and make criminals of those who don't turn them over to authorities. "We have to stand against any efforts to marginalize and criminalize and penalize members of the LGBT community worldwide," she told reporters at the White House World AIDS Day event.
Deacon Maccubbin announced that his remaining Lambda Rising bookstores will close at the beginning of the new year, but said the move comes before he's been forced into it. As evidence of this being the start of a new chapter, Maccubbin also proposed to his partner, James Bennett, Dec. 15, on bended knee.
Far from a random date, Maccubbin's proposal happened as the City Council cast its second vote in favor of Catania's marriage-equality bill. The first vote was earlier this month, Dec. 1. Mayor Fenty signed the bill in celebratory fashion at All Souls Church, Unitarian in Columbia Heights on Friday, Dec. 18.
A few hours later, the snow began to fall, forcing some downtime on an exhausted community before it all starts again in 2010.