Karen Diehl is stressed.
"I feel like a little boy who's just going through puberty," she laughs. "My face is slightly breaking out."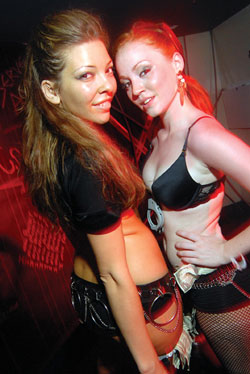 Bare
(Photo by Ward Morrison)
The reason for her stress? This Saturday, Dec. 19, marks the first anniversary of the monthly party Bare, which Diehl throws with her friend Melissa May at Cobalt. "We have so much going on, my head might explode," she says, ticking off highlights: Red Bull go-go dancers, DeKuyper shooter girls and two "surprise" guests from The L-Word. All that, plus the party's master-spinner DJ Rosie, whom Diehl says is the party's "No. 1 lady."
Held the third Saturday of each month, Bare attracts close to 450 revelers, or nearly Cobalt's capacity. "It gets pretty packed in there," Diehl concedes. Every month they showcase support for nonprofits, including Whitman-Walker, the Mautner Project and SLDN.
By day, Diehl works at a political advertising firm and by night attends Mary Washington College. Her side job as party promoter "fell into my lap" a few years ago. Underwhelmed with lesbian nightlife options, she recruited May to help co-launch a weekly women's party.
Their initial party, Lure, was such a success that after host venue RnR Bar & Lounge abruptly shuttered, Cobalt invited the Ladies of Lure production team to roost there. "Cobalt has been an amazing venue, a key to Bare's success," says Diehl. "Mark [Rutstein] and his staff have been phenomenal supporters." Also critical to the success is her "great team" of some 20 people.
And then there's the dress code – or more accurately, lack of one. "It's an event where you don't have this crazy dress code that you have to follow," says Diehl. The anything-goes policy stems in part from the fact that Diehl's a "sneaker addict" who likes to show off her flashy footwear.
The name itself partly reflects the loose dress code. Says Diehl: "We do encourage women to come out and show some bare skin."
Within legal limits, of course.
Bare's First Anniversary Party is this Saturday, Dec. 19, from 10 p.m. to 3 a.m. at Cobalt, 1639 R St. NW. General cover is $10, but VIP admission, which includes access to the 30 Degrees level exclusively featuring The L-Word guests, free champagne and $5 You-Call-It drink specials, is $25. Visit www.facebook.com/lurewdc.
Tonight's Bare anniversary event has been cancelled due to today's snow event. It has been rescheduled for Saturday, Jan. 16, 2010.