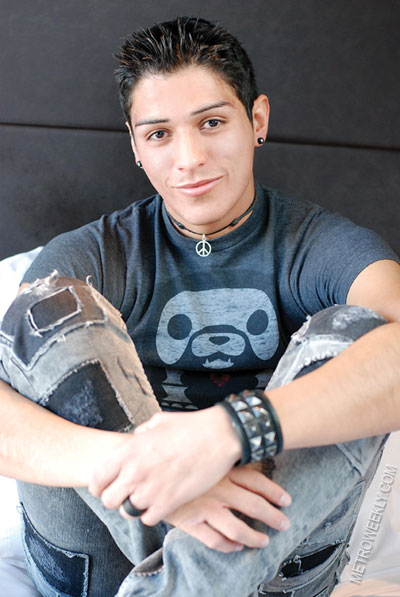 Cesar Ayala
(Photo by Jeff Code)
"Dreams do come true," says Cesar Ayala. "Look at me, I made it to the top three."
Ayala, 22, woke up screaming with joy the morning after he found out he had been voted one of three finalists for Coverboy of the Year.
"I was actually screaming in my bedroom. My roommate can't hear me because he is deaf, but he could feel it. He woke up and said he couldn't believe it"
Like his roommate, Ayala is deaf. He has been speaking American Sign Language since the age of five. Being deaf is no harder than being gay, Ayala says, adding that it hasn't deterred him in any way. Besides, he's never been one for a pity party.
"I notice sometimes that hearing people feel bad for deaf people and say, 'Oh, I am so sorry. Are you happy, even though you're deaf?' What a lame question. Of course we are happy. Thank God I am deaf. I enjoy my life so much."
Not only does he enjoy life, Ayala shoots for the stars. At least he's hoping to.
With the 2009 Coverboy first-runner up title under his belt, Palm Springs, Calif., native will now focus on his next dream: working as a photographer on America's Next Top Model.
"I'm a huge fan of Tyra Banks, and on national television they show hearing photographers all the time," Ayala says. "My dream is to be the first deaf photographer on America's Next Top Model, to show the world that deaf people can do anything."
To prove that he's got what it takes, Ayala is currently sharing on Facebook a photo album of pictures he took of models striking poses during a fashion show at his school, Gallaudet University.
Though he's having fun on Facebook these days, social-networking sites have not always worked exactly as Ayala would have liked. Three years ago, Ayala's life took a turn when a MySpace photograph of him locking lips with another boy got the attention of someone who attended his church. That news made its way to his mother and she confronted him about being gay.
"She said, 'Cesar, what is your dark secret?' I had no idea what she was talking about. She showed me the picture from my MySpace profile and so I decided to tell her the truth," he says. "She was pretty upset."
Things were rocky for a while, but time has smoothed out those wrinkles and Ayala now calls his mom his "best friend."
"She realized that she wants me to happy for who I am today. My mother is my best friend. We went through bad and good things. My mother is not the most perfect mother in the world, but she rocks my world."
Ayala's face lights up when he talks about the acceptance he's found at Gallaudet since moving to the Northeast campus in 2005.
"Gallaudet is so amazing," he says. "I feel I'm walking in the deaf world. All the students, teachers, staff, alumni use American Sign Language 24/7."
Ayala, who is single, is a senior studying communications. He's also a member of the Kappa Sigma fraternity. "Kappa Sigma makes me a better man," he says.
Still, Ayala will be saying goodbye to Washington when he's done at Gallaudet. He plans a return to his hometown in California where he hopes to develop a program that would give parents of deaf children greater access to deaf schools.
"There are a lot of Latino families in my hometown, and they do not let their deaf kids go to the California School for the Deaf — because it's too far. That school provides for deaf kids to sleep there during the week, then go home for the weekend. My mother sent me there because she wants me to become more successful in the future."
While Ayala loves D.C., he's not as big a fan of the cold weather. "California is my real home," he says. But Washington still holds a special place for him, as well as a mission.
"D.C. is not a bad place to [call] home," he says. "The gay community is a very powerful here. I want them to know that gay deaf people are part of their community, too."
First Runner Up's Prize Package
$250 Cash
18th & U Duplex Diner — $75 Dinner Certificate
9:30 Club — 2 Tickets to English Beat & Fishbone
Annie's — Upstairs at Annie's Gift Certificate for $50, Bar Tab at Upstairs at Annie's for $100
Club Fuego — $25 Bar Tab
Cobalt — $50 Bar Tab
DC Eagle — $25 Bar Tab
DC Film Society — 1 Basic Membership
Dito's Bar at Floriana — $50 Gift Certificate
Fireplace – $25 Bar Tab
GALA Hispanic Theatre — 2 Tickets to Beauty of the Father
Gay Men's Chorus — 2 Tickets to Grease
Freddie's Beach Bar — Sunday Champagne Brunch for 2
HRC Store — $100 Gift Card
JR.'s — $25 Bar Tab
Landmark Cinemas — 10 VIP Passes
Leather Rack — $50 Gift Certificate
Mid-Atlantic Leather Weekend 2010 — 2 Tickets to Reaction Dance
Miss Pixie's — $50 Gift Certificate
Nellie's Sports Bar — $25 Bar Tab
Omega DC — $25 Bar Tab
Pulp — Kalastyle Holiday Shave Kit
Shakespeare Theatre Company — 2 Tickets any one remaining production in the 2009/10 Season
Signature Theatre — 2 Tickets to Show Boat
SKIN: Cosmetic Dermatology of Georgetown — $75 of Professional Skincare Products
Town — $50 Bar Tab
Washington Shakespeare Company — 2 Play Theater Pass
Woolly Mammoth Theatre Company — 2 Tickets to any preview performance in the remaining 2009/10 Season
Ziegfeld's/Secrets — $50 Cash