When you close your eyes at work for a wee respite of daydreaming this season, chances are you're more likely to envision yourself soaking up rays on a tropical beach than in some noisy metropolis. But if the metropolis is Amsterdam, the palm trees have met their match.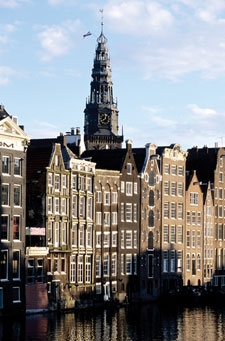 Amsterdam
Though possibly the most gay-friendly destination in the world, the fact that the Dutch employ the euro to pay the bills makes the city a pricier adventure than most non-European destinations. That's why any time between now and the late-March turn to the spring travel season is optimal for recession-weary voyagers. Prices in the off-season are downright reasonable. You may miss out on fields of tulips, but nobody's really going to the Amsterdam for the weather.
Further, even with off-season prices, it's not as though Amsterdam really slows down. The city may not be bursting with tourists, but there are enough European weekenders to keep Amsterdam bustling year round.
Perhaps you've never considered Amsterdam as a vacation destination. Why choose Amsterdam when big brothers Paris, London or Berlin beckon? Convenience and price.
London is loads of fun, but it's arguably more expensive than Amsterdam. Plus, Paris and Berlin can be a little tricky if you're not at least a tiny bit conversational in French or German, respectively. Not so with Amsterdammers, who will more often than not be fluent in English. As a global crossroads, Amsterdam relies on English. Dutch seems more a private language for the locals, likely to bemoan the drunk tourist who just peed in a canal.
Beyond the ease of communication, there is also the ease of mobility. Amsterdam's downtown area, "Centrum," is easily mastered on foot. Spreading out from the Central Station train hub like a fan, even the moderately fit can walk from one end of the core to the other in about an hour. Or hop on the extensive tram system. Amsterdam is no megalopolis. Rather, it is a bustling village.
Another argument for avoiding Amsterdam – or for just not putting it at the top of your travel list – is a matter of attractions. There is no Eiffel Tower, no Brandenburg Gate, no West End. Aside from smoking up in a coffee shop, what's so great about Amsterdam?
Plenty.
The Anne Frank House may not be a cheery landmark, but it's one that will move you more than the Arc de Triomphe or Big Ben. It is a monument to fighting hate. Nearby, you can also check out the Homomonument, an arrangement of granite triangles serving as a memorial to people who have been persecuted for being gay. Flowers are often left on the section of the monument across from the LGBT information kiosk, Pink Point.
The Rijksmuseum is an elaborate museum that walks visitors through various periods of Dutch history, with paintings, sculpture, other works of art and even household objects. The Van Gogh Museum is also on the Museumplein, or Museum Square. As long as you're in the museum area, the Heineken Experience is also worth a visit – admission includes tasting, of course.
A lesser-known attraction is the Museum of Dutch Resistance, chronicling the Dutch experience under the Nazis, from the heartbreaking details of the first deportation of Dutch Jews and subsequent strike by Dutch workers, to radios and weapons used by the resistance.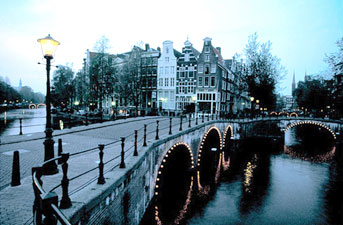 Amsterdam
Of course, if you do have an interest in the Dutch coffee shops as well as the museums, there is one among the dozens that caters to the gay community — though this is not much of an issue in tolerant Amsterdam. The tiny Other Side is at the edge of one of Amsterdam's three gay neighborhoods, along Reguliersdwarsstraat (don't bother even an attempt at pronunciation) off of Rembrandt Square. In the same area, there are a number of clubs and bars, from the super-hip lounges to the laidback pubs blaring Dutch sing-alongs. For the Sapphic set, the obviously named Sappho is nearby. In this particular neighborhood, Café Rouge is a great place to start or end an evening, as the matron serves trays of hors d'oeuvres, working her way through the tight and festive bar below a string of chandeliers. The Dutch truly seem to have a thing for chandeliers. Over by the Cuckoo's Nest, nearer the leather-leaning gay neighborhood along Wormoesstraat, look for the little alley lit with its own series of outdoor chandeliers.
The Cuckoo's Nest has something far more common in Amsterdam and other European hotspots than anywhere in America: a backroom. In this bar's case, however, it's more a basement maze, a dimly lit underground of brick walls. Free condoms or not, far from everyone's cup of tea, granted. The clubs and bars in this area – Cockring, the Eagle, several others – offer the leather set a choice of venues to grab a beer or fellow traveler, or get clubby and hit the dance floor. As with other clubs in Amsterdam, if there's a doorman and you think you might be returning sometime during your visit, drop him a euro or two as he allows you inside. It's customary, and will keep you from lingering on the sidewalk if there's a line next time.
As for accommodation, be prepared to climb stairs. Narrow, long stairs. A great spot for finding gay or gay-friendly lodgings is PurpleRoofs.org. The gay-owned Black Tulip is renowned for its hospitality, comfort and renting slings to guests. For the more mild-mannered, Palace B&B, also gay-owned, is very pleasant. Both are listed on the Purple Roofs site, along with several other options. Regardless of where you might stay, in the off-season you should have no trouble finding a comfortable, centrally located room or apartment for less than $200 per night.
For an unequaled, grassroots orientation of all the ins and outs of Amsterdam, gay and otherwise, visit www.amsterdamhotspots.nl.