"Fairy tales never really applied to us," says director Jon Moran. "With the exception of 'Rub-A-Dub-Dub,' [gays] didn't have a happily ever after." So Moran, working with the Gay Men's Chorus of Washington, has rewritten the classic fairy tale Snow White and the Seven Dwarves with a "contemporary gay sensibility. A fairy tale for us and our times."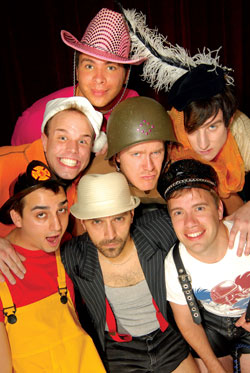 Gay Men's Chorus of Washington
(Photo by Ward Morrison)
Says Moran of the show, which is a highlight of Snow, this weekend's annual GMCW holiday concert: "The point of view of the story is of course that the whole world is gay." Except for the Evil Queen, played by a man in drag, the roles are all portrayed by men — as men. Even Snow White is a man. "It's wonderful when Snow White and Prince Charming fall in love," says Moran. "And it's wonderful when we see the kiss."
Moran, a special events producer and one-time nightclub singer, started working with GMCW soon after its founding in 1980, but only over the past few years has he become perhaps the organization's leading go-to director. He's particularly proud of how the gay community has progressed over three decades. "The younger gay men are so healthy and engaged with their world," he says. "They don't have to hide; they're not scared. It's wonderful to see it finally happen."
Gene Robinson, the first openly gay bishop in the Episcopal Church, will serve as guest conductor for Friday night's performance of the fully staged Snow. Moran is handling technical aspects for a portion of the first act, featuring the Chorus performing holiday-themed music.
But Moran's chief responsibility is the Snow White mini-musical, with music from various productions, not strictly the Disney version. "One of the problems with adults and fairytales is, we all know how they come out," says Moran. "So I had to come up with another ending." And that ending is meant to be a surprise.
"I'm not giving away all my secrets."
GMCW's Snow takes place Friday, Dec. 18, and Saturday, Dec. 19, at 8 p.m., and Sunday, Dec. 20, at 3 p.m. At Lisner Auditorium, The George Washington University, 730 21st St. NW. Tickets are $20 to $50. Call 202-293-1548 or visit lisner.org.