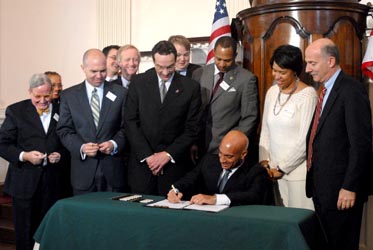 (Photo by Ward Morrison)
Mayor Adrian M. Fenty joined about 200 people, including his parents and several prominent LGBT leaders and D.C. councilmembers, at All Souls Unitarian Church, Friday morning, Dec. 18, to sign the Religious Freedom and Civil Marriage Equality Amendment Act of 2009.
"I think we knew this day would come," Fenty said. He was then joined by several members of the D.C. City Council, co-pastors of the Covenant Baptist Church in Southeast Rev. Christine Wiley and her husband Rev. Dennis Wiley, and director of the mayor's Office of LGBT Affairs Christopher Dyer, as he signed the legislation that would bring marriage equality to the District.
"The support for this legislation has long been the majority," Fenty told the assembled crowd, "but because of our political situation in Washington, D.C., many [LGBT-advocacy] groups decided we should wait for the right time.
"I know that all of us, as we leave here today…have to support Congresswoman [Eleanor Holmes] Norton," Fenty added, "not only in her statements, but in her deeds and actions, to make sure that when this bill is signed into law it will not get anything more than the passive approval that should happen in the current political situation."
Councilmember David Catania (I-At Large), the gay legislator who introduced the bill, said he felt "awkward" being "the center of attention, because this victory had many, many parents over decades, and they started with the Frank Kamenys of the world and they continue with everyone in this room."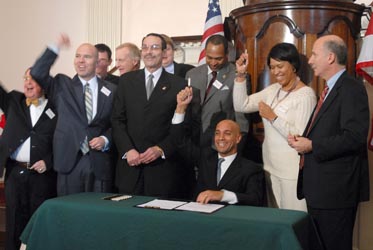 (Photo by Ward Morrison)
"I was fortunate enough to simply guide the process," he said.
"At times, even in our struggles," said Catainia, "we wonder whether our best days are behind us…. I've never been more certain in life that our best days are before us so long as our center, as a people, always means coming back to doing what is right."
With Fenty's signature, the legislation now heads to Congress where it will face 30 legislative days of oversight. Opponents of marriage equality in D.C. have pointed to the period of congressional oversight as an opportunity to push back the bill, although the current Congress' Democratic leadership posed no hindrance for similar legislation during the summer that allowed D.C. to recognize same-sex marriages from other jurisdictions.