"I'm your biggest fan. I'll follow you until you love me," Lady Gaga sang on her hit, "Paparazzi." "I won't stop until that boy is mine."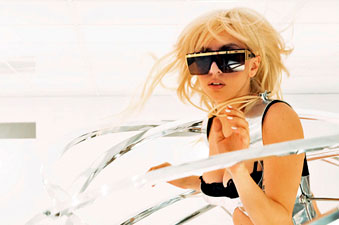 Lady GaGa
(Photo by Lauren Dukoff)
In the song, Gaga was assuming the role of a stalker, and in the past year, she herself has been insistent on beating everyone into submission – boys, in particular – until they love her and just can't get enough. The bisexual singer-songwriter won over a majority of the gay community almost from the get-go. And she then turned most of the unfamiliar or unwilling into fans after October's National Equality March, a national promotional tool that couldn't have been better timed if she had planned it herself and called it the National Gaga March.
There are, however, still holdouts. This time last year I, for one, had put her debut album The Fame on my year-end Worst 10 list. The set, released fall 2008, registered as too derivative of so much music that had come before, with vapid and materialistic lyrics that emphasized style over substance. It all sounded like a spoiled rich girl's fantasy, and why indulge that? The hype, already getting out of hand among gays back then, just didn't match the reality.
But with Gaga's new EP The Fame Monster, and even wider hype, would you believe Gaga has almost succeeded? She hasn't turned this almost-foe into a total-fan, exactly. But she has forced me to like her.
Gaga has put together eight new songs, releasing them as part of a standalone set or packaged as a two-disc deluxe set with The Fame. Gaga worked again mostly with producers RedOne and Space Cowboy, though she also enlisted Beyonce for the fantastically blippy "Telephone," about becoming untethered and out-of-reach on the dance floor. She dazzles like never before on "Teeth," the Basement Jaxx-worthy zany chopper that ends the EP. You can't help but smile big and wide here, a song that's all teeth, no bite. (Though it nods to S&M.)
LADY GAGA
The Fame Monster
Interscope
$10.98



With all her same-sex love and support, Gaga is clearly good for gays – and as a performance artist, as we all know by now, she's a true phenomenon. Her over-the-top antics are perfect for our hard-to-shock era. Still, as good as The Fame Monster is, she hasn't fully convinced me that she's good for pop music. You can still play name-that-reference here as before. It's a game that's often too easy, just as it was too easy for Gaga to fashion some of her tracks in the first place, given her blatant lifting. "Dance In The Dark" is cut almost wholly from Depeche Mode's "Strangelove" cloth, while "Speechless" pays slavish homage to Queen, the same band that gave 23-year-old Joanne Stefani Germanotta her nom de pop. And then there's "Alejandro," which blends ABBA's "Fernando" with Ace of Base's "The Sign" to whip up a Swedish-pop confection. Is simply recycling and dressing up old (albeit winning) ideas the closest we can get to anything truly new and exciting today?
Maybe so. In any case, after a year of perseverance, my Gaga reflex has finally been overcome, overpowered. I am finally taking a ride on the Lady's disco stick. And much to my surprise, I'm actually enjoying it.