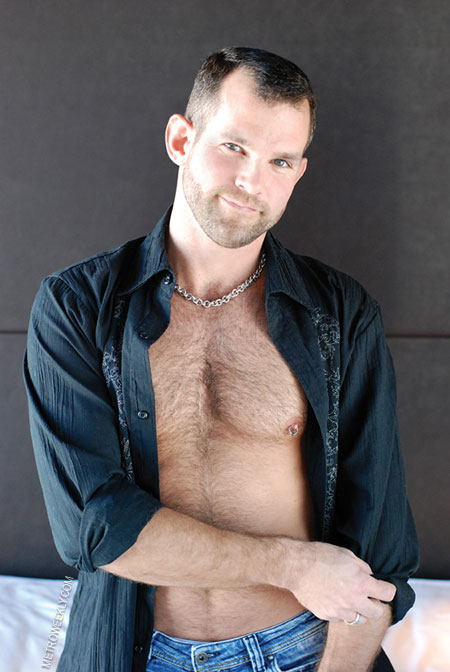 Grant Cleveland
(Photo by Jeff Code)
First things first. If you read Grant Cleveland's October "Coverboy Confidential" interview, you might still have a couple of questions.
For starters, Metro Weekly asked Grant what was on his nightstand. A light and a phone? Okay, no surprises there. A 900-year-old Abyssinian coin from Iraq? Well, that was a Coverboy first.
"My best friend, Kari — I've known her for 20 years — she went over to Iraq as a civilian," Cleveland says of his District digs roommate, a woman he met years ago at Western Kentucky University. At the marketplace where she stumbled across this relic, a co-worker assured her it was the real deal. She bought two and had them made into necklaces. "She has one and I have one."
You may have also been wondering if he ever got his paddles back. After all, when Cleveland answered the question about the most unusual place he ever had sex, he answered that it was on a canoe and that he and his canoe buddy lost their paddles during the throes of passion.
"We got one back, lost the deposit on the other one."
Even with those questions answered, there's still only so much to be gleaned from an initial Coverboy interview. Cleveland's hippie past, for example, didn't make it into print. Until now.
"I followed the Grateful Dead while I was in college," he says. I had a big ol' head of wavy hair. I loved the music, loved the shows. I think we even tried to smoke banana leaves. That lasted about three years. I don't regret the friends and some of the experiences. I regret the drugs. But it was hard for me to come out of the closet, and that was the avenue I used to try to be straight."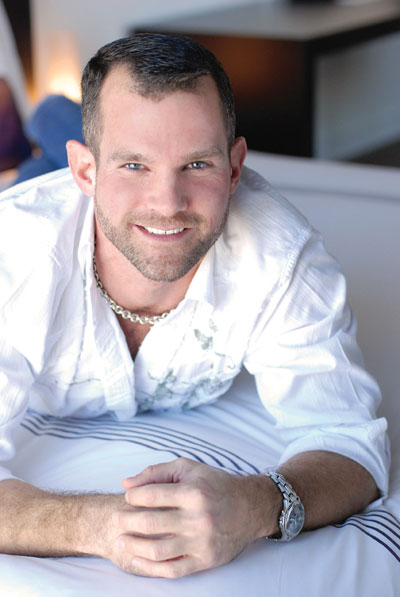 But the Birkenstocks and hacky-sack could only delay Cleveland from being true to himself for so long. He says that with the drugs, he knew he'd eventually get to a point he didn't like. And intuition told him that when he hit bottom, he'd have to make a change. The change, he reckoned would include coming out.
Leaving behind "stinky hippie syndrome," Cleveland cleaned up his act, literally and figuratively. He left his old Kentucky home — the Frankfort farm of his youth and Bowling Green of his college years — and settled as a clean-cut, newly out gay man in Nashville, Tenn. As some things changed, others remained the same. Where he once followed Jerry Garcia to Atlanta, now he found himself in Atlanta dancing in his underwear at circuit parties. This time, at least, he had a new outlook. He wasn't looking to hit bottom, but to steer clear of the worst temptations.
Today, at 39, Cleveland has what could be considered a pretty good balance. He has some seniority at his job as a relationship manager for a payment processor — the job that brought him to D.C. 11 years ago — and he seems head over heels about his boyfriend, Chris. He loves D.C.'s gay nightlife, but he gives just as much attention, if not more, to keeping his body in shape.
Cleveland enjoys a cocktail, but his real stress relief comes from working out. In high school he used the same athletic escape. But he wasn't running from stress. He was using sports to deflect some of the bullying.
"They called me fag, picked on me," he says. "I focused on my sports. It was a shield. Track was my specialty. I wasn't the best, but I held my own."
He says he'd consider going back for a high school reunion, but he's had better things to do. For the last reunion, he was busy with an Atlantis Cruise. Take that, pep squad.
If living well is the best revenge, his now middle-aged classmates should know that Cleveland is maintaining his athleticism with triathlons, twice competing in the Dewey Beach Triathlon. He finished 83rd in field of 458 men in September, and that's after having his appendix out in August. And after — another secret not mentioned in his October interview — giving up cigarettes.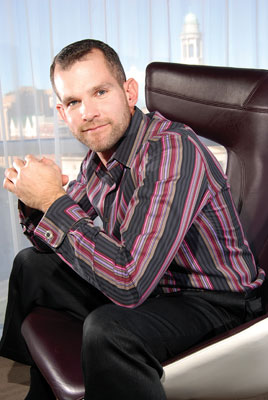 "I was a heavy smoker — pack, pack and half of Marlboro Lights a day," he says, though growing up on a tobacco farm may have left him more predisposed than most to the habit. "It was horrible. It was like a best friend you don't want to quit. During my marathons, I was smoking. I was cheating. I can't believe I didn't have a heart attack. I didn't want the DC Front Runners to know, because I was embarrassed. But once you've beaten it, you can quit anything. It's nice to have clear lungs and not be out of breath, to know that you can keep on running."
What may be the most important thing to know about Cleveland, though, is not his hippie past, the closet smoking or his wantonness on the river. What is most striking is his good-natured attitude, his self-effacing charm.
Take his Coverboy of the Year campaign, for instance. He was fine with having a friend Twitter on his behalf, but stopped short of creating a "fan page" on Facebook. By his standards, that was just going too far. Of course, he did tell his biggest fan, his mother, about the contest. She, in turn, became his biggest booster.
"She was at a funeral, and a woman reached down and took her and hand and whispered, 'I voted.' That just cracked me up."
Of course, Cleveland's thrilled to have placed in the contest. He's approaching 40 and was hoping to be in good shape for the milestone. He just hopes it doesn't add to the common misconception that he is unapproachable.
"For some reason, people say, 'I always wanted to come up and say hi, but I felt like you'd never say hi back.' Why on earth would you say that? I'm a very friendly person. I don't consider myself any 'top dog' in the gay community. The world can be such an ugly place. We're all equal and there's no need to be ugly. Just be nice to people."
Score one for Mr. Nice Guy.
Winner's Prize Package
$500 Cash
18th & U Duplex Diner — $100 Dinner Certificate
9:30 Club — 2 Tickets to La Roux
Annie's — $100 Upstairs at Annie's Gift Certificate, Birthday Cocktails at Upstairs at Annie's Worth $100, and For Duration of Tenure, First Cocktail Complimentary Per Visit (limit one per day), either level
Apex — $100 Bar Tab
Arena Stage — 2 Tickets to The Fantasticks
Blowoff — Complimentary Admission to D.C. event from January to June 2010
Club Fuego — 2 Admissions and a $50 Bar Tab
Club Hippo — Free Admission for 2010
Cobalt — $100 Bar Tab
DC Eagle — $50 Bar Tab and Eagle T-Shirt
DC Film Society — 1 Basic Membership
DCDD's Capitol Pride Symphonic Band — 2 Tickets to Spring Concert
Dito's Bar at Floriana — $100 Gift Certificate
EFN Lounge — Complimentary Bottle Service featuring bottle of choice and Guest List of 10 to any 1 event of coverboy's choosing
Fireplace — $75 Bar Tab
Folger Theatre — 2 Tickets to Orestes, A Tragic Romp
Ford's Theatre — 2 Tickets to Little Shop of Horrors
Freddie's Beach Bar — Sunday Champagne Brunch for 2
GALA Hispanic Theatre — 2 Tickets to Beauty of the Father
Gay Men's Chorus — 2 Tickets to Grease and 2 Tickets to Divas with Christopher Peterson
Green Lantern — 2-hour Cocktail Party for Winner and up to 50 friends Halo DC — $100 Bar Tab
HRC Store — $200 Gift Card
JR.'s — $100 Bar Tab
Kennedy Center — 2 Tickets to Young Frankenstein in the Opera House
Landmark Cinemas — 20 VIP Passes
Leather Rack — $75 Gift Certificate
Level One Restaurant — $50 Gift Certificate
Mid-Atlantic Leather Weekend 2010 — 1 Full Weekend Pass and 1 additional ticket to Reaction Dance
Miss Pixie's — $75 Gift Certificate
Nellie's Sports Bar — $100 Bar Tab
Omega DC — $50 Bar Tab
Pulp — Kalastyle Holiday Shave Kit
Robert Dodge Photography — Complimentary Portraiture Shoot
Round House Theatre — 4 Tickets to Around the World in 80 Days
Signature Theatre — 4-Show Pride Night Subscription for 2
Shakespeare Theatre Company — 2 Tickets any one remaining production in the 2009/10 Season
Sabores Restaurant — $50 Gift Certificate
SKIN: Cosmetic Dermatology of Georgetown — $100 of Professional Skincare Products
The Birchmere — 2 Tickets to Judy Collins
The State Theatre — 2 Tickets to each: The Smithereens, Real Diamond and Bruce in the U.S.A.
The Washington Ballet — 2 Tickets to The Great Gatsby
Theater J — 2 Tickets to The Four of Us
Town — $100 Bar Tab
Universal Gear — $100 Gift Certificate
Washington Shakespeare Company — 8 Play Theater Pass
Woolly Mammoth Theatre Company — 2 Tickets to any one remaining production in the 2009/10 Season
Ziegfeld's/Secrets — $100 Cash