With a weekend snowstorm headed to the District — a city not celebrated for its snow-worthiness — many Washingtonians were likely preoccupied Friday, Dec. 18, with purchasing last-minute staples and getting home early. Still, there was time for some historic business as Mayor Adrian M. Fenty signed legislation granting marriage equality in the District. Noticeably absent, however, was Frank Kameny.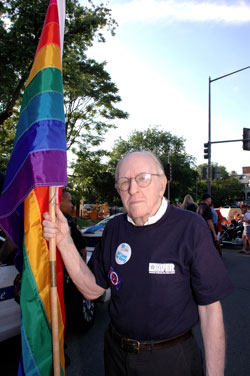 Frank Kameny
(Photo by Randy Shulman / Metro Weekly File Photo)
Though the gay-rights pioneer was cited as a forebear of this pivotal juncture for the District, he had a preoccupation of his own: keeping warm.
"There was the boiler that came with the house in the 1950s, which was replaced in the 1990s," says Kameny from his modest home in D.C.'s Palisades neighborhood as Fenty signed the bill. "I thought that would take care of me as long as I remained alive."
Kameny's heating unit broke as the last cold season ended. In the interim, when the 84-year-old has needed heat, he's employed his kitchen stove.
"I've kept myself reasonably warm," he says, adding that over the months, several people became aware of his broken boiler. One of them called the office of Councilmember David Catania (I-At Large), the gay councilmember who introduced the very same marriage-equality bill. Catania assigned his deputy chief of staff, Jennifer Jenkins, with finding a way to remedy the heating situation for this icon of the modern gay-rights movement. Jenkins says programs offered to eligible recipients through the city's Office on Aging and the District Department of the Environment helped Kameny replace his broken boiler.
Kameny was pleased to have been invited to the signing ceremony, but that there was no way around the scheduling conflict with the heating technicians, particularly with inclement weather on its way.
"I would have liked to have been there, but it got signed just as effectively without me," Kameny says with a laugh. "The important thing is it got signed."
Although he says his stamina is waning, Kameny wants to stay put. Moving out of the house he has occupied since 1962 and into a situation with fewer maintenance issues is an option he'd prefer not to consider. Meanwhile, a group associated with the Gay Men's Chorus of Washington has nobly been managing Frank's yard work and offering other assistance.
"That has worked out very well," he says. "I'm deeply grateful to them. Up until about two years ago, I kept everything up quite meticulously. I used to mow the lawn and clear the leaves…. Nowadays, I don't have quite the energy and stamina I once did."
And as some communities geared specifically for elderly LGBT people slowly crop up around the country, they hold even less allure for Kameny than a different home in the District.
"I'd just as soon stay," Kameny says. "I've lived in D.C. since 1956. I have very, very deep roots. I'm on first-name terms with both the vice president and president, which I never would've envisioned in the least."
Granting that his financial acumen is not his strong suit and that expenses have been troublesome during in his later years, Kameny reasonably guesses that he'd have the security of a substantial pension had he not been fired in 1957 from his government job with the Army Map Service for being gay.
For more information about services available to D.C. seniors, call the Office on Aging at 202-724-5622 or visit dcoa.dc.gov. The Center, the area's LGBT community center, also offers the Elder Think Tank program providing support and advocacy for seniors; call 202-682-2245 or visit thedccenter.org/programs_elderthinktank.html.