Grab your torches and sharpen your pitchforks — a lumbering beast has been brought to life at the Kennedy Center and the sooner he's driven back to his castle, the better.
The biggest disappointment with Mel Brooks' musical version of Young Frankenstein, now wreaking havoc on the Opera House stage, is watching some very talented actors plow their way through material that couldn't have even gotten a laugh in the Catskills in 1954. The songbook is one-dimensional, the jokey accents layered so thick that entire songs are almost indecipherable and many of the dancers from the touring company's ensemble appear strangely unprepared. (When doing a kickline it's generally good to be able to fully extend one's leg.)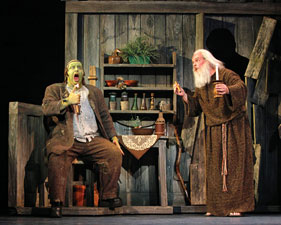 Young Frankenstein
(Photo by Paul Kolnik)
The plot holds very close to that of Brooks' 1974 movie, close enough that many in the audience are able to start laughing before some scenes even begin. Remember the revolving bookshelf bit? Igor's traveling hump? That thing that happens anytime Frau Blucher's name is said?
It would seem you're not alone.
Victor Frankenstein has died which means that his entire estate has been transferred to his grandson Frederick Frankenstein (Roger Bart) — pronounced Franken-steen — a brilliant New York neuroscientist. To square away his inheritance the young Frankenstein must head to Transylvania where, much to his own surprise, he decides to join the family business and create a monster of his own.
The biggest question the musical Young Frankenstein raises is why it needed to be made into a musical at all. Most of the show's songs are shoehorned throwaways that neither further plot nor offer particular insight into the characters themselves. Frau Blucher's (Joanna Glushak) big number "He Vas My Boyfriend" should be a winner but poor sound quality reduces even that to Transylvanian garble.
Bart and Cory English, who plays Frankenstein's assistant Igor, deliver with the song-and-dance number "Together Again" but even Anne Horak's fantastic instrument can't make laboratory assistant Inga's "Roll in the Hay" anything more than the one-liner it should have stayed. As it's the holidays it seems appropriate to try to find some bright spots beyond the show's strobe light effects.
Bart, one of two folks who originated their roles in the Broadway version of Young Frankenstein, knows how to play an audience and finds some new humor in the material. Horak's voice is quite wonderful and we can all hopefully look forward to a return to Washington with a better vehicle to support it.
And then there's English. Frankenstein's assistant had a big hump to fill in the role originated on film by the great Marty Feldman and he does some solid, though not particularly breakaway, comedic work. But none of this is enough to make Young Frankenstein worth the price of admission. In fact, it's hard to believe that there was anyone diabolical enough to try and bring this musical monster to life in the first place.
Audience members familiar with the work usually done by the folks at The Keegan Theatre might have been rightly surprised when they heard that producing artistic director Mark Rhea was mounting a production of Rent in D.C. this holiday season.
As it turns out Rhea's surprise is a real party.
YOUNG FRANKENSTEIN

To 1/10/10
KenCen Opera House
$37-$90
202-467-4600
kennedy-center.org
Simple, uncluttered and filled out by a talented cast that reflects the diversity and raw spirit of the show's original intent, Rent is a triumph. Mark (John Loughney), a filmmaker, and his HIV-positive songwriter roommate Roger (Juan Carlos Sanchez) are about to be evicted by their former roommate Benny (Edward Daniels). While Roger and Mark can't afford heat, Benny has married well and is working to transform his old artist loft digs and a tent city next door into high end condominiums and a digital, virtual reality studio.
Where Keegan's Rent succeeds wildly is with its cast. Loughney brings Mark to the stage with a slight, almost apologetic delivery that contrasts brilliantly with Sanchez's powerful voice. Emily Levey plays Mimi and shines with her performance of one of the show's most difficult numbers, "Out Tonight." It's not everyone who can howl at the moon and make it musical.
RENT




To 1/17/10
Church Street Theatre
$35
703-892-0202
keegantheatre.com
Weslie Woodley and Katie McManus, who play feuding couple Maureen and JoAnne, battle sensationally with "Take Me or Leave Me." Michael Robinson and Parker Drown will break your heart as Collins and Angel. As much fun as Drown is with "Today 4 U", Robinson's reprise of "I'll Cover You" is the stuff of a good, hard cry.
The core cast is supported by an ensemble that delivers the show's big numbers – "La Vie Bohème" and "Seasons of Love" – with power and a magnetic passion.
One interesting and, again, unexpected element of Keegan's production is the way that it uses The Church Street Theater's tight quarters to great advantage. There's a lovely intimacy that elevates the real heart of the musical – the importance of community. Truly, the only small stumbles are when the physical space isn't fully taken into account. Some of the choreography is a bit too ambitious, but that's probably to be expected.
After all, if Keegan Theatre wasn't into taking chances we wouldn't have a great production of Rent to love this season.