There's nothing better than an uplifting movie to please the masses that's released just in time for the holidays. And if it involves sports, score! In fact, this year there are two to pick from, both focusing on a person who inspires others to achieve athletic greatness: The Blind Side starring Sandra Bullock and Invictus starring Morgan Freeman and Matt Damon. One is about football, the other about rugby; one is set in Texas, the other in South Africa. Yet both capitalize on large doses of sap and cheese to evoke warm fuzzy feelings inside.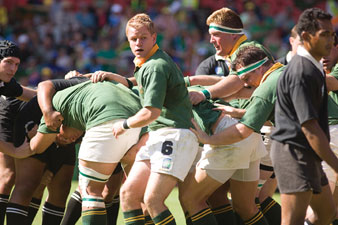 Invictus
Rugby fans – or perhaps all sports fans – already know the story of the South African Springboks who beat the odds to win the 1995 Rugby World Cup. It was a stirring victory by the underdogs, which alone would be great story for a movie. But according to Clint Eastwood's latest directorial endeavor, it wasn't just the team who won, but the country's new president, Nelson Mandela, as well.
When Mandela assumed the presidency, to say that South Africa was divided across racial lines would be an understatement tantamount to saying the Golden Girls liked cheesecake. One of Mandela's plans to get all South Africans on the same side was to give them a team worth cheering for – the Springboks. Tapped to carry Mandela's water on the field was team captain Francois Pienaar (Matt Damon), who had to motivate his team, his family, and according to Anthony Peckham's script, the entire nation.
Based on a book written by journalist John Carlin, the film focuses on three main story arcs: Mandela's calculated risk to focus on rugby as way to unite the country; the team's lack of faith in themselves that they could win; and Mandela's newly integrated security team, who represent a microcosm of the country on a whole. If one were to dissect Invictus in a film class, the three parallel stories would follow the same predictable arc throughout.
It's likely because of this deliberate plotting that Invictus achieves its one purpose: to make the audience feel good. To maximize on the happy feelings, Eastwood's direction has a cool efficiency to it. Every scene is narrowly designed to serve an emotional purpose, which is not nearly as problematic in Invictus as it was in Eastwood's last film, Gran Torino. For while it's clear that each scene serves a particular function in moving things forward, Eastwood stitches them together with surgical precision. It's like he's cutting through your chest and breaking apart your sternum to pluck your heartstrings directly with the tip of his scalpel.
Despite the moments of tension that Eastwood tries to weave through the film – threats on Mandela's life or the outcome of a game – nothing really gets the heart racing. The team is going to win and you may get goose bumps when Mandela presents them with the Cup, but suspense has no place on this rugby field.
It wouldn't be a Morgan Freeman movie without the omnipotent voiceover, and when he's tackling the role of Nelson Mandela you better bet you're going to get words of wisdom. In this case, he recites the poem Invictus, which Mandela gave to the team as inspiration. Freeman has a tough job in recreating pivotal moments in Mandela's life, including his inaugural speech, which he handles with his usual aplomb. Freeman's portrayal of Mandela creates a man who is determined in his path while acknowledging the risks inherent to the direction he has chosen. And despite all the rugby in the film, Invictus is truly Mandela's – and therefore Freeman's – film. Freeman dominates the majority of screen time and towers over Damon as the captain.
INVICTUS




Starring
Matt Damon,
Morgan Freeman
Rate PG-13
134 Minutes
Opens Friday,
December 11
Area Theaters
Which is nothing against Damon's performance; his role is just less interesting. Pienaar never truly emerges as an inspiring leader and therefore Damon has less to work with in the part. He's charming and looks like a rugby player (or a miniature one), which is frankly is all that is required.
For the first 90 minutes, Eastwood does a great job of focusing the film on what counts – the role of rugby in helping Mandela unite the country. There are rousing moments like the team teaching children in a township how to play the sport, but the time spent recreating game footage in minimal. Yet, when the final match is reached, Eastwood makes his biggest error. It's way too long, there are way too many cuts to the different groups watching the game, and never should he have included scenes with the men grunting in slow motion. Unfortunately, it's downright laughable. While it's not enough to ruin the film, it is like fumbling on the five-yard line.
In the end, you know exactly what you're going to get from Eastwood's film: a winner. Will it beat out The Blind Side? That's an outcome worth betting on.