It's time for the good times — forget about the bad times. Next Thursday, Dec. 31, you can toast to a better year ahead all across town, with most bars open late and offering party favors and drink specials, including complimentary champagne toast. Because what would New Year's Eve be without the bubbly? Or, for that matter, New Year's Day without the hangover? Nellie's, the DC Eagle and Phase One are among the spots offering free fizzy, favors and more. Halo will too, and for the last time by that name – the P Street lounge becomes MOVA the very next day.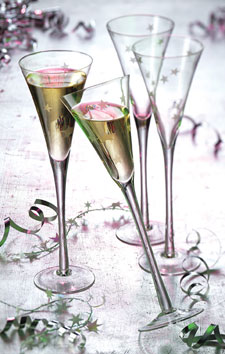 For $20, Freddie's Beach Bar throws in drag cameos, an appetizer buffet and karaoke, starting as early as 4 p.m. For just $8, Omega throws in an 11 p.m. performance of the Men of Omega. At no cover JR.'s includes a balloon drop, filled with $300 in prizes. But if you'd rather eat than win swag, Annie's offers a "midnight brunch."
The Ziegfeld's/Secrets complex of dressed-up female illusionists and dressed-down male surrealists puts on a larger-than-life spectacle. With a cover of $15, Apex has Randy White spinning dance-pop in the Main Hall and Michael Brandon spinning Latin-pop in the East Wing lounge – and it's one of the few places that's 18 and up.
Over at Town Danceboutique, the crowd's 10 favorite songs of the decade play in a countdown beginning at midnight, while all night Ed Bailey upstairs and Wess downstairs spin tunes to jumpstart 2010 and even a new decade, the teens. X-Faction and the Ladies of Town also perform, with tickets costing $25 at the door or online.
Cobalt hosts the monthly alt-dance party Shift with DJ MAJR and guest DJ Aaron Riggins for a $10 cover. That's to be followed by something this town hasn't seen in years: a true after-hours party. DJ Drew G spins Friday, Jan. 1, starting at 8 a.m. until noon.
Remington's kicks off its two-stepping party at 8 p.m., with special entertainment and a $10 cover. And at EFN, the upstairs Motley Bar features a Top Songs of 2009 countdown – at no cover – with a "Premiere Ball 2010" downstairs featuring various vogue houses coming together for a party with a $300 prize. The ball's $20 cover includes VIP access to an after-party at Mirrors Nightclub. Meanwhile, Baltimore's Club Hippo hosts DJs Vince Christopher and Shawn Q from 10 p.m., with a $10 cover.
The Republic hosts the city's "Biggest All Ladies'' bash starting at 9 p.m., with tickets $20 before Dec. 25 or $30 before Dec. 30. And then the Capitol Skyline Hotel hosts Brightest Young Things "2010: A Space Fantasy," a mostly straight party but one that promoters are taking pains to make all-inclusive by featuring a "gay room" with DJ Shea van Horn.
Once you've toasted the New Year, it'll only be Friday, so keep the celebration going all weekend. Two particular outings of note for Saturday, Jan. 2: the next Homo/Sonic party at the Black Cat, which starts at 9 p.m. and features a $10 cover; and the debut of Town's new amateur-drag queen contest "So, You Think You're a Drag Queen?" with Bebe Benet, winner of RuPaul's Drag Race, serving as guest judge for the contest starting at 10:30 p.m.
Buh-bye aughts! Hello, teens. Things are looking up already!