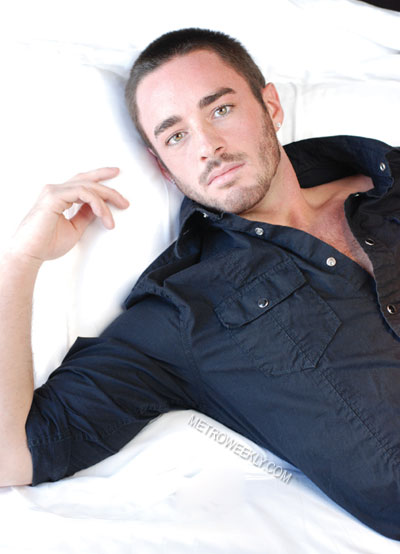 Ryan Metzler
(Photo by Jeff Code)
"I'm very aware of the fact that I'm not the tallest person in the world," says Ryan Metzler. Just how tall is the stunning 20-year-old? "I'm 5'7″ and a half," he says, adding with a laugh, "You can't forget the half!"
Metzler knows his height is a limitation to making modeling a career, something that does intrigue him. ("I'm even short for a girl model," he acknowledges.) But obviously, height is no hindrance in the Coverboy contest, its own form of modeling. "It feels kind of special," Metzler says about making it in this year's top three.
And he should feel special. Not only did hundreds of people he's never met vote for him — his entire family did, too. "I mean, I hope so! I told them to," he says with a grin.
Metzler grew up in Burke, Va., the second of four children. He's focused most of his attention since age 7 on playing the strings, first the viola, then settling on the violin. He was in Robinson High School's orchestra, as well as the selective American Youth Philharmonic Orchestra. When it came time for college, he garnered a full scholarship to perform violin at the University of Memphis.
But Metzler was also a very athletic child, in sports as diverse as gymnastics and soccer.
"I played every sport except for the contact sports," he says. "I was never really good at football or lacrosse or hockey. I always wanted to play basketball. But I'm short, so…."
In short, Metzler was not the stereotypical gay boy picked last in gym class. "No, no, no, no," he says. "I always could play sports and keep up with everyone."
But high school was still as trying for him as it is for most gay kids.
"I guess I might have some mannerisms. Sometimes I would do my wrists," he says of the seemingly gay nuances that are the high school equivalent of blood in the water. "People are cruel. Some people were not nice to me in high school. It was hard."
At 13, Metzler knew he was different from the other boys. As he describes it: "I was sexually attracted to guys but emotionally attracted to girls, if that makes sense."
It wasn't until the end of his freshman year in college that Metzler came out for the first time, to a singer in a university opera production. Soon after, he came out to his fraternity, Sigma Phi Epsilon. A lot of his frat brothers "were upset with me because they felt like I lied to them, and that I changed." The college junior is no longer involved with the fraternity, focusing instead on studying the violin while also adapting to his new major, which he considers more practical: hospitality and resort management.
Summer will find Metzler back with his parents in Northern Virginia, serving as a lifeguard at public pools in the area. He came out to his folks before returning to college in August 2008.
"It took me the whole entire summer before I could build up the confidence to finally come out." Fortunately, his family accepted his sexual orientation almost immediately. "My family is very supportive," he says. "They just support me fully."
They've been especially supportive during his Coverboy experience. His mother, aunt, grandmother and a cousin all came to the photo shoot. In fact, his parents flew their son in from Memphis just for the shoot, even though he was in the midst of finals week. ("I prepared myself for finals before I came here," he's quick to note.)
Metzler, who turns 21 next May, is not yet of an age to go out much, so Facebook is a key way he engages with the wider world. It was through Facebook he gauged the response to his run as a Coverboy, first back in July, and during the past few weeks of the contest. He's not sure the fan page he made worked, but posting it as his status and writing about it on many of his 1,300 friends' virtual "walls" certainly helped. Plus he got plenty of unexpected Facebook friend requests.
"It makes me feel good."
Second Runner Up's Prize Package
$175 Cash
18th & U Duplex Diner — $50 Dinner Certificate
9:30 Club — 9:30 Club Prize Pack
Annie's — Complimentary Brunch for 2 Worth $50
Club Fuego — $25 Bar Tab
Cobalt — $25 Bar Tab
DC Eagle — $25 Bar Tab
DC Film Society — 1 Basic Membership
Freddie's Beach Bar — Sunday Champagne Brunch for 2
GALA Hispanic Theatre — 2 Tickets to Beauty of the Father ^ Gay Men's Chorus — 2 Tickets to Grease
HRC Store — $50 Gift Card
JR.'s — $25 Bar Tab
Leather Rack — $25 Gift Certificate
Mid-Atlantic Leather Weekend 2010 — 2 Tickets to Reaction Dance
Miss Pixie's — $25 Gift Certificate
Nellie's Sports Bar — $25 Bar Tab
Pulp — Kalastyle Holiday Shave Kit
Shakespeare Theatre Company — 2 Tickets any one remaining production in the 2009/10 Season
Signature Theatre — 2 Tickets to Show Boat
SKIN: Cosmetic Dermatology of Georgetown — $50 of Professional Skincare Products
Town — $50 Bar Tab
Washington Shakespeare Company — 2 Play Theater Pass
Ziegfeld's/Secrets — $25 Cash