Howard Teichmann and George S. Kaufman's The Solid Gold Cadillac is not a musical, despite that undeniable fact some may well leave Studio Theatre's production with a tiny loop of music firmly embedded in the back of their heads. It's the sound of a whirl of violins, perhaps accompanied by the percussion of a clacking typewriter. Maybe it's accompanied by the mental image of a rush of traffic, a busy yet anonymous metropolitan streetscape filmed in black and white.
And then there's the voiceover. The calm baritone of an omnipresent narrator (for that you won't need your imagination – Studio has enlisted local television and radio celebrity Robert Aubry Davis) whose job it is to set the scene and make opening introductions.
The set up is classic, almost literally. It's that fantastic bit of filmmaking that has left us with a memory of a midcentury America where the men were handsome, the women were brilliant and everyone dressed for, well, everything.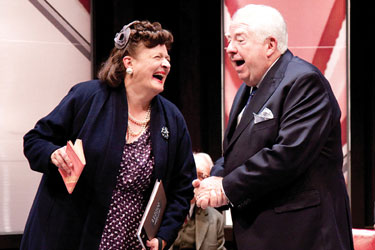 The Solid Gold Cadillac
(Photo by Scott Suchman)
Set in 1953, The Solid Gold Cadillac is a screwball comedy about "the little guy." Except, in this case, the little guy isn't a guy at all. She's Laura Partridge (Nancy Robinette), a woman of a certain age who's taken the subway into midtown to attend her first stockholders' meeting. Mrs. Partridge owns 10 shares of the massive conglomerate General Products and she's come with a single, simple question: Why does the chairman of the board make so much money?
It's a question the new chairman and his cronies don't want to answer so, to keep the former actress quiet and out of the way, they do the obvious thing. Obvious, that is, if one is part of a screwball comedy.
They hire her.
They stick Mrs. Partridge into a former storeroom with a secretary tasked with keeping her from doing anything significant. The boys in the boardroom think they've covered all the bases and that nothing could possibly go wrong.
Without working very hard you probably have the rest of the plot pretty much figured out, particularly if black-and-white films featuring fast-talking couples are your cup of tea. There's a romance or two, a few plot updates courtesy of the evening news, and a rags-to-riches Cinderella story.
From the moment she speaks her first line, Robinette is in complete command of this production. True, she's joined on stage by a fine collection of actors, but Robinette is magnetic. Armed with an impeccable sense of timing and a fearless physicality she mugs, winks and utterly charms. We're meant to be on Mrs. Partridge's side, to route for the underdog in this David versus Goliath tale. Robinette makes it all the easier because it's so simple to genuinely like her. She's allowed Mrs. Partridge to cross the line from character to companion.
Paul Nolan's performance as Clifford Snell, one of the executive committee members that Mrs. Partridge squares off against, deserves a nod all its own. It would be very easy to slip into the role of cartoon villain here – and some occasionally do – but there's a ruthlessness to Nolan's interpretation that makes him particularly hiss-worthy. He does a really great job playing a really bad guy.
THE SOLID GOLD CADILLAC




To Jan. 10
Studio Theatre
1501 14th St. NW
$42-$63
202-332-3300
studiotheatre.org
Another tip of the hat goes to entire creative team working behind the scenes. From the wonderfully efficient set to the inside joke maneuver of enlisting local journalists – including Gordon Peterson, Doug McKelway and Greta Kreuz – to anchor retro-styled newscasts to the beautiful incorporation of pre-filmed elements, director Paul Mullins has orchestrated something truly wonderful.
Is there a greater message at work in The Solid Gold Cadillac? Should we walk away with a new perspective or way of thinking? Perhaps.
But more likely than not you're already sitting at your kitchen table, a pile of bills waiting for your attention, while this morning's headline about whatever new bailout or bonus plan is causing you to wonder the same question Laura Partridge had for the board of directors.
No, the gift being offered this holiday season by the Studio Theatre is not a lesson, but a lot of laughs. It's a gift as good as gold.