Five minutes into A Single Man, fashion designer Tom Ford's directorial debut, you realize you're seeing art. At first it seems to be that highly esoteric, stylistic art meant to alienate and rise above the masses. Then the film morphs into art in its purest form. For here is a visionary creating his masterpiece and making it vibrant, raw, utterly captivating. At once, A Single Man is both heartbreaking in its subject matter and uplifting in its beauty, and if it's not the best film of the year, it's certainly among the cream of the crop.
Based on Christopher Isherwood's 1964 novel of the same name and adapted by Ford, A Single Man chronicles one day in the life of George (Colin Firth), a teacher mourning the loss of his long-time partner Jim (Matthew Goode). As the old adage says, a gun introduced in the first scene must be used by the end of the story, so it's no surprise to learn that George has decided to kill himself.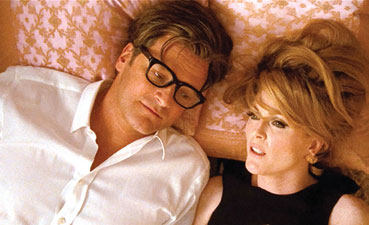 A Single Man
In an effort to understand George more fully, A Single Man jumps seamlessly through time: George and Jim share a quiet moment together on the couch; a student attempts to seduce George; George and Jim meet; George encounters a hustler outside a liquor store. Ford ensures that it is always crystal clear what's taking place and why George and the audience need to experience each particular moment. Some moments are lifted straight from Isherwood's page with their lyrical nature intact, while others are liberally adapted by Ford, who goes so far as to add new characters and, most daringly, the suicide plot. While Isherwood purists are sure to be up in arms about the changes, Ford's version is strong.
Firth delivers an Oscar-worthy turn as George; it's a highly nuanced performance and an utter joy to watch. Everything about Firth's portrayal of George is highly controlled, which is the perfect description for the character. Even in plotting death, things are planned to the final detail, and Firth imbues George with a cool, calm, collected aura. However, when watching George get blindsided by the news of Jim's death or wooed by an attractive man, the side of George that still marvels at the wonders of life peeks through. Firth deftly moves between jaded and awed with a dexterity that takes George – and the film – to a whole new level.
Julianne Moore, in a disappointingly brief role, plays George's fabulous friend Charley, a wonderful, boozy train wreck. Once lovers and now compatriots in their unexpectedly lonely lives, George and Charley share one dinner together, and it is a feast of painful truth. When Charley makes a comment about their lost chance for a "real" relationship, George comes out of his stupor and makes an impassioned argument that his 16 years with Jim was real. It's as close to A Single Man ever gets to putting the gay themes front and center, and it's marvelous.
A SINGLE MAN





Starring
Colin Firth
Rated R
101 Minutes
Opening Dec. 25
Select Theaters
Ford has created a visual triumph. Every shot is deliberate, and more compelling than the previous. If this is what Ford has to offer off the runway, he deserves to rule Milan, Paris, and Hollywood.
Perhaps the most astonishing thing about the musical Nine is not that it won the 1982 Tony for Best Musical, but that it beat Dreamgirls to win the Tony for Best Musical. Frankly, Maury Yeston's music is really not all that, and Effie, played by either Jennifer Holiday or Jennifer Hudson, could kick the crap out of any of the women in Nine without missing a beat.
Guido (Daniel Day-Lewis) is a womanizing film director who's about to start a project that lacks a plot, script, costumes, and so on. Only its star (Nicole Kidman) is in place, and she's starting to see through his façade. Trying to juggle his job, his wife (Marion Cotillard), his mistress (Penélope Cruz), his designer (Judi Dench), a flirtatious reporter (Kate Hudson), and some non-singing men, proves to be too much for Guido.
NINE


1/2
Starring
Daniel Day-Lewis
PG-13
Opening Dec. 25
Area Theaters
Nine is visually stunning, but lacks much cohesion otherwise. Cotillard is the most impressive singer in the bunch, but as a prostitute from the past, Fergie has the most rousing number, shaking things up with tambourines and a whole lot of sand. Day-Lewis transforms himself for Guido, but his jumping around and singing doesn't even begin to live up to his milkshake rant from There Will Be Blood.
Director Rob Marshall tries to replicate the success of his filmed-adaptation of Chicago, but his source material — itself based on Federico Fellini's 1963 masterpiece 8½ — doesn't live up to the all-star cast he's assembled. Even when counting all the big names, Nine barely rates a three.