In the ongoing fight against sexually transmitted infections (STIs), including HIV, the big news recently was the partnership announced Jan. 12 between the District and the National Institutes for Health (NIH). As stated in the District's Jan. 12 release, "…the new $26.4 million DC Partnership for HIV/AIDS Progress [was created] to decrease the rate of new HIV infections in the city, improve the health of District residents living with HIV infection, and strengthen the city's ongoing response to the HIV/AIDS epidemic."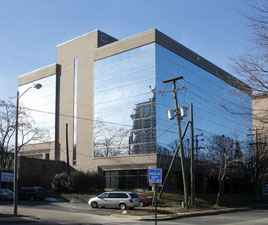 Alexandria Health Department
(Photo by Todd Franson)
On a much smaller scale, and with much less fanfare, another effort has also gotten underway: "Rainbow Tuesdays" at the Alexandria Health Department.
Since September, on the second and fourth Tuesdays of each month, this new effort is designed to give gay and bisexual men of Northern Virginia a venue for culturally sensitive, free testing for HIV, syphilis, gonorrhea and chlamydia, as well as immunizations for hepatitis A and B. Treatment for syphilis, gonorrhea and chlamydia is also free. Despite the clinic's aim, patients from any area or of any sexual orientation are welcome.
"'We could start a clinic,' I said," remembers Matt Bamford, aka Mr. Mid-Atlantic Leather 2010, pointing to a conversation he was having with an STI tester in Alexandria as he underwent screening about a year and a half ago. "He and I were talking about a large syphilis outbreak in Alexandria, how we kind of need to focus on testing and treatment. And we recognized a need for the gay community to feel comfortable. When I went for my second testing, four months later, in February, we got serious. In September, we opened the doors for the first time."
While there were concrete considerations in moving forward — such as filling a niche left by Whitman-Walker Clinic closing its Northern Virginia branch in March of last year — some pieces were less definable. An absolute understanding of syphilis rates in the local gay community was among the variables harder to pin down. While the Centers for Disease Control and Prevention (CDC) have provided data that show while syphilis rates may not be panic-inducing, the proportion of men identifying as "men who have sex with men" (MSM) who tested positive moved from a fragment at the turn of this century to a current proportion of well over 60 percent. Again, that may not be so alarming considering the numbers. For 2008, for example, the CDC recorded 297 primary and secondary cases of syphilis in the D.C. metro area — down from 377 in 2007.
Tracking infections in real-time, however, is a challenge. And Bamford couldn't ignore what he saw in front of him.
"I know people who have syphilis and think it will just go away," he says. "You can die from syphilis. The best I can do is try to make them understand."
While that might seem like an odd conversation to have considering how well-known syphilis is to the medical establishment, Bamford insists he has met people who exhibit the syphilis symptoms — a painless chancre, spots on the palms or bottoms of the feet, or a nonirritating rash — but are heartened once those symptoms disappear, mistaking a disappearance of symptoms for a disappearance of the bacteria that causes the disease. Further, with the MSM community carrying more than its share of the cases, he also worries about those who might not recognize the infection. That painless chancre, for example, may appear in the back of an infected person's throat or in his rectum, where it will likely go unnoticed.
And whatever the numbers, John Curtin, a physician's assistant at the Dupont Circle Physicians Group, who estimates that about 85 percent of the practice's patients are gay men, says he's seeing plenty of cases.
"For example, in the last three weeks we had about 12 new cases [of syphilis] in our offices," he says, adding that all were among MSM. "We usually diagnose between two and three a week. With the results I'm seeing, with sexually active people whenever I see a rash I want to check for syphilis to be safe."
For 2009, Whitman-Walker Clinic screened 93 cases of syphilis, according to WWC's assistant director of communication, Chip Lewis, who added that of those 93 cases, they were "overwhelmingly" among MSM.
Debby Dison, a public health nurse supervisor for the Alexandria Health Department joined with Bamford in co-founding Rainbow Tuesdays. For Dison, Bamford's timing couldn't have been better.
"Myself and the people I work with who follow up on new syphilis cases for our city had a conversation because of rising cases among gay men," she says. "We knew that WWC of Northern Virginia left and they had an STI clinic, so there really was no dedicated source of care for gay men to go to in our area."
Together, Bamford and Dison found allies in other nonprofits and other resources. With funding from the CDC and the Virginia and Alexandria governments, all the testing and treatment at Rainbow Tuesdays is free. That's also thanks to labor and support volunteered by Inova Juniper Program, KI Services, the Alexandria Health Center, Northern Virginia AIDS Ministry (NOVAM), the Alexandria Gay and Lesbian Community Association, and the Alexandria and Virginia departments of health.
"We're calling ourselves a partnership," says Dison, herself volunteering her Tuesday evenings with the clinic. "We're just getting going. My hope is the community would like to get more involved."
Despite the syphilis creep into the community, though, Dison and Bamford aren't eager to push the panic button. While they talk about the importance of sexually active gay men getting screened for syphilis, what they're stressing is that there is now another venue to help MSM maintain their sexual health in a way that supports and nurtures them.
"The main goal – I can't stress this enough – is we don't pass the buck," says Bamford. "If I give you your results, I don't leave you throughout your treatment. I know people who have had bad testing situations. A preliminary [HIV] positive is a life-changing event. To be passed around does more harm than good. At the end of the day, we don't want people to feel like they're being passed around.
"This is not meant to panic anybody or instill fear. Syphilis is curable with a simple shot. You just need to be informed about what's going on in the STD world. With syphilis, if your results come back – in a week's time – that you do have it, then we contact you through the contact information you supplied. You could say your name is 'Ben Dover at 69 Fisting Lane,' but we do encourage you to give some piece of real contact information."
It's obvious Dison shares Bamford's dedication.
"I love this work," she says. "I was raised with a healthy education about sex and sexuality. I find it an area in our medical world that is so unaddressed. Sex is deeper than an act. If we could work more on healthy sexuality, I think we could save a lot of lives. I've lost friends and relatives to HIV. This work is a chance to memorialize those I've lost."
Rainbow Tuesday clinics are held the second and fourth Tuesday of every month at the Alexandria Health Department, 4480 King St., from 5 to 8 p.m. Registration ends at 6:30 p.m. For more information, call 703-838-4400, ext. 252, e-mail .virginia.gov, or visit the events listings at aglca.org.