Ever seen an SUV in an art exhibit?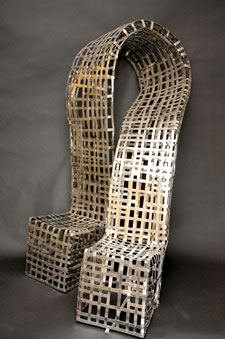 "He has encased it in hand-welded aluminum," says Craig Applebaum referring to Shlomo Harush's use of a fully operational 1993 Ford Explorer. The encased automobile factors in Harush's "Round The Corner," the inaugural exhibition at Applebaum's Industry Gallery. "That's the really neat thing about my gallery," Applebaum continues. "I won't simply show these works — they'll almost always be part of a larger story that the artist has to tell."
In Harush's case, the "concept is to recreate an outdoor urban tableau inside the gallery, which is where the car comes in." They'll drive the car up a ramp into the second-floor gallery space, which was once an auto-body shop. Harush's exhibit opens with a reception this Saturday, Jan. 16.
"I've been a fan of Shlomo's for years," says Appelbaum. "His show will exhibit his unique sculptural pieces, which are made out of sheet metal and aluminum."
A Cleveland native who moved to the D.C. area in 1997 after graduating from law school in Philadelphia, Applebaum, who is gay, grew up going to galleries and museums. "I've always had a passion for art," he says. Over the years, the D.C. lawyer has built up an extensive private collection. He's wanted to start his own gallery for years.
Now he's created his dream. His Industry Gallery will focus on contemporary design, specifically merging form and function and exploring the deeper relationship between art and design.
"I want the gallery to become a destination for connoisseurs of 21st century design around the country," says Applebaum. Located in Northeast's hip H Street Corridor, Industry Gallery's 4,300-square-feet space "is very gritty, raw, industrial," says Applebaum. "It's a perfect contrast to the very refined works of art I will show." Not to mention the occasional bedecked SUV.
The opening reception for Shlomo Harush's "Round The Corner" is Saturday, Jan. 16, from 6 to 8 p.m. On exhibit through March 6. Industry Gallery, 1358 Florida Ave. NE, 2nd Fl. Call 202-399-1730 or visit industrygallerydc.com.