Like a cozy vintage clothing store manned by educated young thinkers, The American Century Theater offers a second chance for those less-often noticed American plays of the 20th century. They're the kind of plays that hang inconspicuously on the rail until you pull them out and begin to see the texture, cut and quality of the cloth. In other words, plays brimming with the mores and wisecracks of the era hung upon enduring insights into the kind of human wants and needs that never go out of style.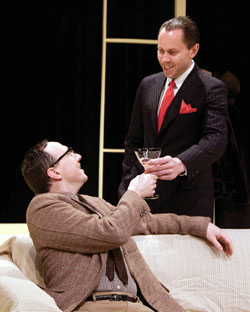 Will Success Spoil Rock Hunter?
(Photo by Dennis Deloria)
ACT invites us into the past, but not with a fetishistic need to recreate it. For although there are the suggestions of all things cinched of waist, unfiltered and on the rocks, this is far more about the voice, relevance and sheer entertainment still alive in these retro works.
And to see their latest offering, George Axelrod's 1955 Will Success Spoil Rock Hunter? is to enjoy the wit, rhythm and cadence of the language along with Axelrod's deeply cynical view of "making it" in life and love. This is the tale of George MacCauley, a barely launched journalist, who, tasked with interviewing Rita Marlowe, the latest Hollywood sex bomb of the '50s, finds himself out of his depth and desperate to do anything to get his bearings. Enter Irving LaSalle, an agent and fixer ready to take MacCauley under his (devilish) wing for an unusual but familiar price. Observing without quite understanding is the sangfroid playwright Michael Freeman, a man who loathes Hollywood almost as much as he needs it. As MacCauley's soul falls into increasing peril, we watch as the great movie-making machine sucks him in and churns him around until all hell almost breaks loose.
Anyone familiar with other plays and movies of the time period will recognize the stylized stiltedness of the genre, and ACT does its 21st century best to embrace it — and that's to their credit but it's also their challenge. Without such advantages as cinematic close-ups during pointed moments of silence or the verbal equivalent of cliff-hangers, there are some moments in Rock Hunter that lack the cohesion the ensemble achieves better during the faster and more furious sequences. Director Ellen Dempsey strives for the necessary pacing but neglects the kind of choreography that might steer the eye and the drama during more obtuse moments.
Setting the tone of old-time Hollywood is the platinum Kari Ginsburg, exuding an appealingly, unforced charisma and working hard to keep something of a satiric edge to her Rita without turning her camp. Although her volume is occasionally loud enough to break the fiction, Ginsburg nevertheless knows how to work with an ensemble and give it glue. At her most convincing she delivers that effective combination of sensuality and vulnerability that typified the female icons of the age. In stark contrast to her innate knowingness is the bumbling MacCauley, played by Donald Osborne with a respectable command of the contrivances necessary to carry off one of Axelrod's more dated characters.
WILL SUCCESS SPOIL ROCK HUNTER?


To Feb. 6
Gunston Theater II
2700 S. Lang Street
Arlington
$26-$32
703-998-4555
americancentury.org
Manifesting at regular intervals is a Brylcreem-ed Steven Lebens delivering sonorous tones and a ready smile as the unnaturally helpful Irving LaSalle. Lebens nicely balances LaSalle's inherent weirdness with the bantering style of the piece while avoiding the pitfalls of turning LaSalle into too much of a joke. John Tweel as the world-weary writer Freeman doesn't glide quite as smoothly as he might but it may be the undercurrent of realism with which he injects his character — a dimension that argues with Axelrod's overarching glibness. Always interesting to watch is James Finley as the ridiculously cardboard Bronk Brannigan, Rita's estranged muscle-headed husband. One feels Dempsey could have encouraged Finley to have a bit more fun with the role without eroding the cerebral mood of the piece.
Yet the most compelling viewing here is made by Craig Miller as battle-weary industry veteran Harry Kaye. With his effortless sense of Axelrod's language, expression and comic timing, Miller is an unmitigated joy to watch, bringing a distinct edge of quality and professionalism to the production. A trek into the suburbs and a folding chair are a small price to pay for a treat such as Miller along with ACT's priceless mission to produce the plays of neglected 20th century American playwrights.