If you have an "s" in your name, have you ever thought to replace it with a dollar sign? And really, why stop there? You could turn every letter into a symbol, a creative exercise for the bored and blasé.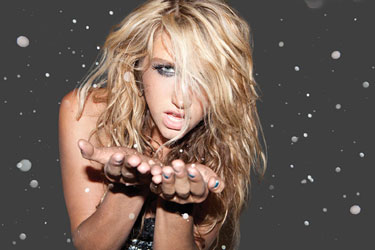 Ke$ha
But chances are that someone older and wiser – in a position of authority – convinced you to dot your i's and cross your t's – and leave your s's well-enough alone. For decorum's sake, if nothing else.
Kesha Rose Sebert, 22, had no such guidance. Not from her crass bosses at RCA Records. Not even from her mother, a country songwriter who has co-authored several songs with her daughter. And so it is that America's latest pop starlet is literally cashing in, spelling her name Ke$ha and laughing all the way to the top of the charts.
Ke$ha says she added the dollar sign to her name in a pique of irony, in response to not getting credit or money for singing on Flo Rida's bastardization of the 25-year-old Dead Or Alive hit "You Spin Me Round (Like A Record)" – yep, it's three years older than she is. Flo Rida's "Right Round" was a big hit last year.
What harm could youthful indiscretion of the symbolic kind really do, anyway?
Plenty, it turns out. One listen to Animal and it's clear Ke$ha was blinded by her pursuit of fame and fortune. The dollar sign in her name has led her astray. It also serves as a crude shorthand for not just all that's wrong with her music, but much of pop music today.
"I'm all strung out, my heart is fried. I just can't get you off my mind," she sings on album opener, "Your Love Is My Drug." "My esteem is gonna be affected, if I keep it up like a lovesick crackhead." Everywhere, Ke$ha sings and raps and skirts on the lyrical edge of acceptability, aiming to shock and offend – to get our attention – with her shallowness and callowness. She's hooked on the good life, and mind-altering substances, both real and metaphorical. She shows little regard to time or responsibility, much less to music offering anything new.
Her electro-pop songs, produced mainly by heavyweights Dr. Luke and Max Martin ("Since U Been Gone," "I Kissed A Girl"), are mostly simple and spare – except for an over-reliance on auto-tune trickery. They're as barren as her lyrical ideas. Her hit "TiK ToK" is a trashier – though admittedly catchier – "Just Dance," but it's not just Lady Gaga she's copying. (Of course, Lady Gaga hasn't always had the freshest ideas herself.) Every plucky popstress of the past few years could make a case for pilfering here, from Fergie to Britney to Miley to especially her friend, Katy Perry. (At least Ke$ha's not playing the gay card for attention.)
She's addicted to "Boots and Boys," she tells us at one point. She urges everyone to "Take It Off" on the dancefloor. On "Party at a Rich Dude's House," she sings proudly about getting wasted, trashing a stranger's abode and waking up drunk on the lawn. She's rowdy and rude, but she's entitled to be, she thinks, since she's young and pretty. On "Dinosaur," she spells out the chorus like a modern-day Toni Basil. But instead of Mickey, she's singing about an old man. "D-I-N-O-S-A, U-R a dinosaur." Are we supposed to think that's cute, even clever? It's neither.
KE$HA
Animal
RCA
$9.98

Her handlers bill her as a "sassy pop chameleon," one who's "unique and unlike any of the myriad of other female pop stars in the world," but that's hardly true. She's no Robyn, for one, the truly sassy – and smart – Swedish pop star criminally neglected on this side of the Atlantic.
Making matters worse, Ke$ha herself has suggested she's not in pop music because she wants to be but rather because it's what we want. More precisely, she sees pop music as her ticket to fame and fortune, her springboard for more artistically rewarding pursuits. Next up: making "more serious acoustic stuff," she's been quoted as saying. She's especially eager to record a country album. No doubt with her mother.