On a visit to the charmingly scrappy MetroStage in Alexandria right now, you might not find God, but you will find the next best thing. Specifically, two divine Miss M's: Mahalia Jackson and Bernardine Mitchell. Six years ago Mitchell won a Helen Hayes Award for her portrayal of Jackson in Tom Stolz's long but lustrous Mahalia: A Gospel Musical.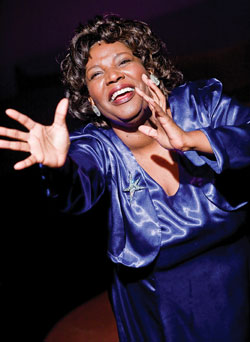 Bernardine Mitchell as Mahalia-Jackson
(Photo by Chris Mueller)
Stolz traces the life of America's most famous gospel singer in this bio-musical, featuring songs and spirituals she made famous ("Take My Hand, Precious Lord," "Move On Up A Little Higher"). The engaging portrait that emerges is of a woman wedded to a career wholly devoted to praising God, though not without struggle: First in escaping the iron fist of the devout aunt who raised her in a New Orleans shanty, and later in finding acceptance among well-to-do black churchgoers in Chicago. They didn't approve of all her bouncing, shouting and clapping for Jesus. With steadfast support from two accompanists, Jackson made her way to Carnegie Hall, withstood the scrutiny of white musicologists at Harvard and elsewhere – portrayed here to great humorous effect – succeeded without giving in to secular pressure, and became a dedicated advocate for civil rights, standing regularly at the side of her friend, Dr. Martin Luther King, Jr.
MAHALIA: A GOSPEL MUSICAL




To March 14
MetroStage
1201 North Royal St.
Alexandria
$45 to $50
800-494-8497
metrostage.org
S. Renee Clark, also the show's music director, and William F. Hubbard play all the supporting roles — a dexterous feat so great you can forgive, say, Hubbard's occasional line fumbles at a recent performance. Thomas W. Jones II impresses with his deft directing, keeping things moving without the audience suffering jet-lag as we travel with the three-piece ensemble across the U.S. and all the way to Europe, Jerusalem and back. And costume designer Janine Sunday deserves a nod for the simply elegant satin dresses she has created for Mitchell to wear.
Naturally, it is Mitchell as Jackson who is the captivating centerpiece, with her full-throttle, booming voice that will no doubt inspire you to clap your hands and shout words of encouragement just as if you were at church. (As a gospel musical, such audience outbursts are not frowned upon here.)
With a sure command and natural charisma, even if Mitchell doesn't win the Helen Hayes award again for this role, she'll no doubt earn your praise.