Mark Guenther knows exactly what he would like to convey to strangers: "First off, I'm a nice guy."
Considering his disarming smile and ready handshake, it's hard to argue otherwise. As the first person to take the reins as executive director of the Capital Area Gay and Lesbian Chamber of Commerce — nee PEN aka Potomac Executive Network, now CAGLCC aka the chamber — this friendly guy is happy to orient newcomers to the group's evolution and re-branding.
"Whether someone still calls it 'PEN' or not, that's not really what's important about the identity," he says. "We are a chamber of commerce and we mean business. And we are proud to be out gay-, lesbian-, transgender-owned businesses."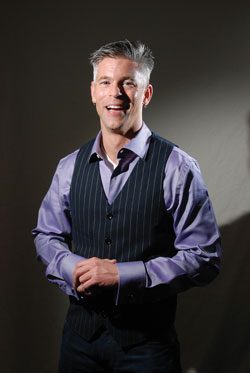 Mark Guenther
(Photo by Todd Franson )
Or simply LGBT professionals, for that matter. Owning a business is definitely not a prerequisite. Whether it's attending one of the chamber's "Networking Thursdays" or the weekly breakfast group, the chamber draws a diverse collection of people who recognize the importance of commerce, whether for themselves or the community. And now with a full-time executive director to go with that new name, the chamber, nearly two decades old, has moved to the next level. It's even got office space, moving in next to The Center, the area's LGBT community center, in space that once housed part of the Whitman-Walker Clinic at 1810 14th St. NW.
"We have office space at The Center. They moved in at the end of December, so we've had office space since day one. But pretty much anywhere I have my phone on me, I'm working."
It's a good thing cell phones were still a way off when the 39-year-old Guenther was growing up, as his family moved all around the Northeast, starting with New Jersey. And while he may want you to know he's a nice guy, he'd rather keep that hint of Jersey accent to himself. He won't accept that invitation to watch Jersey Shore, he jokes, afraid that his trace of "Joisey" might resurface.
So that the community might know this executive director a bit better, Guenther, who started his new job on Jan. 4, sat with Metro Weekly to talk about the chamber, his role, and where he comes from. But if you'd still like to know more, don't hesitate to introduce yourself. You're guaranteed — at the very least — a smile and a handshake.
METRO WEEKLY: We've still got a few days of January left, so I'm going to ask if you made any New Year's resolutions.
MARK GUENTHER: No, I didn't make any resolutions. I'm not a resolutions person. I'm an action person. I'm a game-plan person. I usually accomplish what I set out to do.
MW: No resolutions, but 2010 does mean a new job. How is that going?
GUENTHER: The great thing about this job is I absolutely knew what my duties and responsibilities would be going into this. I've been on the board for four years.
We have several initiatives and events — including our annual awards dinner coming up in April — I knew needed to get started. The ball was already rolling. I'm in place to keep it rolling.
MW: Since we're talking about your job, let's go back to the first one. What's the first thing you did to make money? Lemonade stand?
GUENTHER: My very first job? I sold personalized Christmas cards door-to-door. I had to go and get the orders, then deliver them after they were printed. I was 5 years old.
I don't recall how I got started, probably an ad in TV Guide. I was always looking at ads like "draw the doodle to get into art school." I'm sure I just picked up an ad. I remember I wasn't allowed to cross certain roads — my parents' rule because of the traffic. So I could only do what was interconnected through the backyards. And I made a dollar per box.
MW: Did you save it or buy candy?
GUENTHER: I was a saver. I would wash the dollars and iron them and save them. [Laughs.]
MW: Seriously? Was that a little bit of the gay coming through?
GUENTHER: [Laughs.] I was gay from day one. I don't remember ever ironing clothes, just dollar bills. I was a very neat kid.
I saved the money most of the time. I bought my own car when I was 16. I was an achiever. I had goals. I distinctly remember opening my first bank account when I was a teenager, holding those first blank checks.
MW: What's a more exciting memory: that first account or prom night?
GUENTHER: Opening the checking account. Prom night was a disaster. [Laughs.] I always wanted to be s uccessful. I was just very particular. I knew what I wanted to do. And that was what was exciting.
MW: What kind of kid were you at school?
GUENTHER: Somewhat reclusive. I had very few "best friends." I bloomed a little bit in high school. I went to several high schools. My family moved around a lot. Learning the ropes, the politics of being in high school in every different high school, put an edge on my ability to adapt pretty quickly. I was the treasurer one year. I was the editor of my yearbook several years, which makes sense because I'm a graphic designer.
MW: And you had that car at 16. What kind did you buy?
GUENTHER: A Ford Escort. It was a sensible car. I didn't need to have a hot rod.
MW: What kind of work were you doing then, after the cards, to pay for it?
GUENTHER: I always worked in restaurants in high school, the kitchen side. I love cooking, I have a passion for food. I'm not the best waiter. I couldn't handle more than three tables at time. Waiting tables just seemed like a lot of running around for very little reward.
MW: Did you come out in high school?
GUENTHER: By the time I was ready to come out, I was 21. And it wasn't a surprise to anybody. I'd just moved out on my own. I'd gone to a year or two of college, then took a break. I thought, "I'm going to tell everybody." And everybody already knew.
MW: What were you doing during the break from school?
GUENTHER: I was working for The Gap. I was a store manager. I loved my career at The Gap. I got my first store when I was 21. I was very serious about it.
The first store I went into was sort of downtrodden. It had really poor returns. On my commute, I passed three or four other Gap stores, so I would pick up their "transfers." It was a time when you could transfer merchandise from store to store. So when merchandise went on sale, the other managers didn't want it. I would transfer it to my store and sell it like crazy. That made my store very successful. [Gap founder and then-board chair] Donald Fisher would call the best-performing store's manager every week. I talked to him several times. [Laughs.]
At that point I just wanted a break, wanted to be an adult, wanted to be on my own. It just felt cumbersome to continue with school, so I took a few years off. I had my few years at The Gap and rose to the occasion being a store manager. Then I realized there was more to life, so I quit The Gap, got a bartending job and went back to school at Temple for marketing.
MW: Marketing to mix business and creativity?
GUENTHER: Exactly. That's what I liked about it. I've always been artistic. I used to draw in high school. I would be the guy who did the sets for the school plays. I love creating things. You name the medium and I love to get my hands into it and work on it.
MW: So that covers your business roots and artistic roots. You're also something of a networker. Is that from changing schools so often?
GUENTHER: Probably. I've always gotten along well with people. I've always been able to make new friends or introduce myself in a crowd. There always seems to be an obvious, friendly face, so I seldom feel totally uncomfortable in a room.
But I was not a happy camper about moving when I was a teenager. It was not something I looked forward to. I certainly would get to the point where I had close friends, and I hated the gut-wrenching feeling of leaving them. When you're a teenager, you have no choice. But it teaches you to move on.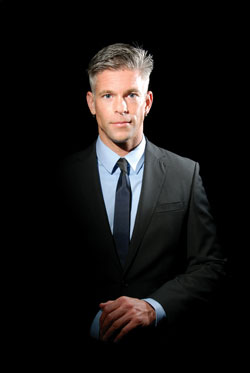 Mark Guenther
(Photo by Todd Franson )
The amazing thing is now I'm friends — at least on Facebook — with most of the friends I was ever close with through my childhood or teenage years.
MW: Returning to your childhood makes me wonder if you have any involvement with kids. Are you a mentor? Anything like that?
GUENTHER: I teach graphic design at the [Patricia M.] Sitar Center [for the Arts]. It's an after-school program for underprivileged youth. One of my clients years ago said, "Mark, you have to come see this place." I don't know if he was looking for me to help with a donation or to get involved as a teacher. The executive director took me on a tour. In particular, there was a little rock band of young people. The youngest was 6 years old and he was going to town on this drum set. The look on his face and the excitement was priceless. The executive director knew where my mind was and she said, "You know, in public school he won't touch a drum set until he's 16 or 17. And that will be too late." The tears started dripping down my face. We continued to walk down the hallway and she said, "This is our computer lab and where they learn music, and we're looking for someone to teach visual arts."
Of course, I was hooked. From that semester forward, three years ago, I've been teaching at the Sitar Center, and I love it. To see a young person grow over a period of time and learn, you know, Adobe Illustrator — an incredibly hard program — it's amazing. They might be underprivileged, but these are kids with parents who care, parents who keep their kids busy by involving them in this program. They've all been great kids. Every one of my classes has been full of amazing young people.
MW: That community involvement is great. But how did you end up in this community? What brought you here from Philly?
GUENTHER: After college, I needed to move forward with that decision I'd made to grow up, and I landed in D.C. for a job. I interviewed from Philly and I used a network of friends I had met along the way. It was 1996 or 1997. I was 27 years old. I'd come for a couple of days to investigate whether I thought I could feel comfortable here. There definitely seemed to be a larger gay life here than in Philadelphia at the time. I was excited.
And I'm certainly excited by where I'm at now, but the road was long. I'm not sure that I wanted all the bumps along the way, but I know that they got me here. I love my job and my friends and my boyfriend. This feels like — forgive the cliché — the time of my life. I have very few regrets and I think I've made the right decisions.
MW: What did you start off doing here?
GUENTHER: I had a brief stay at a marketing company. It was only a few weeks. Then I went to Aviance Marketing, which is the Other Pages. I was co-publisher of the Other Pages. I did that for 10 years. Then I was at the Washington Blade for seven months. I loved working at the Blade. Obviously, they were being mismanaged from the top, and they made a decision to cut employees. There was nothing in the situation I had control over. Unfortunately, that's what can happen.
MW: How scary was being unemployed?
GUENTHER: It is very frightening. But you know you're not the only person in that situation. The stigma of unemployment is not so great because of the period we're in. During that time I was unemployed, I had my heart set on a couple of different positions, things I thought would work out for me — but didn't.
At first, I thought I was going to fall into a position I loved, that was ready-made for me. It doesn't always happen that way if you don't make it happen that way. And Suze Orman was on TV saying, "Girlfriend, get a job, any job. This is a recession." I accepted a job I thought I could make mine. I was the director of operations for an advertising-specialties company. It was similar. I had some staff, some sales people. But my heart just wasn't in it. It's not who I am. So to be where I am today with my heart in my job, everything about it feels natural to me.
I was still a volunteer [for the chamber]. I was still on the board. This time last year, I was planning the first "Mega-Networking Event," and we have our dinner in April, so I was busy with things I love to do. And relying on my connections with the chamber is ultimately what worked for me. Because this [executive director] position opened up, I was able to leave my other one. There was no down time.
MW: Has the recession affected chamber membership? How can membership help people during a rough economy?
GUENTHER: We've only been growing. Since I've been involved as a board member, I've only seen growth. We have 3,000 active participants and [dues-paying] membership is in the hundreds.
If, as a professional, you feel you're in a vulnerable position, you know that you can fall back on your community and that those resources are always going to be there. You can look at everything as a risk, or an opportunity. You can take advantage of deals. You can take advantage of suppliers. You can get involved with a network like the chamber that will support you and help you find suppliers or vendors or customers. We're part of a network.
The amazing thing about being gay or lesbian is that you can be friends with an entry-level person or a vice president — there are no barriers. In our world — in a lot of ways — the class barriers are gone.
The chamber is facilitating a way for you to meet those two different people in one room. Wherever you are in your career, especially with the economy where it is, this is a great opportunity to meet the guy at the next bank, or at Marriott Corporation, who's got that one job above you, or who might be looking to hire an assistant or the next vice president. If you fit those shoes, you're not going through a headhunter. You're not going through the normal interviewing process.
There absolutely is camaraderie. There's room at the table for everybody. And you learn how to separate yourself as a businessperson. You learn what your niche is. You learn what makes you different from the next guy. Obviously, there are competitive people. Luckily, our leadership and our board aren't competitive. I don't think [the chamber has] a competitive culture.
When I meet somebody who has no reference to what I do, to what the chamber can do for them, I say, "If you're in business, a professional, in this metropolitan area and you're gay or lesbian or transgender, you need to talk to me and you need to be part of the chamber. It's a professional community that you are not going to find anywhere else."
If you're in business, I can find ways to help your business grow. If you're a professional, I can certainly introduce you to other professionals that will help you in your next job, or help you if you lose your job.
MW: How do you make newcomers feel welcome?
GUENTHER: The board members are at almost every event. We're the liaison to the rest of the members. It feels great to be part of this organization where I know anyone can walk into a "Networking Thursday" and be a new face and three or four board members, over the course of the evening, will ask them how they're doing, what they do for a living, and try to introduce them to a couple of other people. It's such a great thing to be a part of.
That's what I'm all about: making the connections between different people and making sure I helped the world be a better place. It's very satisfying.
UPDATE: The date of the 2010 Mega-Networking Event has been changed to Wednesday, March 10, at Town, 2009 8th St. NW, from 6:30 to 8:30 p.m. Admission is free. For more information about the Capital Area Gay and Lesbian Chamber of Commerce, e-mail or visit caglcc.org.