January is a hot time for gyms, as well it should be. Among the dozen most popular New Year's resolutions compiled by the U.S. government are "get fit," "lose weight" and "reduce stress." Joining a gym fills the bill on all fronts.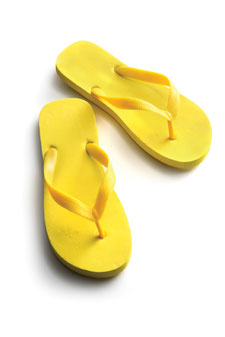 But before you head to the gym, you may need to check-in for a checkup.
"People over the age of 50 who begin a gym regimen should check with their doctor that their heart is up to that," cautions Dr. Timothy Price of Price Medical in Dupont Circle. The same goes for anyone with a history of smoking, diabetes or high blood pressure.
For those who've been medically cleared, Price urges you to see a professional at the gym, too.
"If you're new at it, have a personal trainer at least teach you proper form," he advises. "The No. 1 problem we see here as far as injuries is people who don't know what they're doing, and they try to do too much, particularly with weight lifting. They lose control and wrench their shoulders. No. 2 is back injuries."
One D.C. gym bunny says he'd prefer to remain anonymous in light of his particular gym malady, which was far from a wrenched shoulder.
"It was just like athlete's foot, but it started cropping up in the web between my fingers," he remembers. "It was drying out and itchy. The hand thing was one problem, but then I started getting it up my buttcrack. I was wearing a jockstrap and a pair of shorts, and it was working its way into my shorts."
A simple trip to his doctor was all it took for this buff lad to get his creases and crevices back in order, applying a topical treatment that knocked off all symptoms within a day.
"The doctor didn't tell me what it was aside from, like, a fungus. It doesn't happen anymore. Maybe it was just as simple as the gym installing more sanitizing wipes and people using them. I'm not really doing anything different. I'm not hyper-crazy about sanitizing everything. I just put my little towel down and sit on my towel."
Unlike Price, Dr. Howard Brooks of Skin Cosmetic Dermatology of Georgetown would not count strained shoulders as his office's No. 1 gym-related problem. Problems like the anonymous athlete's, however, are right up his alley.
"I treat a lot of patients who get fungus at the gym. It's very common," says Brooks, adding that the aforementioned jock may have had something along the lines of what's commonly called "jock itch" — right at home among heavy sweaters — and not a fungus, though it's treated with an antifungal steroidal ointment. Regardless, with an eye on the sweat, heat and moisture, Brooks has his own words of workout warning.
"The main thing would be the gym showers," he says. "They're breeding grounds for fungus. There are several types that cause athlete's foot. Just make sure you wear flip-flops in the shower. Gym mats can also have fungus, so it's important to use the wipes. It's for your protection and as a courtesy for others."
Fungi aside, Brooks also has a particular concern about the possibility of any antibiotic-resistant strain of staphylococcus making itself at home in a sauna. As a precaution, he says, it's just a matter of keeping your butt off the bench: "Sit on your towel."
Not to be an alarmist, Brooks also emphasizes that any fungus you might pick up is easily treatable.
Price adds that gym operators, while catering to crowds larger than what you might find in your own bathroom, do a fair shade better at keeping their facilities cleaner than you might at home. When it comes to hot tubs and a condition dubbed "hot tub lung" – courtesy of bacteria inhaled in the tub's mist — Price says you'd likely have more to worry about in accepting a private hot-tub invitation than from any gym hot tub.
In short, if 2010 is the year you've resolved to get in shape, hold on to an ounce of prevention: If age or condition merits it, get your doctor's clearance. Have a professional orient you on the equipment. Wear sandals in the shower and employ those sanitizing wipes.
After all, avoiding jock itch by avoiding the gym — where those cardio workouts can lower bad cholesterol and increase good; and ward off high blood pressure and diabetes — would mean starting off 2010 on the worst foot possible.
As Price puts it: "Athlete's foot is going to be the least of your problems if you develop heart disease."