Piers Morgan of America's Got Talent has become an unlikely inspiration for female impersonator Shi-Queeta-Lee.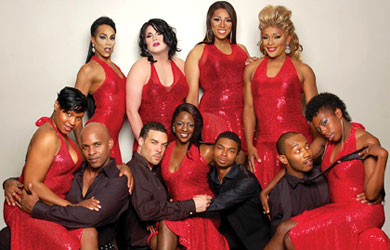 Diva League
(Photo by Robert Mercer)
"A bunch of lip-synching old drag queens who can't dance is not what America needs right now," judged Morgan, after Lee's group performed on the show last summer. "Not exactly Barack Obama is it?"
"I'm still trying to figure out what [Morgan's Obama reference] has got to do with us being drag queens and lip-synching," says Lee, who performs regularly at Town and Nellie's Sports Bar. But to close out what Logo has deemed Drag History Month, Lee is working to prove Morgan wrong.
This Saturday, Jan. 30, Lee will lead some 50 professional pump-wearers in a drag queen "flash mob" at the National Harbor, where, dressed in red, they'll perform a five-minute routine developed by Town's Derek Brown. They'll conclude by forming a ribbon signifying the ongoing fight against AIDS.
Lee says there won't be any individual performances or speeches. "We'll take pictures, do the flash mob and hit it," says the 45-year-old, who's also working to develop a local public-access talk show. Lee's goal is to get drag queens and the gay community to come together for unity's sake.
"Let's let the world and the community know that there is a place for drag queens."
The drag queen flash mob happens at noon, Saturday, Jan. 30, at the National Harbor Courtyard in Maryland. Visit nationalharbor.com.