"Sometimes I regret not having a wittier name," bemoans drag queen Sherry Vine. "Unless I tell you the story, [the name] doesn't really make any sense or anything. But it's too late now."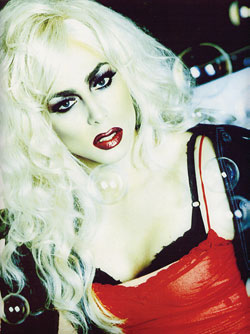 Sherry Vine
(Photo by Brad Oliphant)
Indeed, it's far too late: Sherry Vine has in fact made a big name for herself over the past decade as a singing drag queen in theaters and nightclubs around the world. Best known these days as a pop parodist, Vine spoofs everyone from Madonna ("4 Minutes To Make You Cum") to Destiny's Child ("What's Your Name") to Britney Spears ("Super-Sizer"). Courtesy of a plug from longtime friend blogger Perez Hilton, in the past month Vine has become a viral YouTube sensation for her spoof of Lady Gaga's "Bad Romance." Vine's version? "Shit My Pants."
"Everyone shits their pants at least once in their life," she says. "It has a universal theme."
Vine, whose real name is Keith Levy, grew up outside Baltimore and spent his college years going out in D.C., including frequent trips to JR.'s, one of two local spots where Vine performs on Friday, Jan. 22. He focused early on becoming a typical actor. He'd never done drag or even really sung publicly. He created Vine 18 years ago while working on a master's thesis in acting at UCLA. Essentially, it was all a gimmick.
"It's bizarre because it was so not what I had in mind," Vine says. But it took off, with even his parents becoming fans. "My dad will send me e-mails, 'Hey, I thought of an idea for Sherry Vine."' Vine has mostly kept them away from the bawdiest shows and videos. "They're very supportive, but I just don't think they need to hear me singing about sucking cock. Or worse.
"If you just closed your eyes and listened to me sing a song, you'd probably be like, 'Ew, I can think of someone who could sing it better,"' Vine continues. "But I know how to sell a song, so it's about the acting behind it. [And with parodies], people aren't listening to whether I sound pretty or not, it's about whether I'm funny or not."
Funny Vine is. Even if the name has to be explained. It stems from a former whorehouse on Vine Street in the Hollywood Hills called The Sherry. The whorehouse may be down and out now, but its namesake is still up-and-coming.
Sherry Vine performs Friday, Jan. 22, at 10:30 p.m. at JR.'s, 1519 17th St. NW, and then again at midnight at Cobalt, 1639 R St. NW, for the monthly Pandemonium Party, where cover is $7. For more info, call 202-328-0090 or 202-462-6569.