Noi Chudnoff was the heart of the Go Mama Go! gift shop, and a seemingly inexhaustible ally of the LGBT community.
After her death in 2007 from head injuries suffered during a fall while hospitalized following surgery, her husband, Jonathan Chudnoff, vowed to keep the store open. That was good news to the LGBT community, as Noi Chudnoff, 59 when she died, proudly used her store as a vehicle for providing support, from sidewalk bake sales to donations for various community causes.
And Jonathan Chudnoff has managed to keep the doors open for more than two years, while keeping his full-time job as a contractor for a company building cell-phone antenna sites.
With the turn of the new year, however, Chudnoff has announced that he can no longer keep the store afloat. He's hoping to close Go Mama Go! in the next few months, he says, due to financial strains and his wife's absence.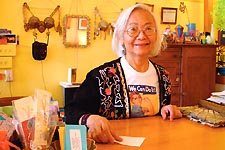 Go Mama Go's Noi Chudnoff in 2005
"I'm not Noi," he says. "And no one else will be Noi. The store has always had a very unusual combination of products and artwork and Noi could always make it work, because to her all of this stuff made sense to be under the same roof. That's where somebody else, and specifically myself, just can't quite pull it off."
Chudnoff says he's hoping to close the gift shop – its inventory ranges from kitchenware to purses to artwork — by March 31, one year before the store's lease is set to expire.
"The decision was made in early September," he says. "The landlord did retain a broker, and he ended up marketing the space since October."
While Chudnoff would not disclose financial details, he says that in 2009 Go Mama Go! generated only half of what it made in 2007.
He adds that people have been generally supportive of his decision.
"People are sad that it's coming to an end. But at the same time, they just understand that after a while things get to be too much."
That includes Greg Link, founder and co-owner of Home Rule, a neighbor of Go Mama Go!, at 1807 14th St. NW.
"It's just sad," he says, reflecting on the store's history. "Go Mama Go! opened two years after we did, and when we first got here, 11 years ago, it was sort of a one- man show. Most of the storefronts were boarded up. People just didn't come to 14th Street. And then when Noi took the risk and opened up next to us, it just kind of started the feeling that maybe there was going to be a retail scene."
Go Mama Go! is located at 1809 14th St. NW. For more information, call 202-299-0850 or visit gomamago.com.