Advocating for equal rights can be a part of your everyday routine with the help of items sold at the Human Rights Campaign's Action Center & Store. In the D.C. shop (one of three in the country), you will find ways in which you can get involved with equal-rights advocacy, as well as items to buy: clothing dubbed "Equality Wear," bags, accessories, flags, jewelry and office supplies. Almost everything is decorated with HRC's signature equal-sign logo. But HRC's Action Center & Store also sells items from different vendors, including American Apparel. The store is located at 1633 Connecticut Ave. NW. Hours are Monday through Thursday between 10 a.m. and 9 p.m.; 10 a.m. to 10 p.m. on Fridays and Saturdays; or 10 a.m. to 8 p.m. on Sundays. Call 202-232-8621 or visit shop.hrc.org.
Equality Ensemble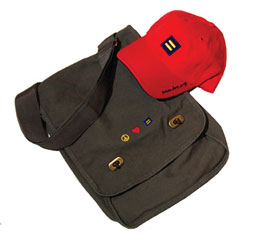 (Photo by Todd Franson)
With D.C.'s new 5-cent bag tax, the time has never been more fitting to purchase the Peace, Love, Equality bag, which costs $21. "It's durable," says Jason Boone, the store's assistant manager. To top it off, the HRC logo cap is the perfect companion at $19.
Shirts Fight Hurts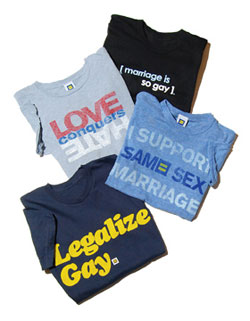 (Photo by Todd Franson)
T-shirts at the HRC store range in price from $25 to $35. The store sells HRC-branded expressions on several of its shirts, such as "Love Conquers Hate," inspired by Judy Shepard's advocacy to enhance hate-crime legislation. And while you can get the "Legalize Gay" American Apparel shirt, HRC sells a less Cali-centric version, swapping the subhead slogan "Repeal Prop 8," with an HRC logo.
Your Pretty Mug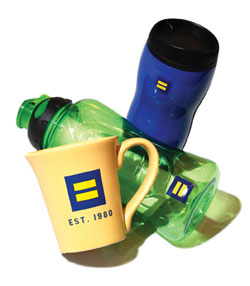 (Photo by Todd Franson)
HRC's line of ceramic mugs ($14), travel mugs ($14) and water bottles ($12) provides yet another opportunity to "show your support for equality," Boone says. "Whether you're in class, or at work in your office, or just walking around town with your cofee mug or water bottle at the gym."
Animal Advocates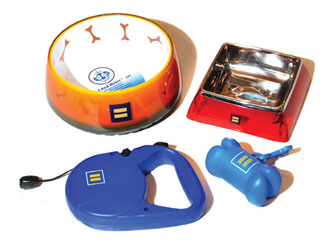 (Photo by Todd Franson)
Don't leave out your pets when shopping at the HRC store. Items currently available for your furry friends include a retractable dog leash ($12), a dog bowl ($28), and a plastic-bag carrier including 20 bags($8), all bearing the HRC logo. For kitties, HRC sells a cat bowl for $24.
Time is Now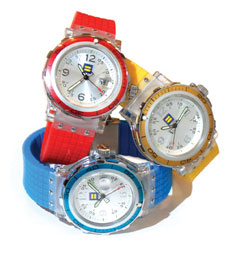 (Photo by Todd Franson)
"Not only is it a professional watch, but it's a sturdy watch that you can use while working out," Boone says of the store's "Ultimate Watch." Available in red, blue, yellow or black, the watch costs $99. It's waterproof (up to 30 meters), operates on a replaceable battery, and is a constant reminder that the time for equality is now.