Is there a doctor in the house? On Sunday at the 9:30 Club, there will be. An animal doctor, to be exact.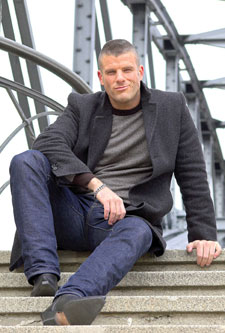 Myke Lowe
(Photo by Bridge)
"I'm not practicing anymore, because you cannot do everything, but that's my original profession," says Myke Lowe. Based in Berlin, Lowe gave up his career as a veterinarian a few years ago to focus on one as a recording artist.
His debut album, First, was just released. And last summer the 36-year-old performed at Berlin Pride, among other events around Europe, including those in Austria as well as his home country of Slovenia. Now, he's ready for the world.
"[MAL Weekend] will be my…American debut," Lowe says. He'll perform on Sunday, Jan. 17, twice at the 9:30 Club: in the afternoon at the Mr. MAL Contest and in the evening at the closing Reaction Dance.
Lowe will perform a number of his disco-pop songs, including "Together Forever," a Euro-pop anthem. "It's a positive song that talks about how it's great to be together, and that it doesn't matter what religion you are or what color, or if you're gay or straight."
Also at Reaction Dance is Provincetown's leading DJ, David LaSalle, who spun at last year's event. "I was honored that they asked me back," says the 54-year-old Massachusetts native.
This summer, LaSalle celebrates 30 years as the resident DJ and entertainment director at Provincetown's Atlantic House, better known as the A-House. LaSalle doesn't travel that much as a DJ – but of course he doesn't have to. As a longtime resident of arguably gaydom's most popular and charming resort, the world comes to him.
He generally plays the kind of music one would expect from a resort-based DJ — happy, escapist club music. "I would say it's a little bit more upbeat" than your average circuit DJ, he concedes, adding, "this year I'm going to make it a little bit darker for the people that like it darker." He plans on playing "a wide diversity of music" at Reaction, from house to progressive to underground to tribal.
"I really enjoyed myself last year," says LaSalle, who was impressed by the full weekend of events and the seriousness with which organizers handled everything. "It really blew me away. I have great respect for these guys."
MAL's Reaction Dance is Sunday, Jan. 17, from 10 p.m. to 5 a.m. Nightclub 9:30, 815 V St. NW. Tickets are $35 in advance, or $45 at the door. Call 202-265-0930 or visit leatherweekend.com.