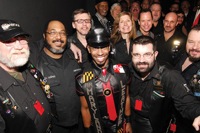 Hello? Hello? Anybody out there? Not even a maid?
Finally!!! Hearsay thought it would never get out of that sling!
There Hearsay was, holed up in yet another sling at the tail end of last weekend. You know, Mid-Atlantic Leather Weekend. It was the final year the Washington Plaza Hotel was to serve as MAL's host hotel — next year, flirty festivities happen at the much-larger Hyatt Regency Capitol Hill. And Hearsay was determined to take in every last inch of it. Some poor, unsuspecting family checking in for the week would have been in for quite a shock — it wouldn't be the first time — if Robert "Wonder Woman's Wonderbra" York hadn't been an angel and rescued Hearsay from the sling. (He was here, there and everywhere all weekend, but why there, then? Don't ask, don't tell!)
This year's event was more low-key than last year's, when leather lads and ladies butted up against Obama Inauguration revelers, and space and time were at a premium. But still, there's never anything low-key about Leather Weekend. Hearsay made its first of many weekend short stomps from the hotel to the Green Lantern on Thursday for SMDF. What's that? Sling Masters of Dallas-Fort Worth? S&M Disco Floggers? Sucking Men Disease Free? Sure, but officially, it's Shirtless Men Drink Free. It was so hot and packed upstairs, Hearsay wanted to take off more than just its shirt. Jayson "Let's See 'Em" Watson, naturally, got several men to do just that, with his weekly best-of contest. But there was more to come at the DC Eagle that night, when a huddle of hotties, including Damieon Pit and Frank "Chicago's Finest" Guerrero, paraded around in nothing but a jockstrap. Nice to see ya!
As the weekend wore on, Hearsay saw lots more men in jockstraps and less — and what a sight to see! There was much man meat — and all kinds of play — on display at the special MAL edition of EFN's monthly CODE party Saturday night. But except for every few minutes or so, when a security staffer walked through with a flashlight, it was hard to see upstairs in the party's "dark room." Did they forget to pay the light bill? Is that you again, Mr. York? Is there someone else with you? Well, Hearsay must say, even in darkness and fog, Jacob Nathaniel "Submission Wrestling" Pring and David "Leather Dominator" Merrill sure proved they got the goods to throw a wonderful, wild party. (And the party is going national, with Code at Large throwing parties in Philadelphia and New York in the coming months.) From flogging demonstrations — no surprise, Nicholas "Pup You Up" Baatz whipped the loudest — to bondage play to Jake the Barber giving buzzes to fit fellas looking especially tackle-worthy wearing nothing but singlets, they definitely kicked the weekend into high gear!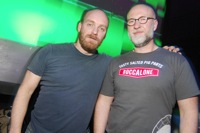 Hearsay also stopped by Blowoff Saturday night at the 9:30 Club, where a less wild but no less wonderful and certainly more woofy crowd got its groove on. Now residing in San Francisco, Bob "District Line" Mould came back to town to spin with Rich "I Love The Way That You're Breaking My Heart" Morel. Hearsay enjoyed seeing Keith "I Can't Believe It's Not Daddy" Iams, John "Twist and Shout" Thurman and Ron "Sure Looks Good To Me" Brown. And then there was Mr. Hoist Leather Steven "London Daddy" Dwyer, in town to serve as a judge for Mr. MAL. Try as Hearsay might — as much as Hearsay begged — the dreamy Dwyer never would hoist it. Come on, mister! It says so right there in your title!
The next night Hearsay would return to the 9:30 Club for the MAL Reaction Dance, the closing party of the weekend. The crowd was as hot and frisky as ever, with seemingly everyone fully harnessing the weekend's last official gasp. Paul "Young At Heart" Dreps was there celebrating his birthday weekend alongside his man Shane "My Life Would Suck Without You" Maye. Lots of other nasty pigs were in attendance, including the head Nasty Pig himself, David "Chain Gang" Lauterstein. DJ David "One Love" LaSalle turned out as fantastic of a set as Hearsay can remember at Reaction, especially as the night wore on. LaSalle played one song or remix after another that Hearsay had never heard out at a club, from R.E.M.'s "Losing My Religion" to Susan Boyle's "Wild Horses — yes, really! And former Tracks and Nation lighting guru John "Turn The Lights Off" Niederhauser reminded Hearsay of how much he's missed around these parts. When he's on lighting patrol, pay attention. He be-dazzles the hell out of the place.
But that's all just the tip of the iceberg — or the crotch of the chap, as it were — of Hearsay's weekend, which also included the requisite stops at Saturday night's "high leather" Leather Cocktails party — previewing next year's space at the Hyatt — and Sunday's Mr. MAL Contest, again at the 9:30 Club. And then there were hours of trying on stuff at the Washington Plaza's leather market — "How does this cock ring work?" "Does this rim chair make my ass look fat?" — and still more hours milling about the hotel's lobby all weekend long. But that's enough to give you a taste. Some things are better left unsaid and unseen….