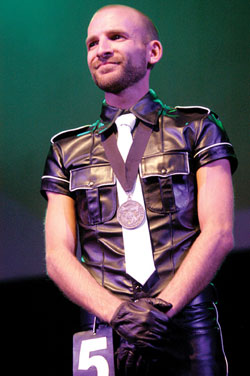 Matt Bamford
(Photo by Ward Morrison)
Already building his reputation as the community-conscientious Mr. Capital Pride Leather 2009, Matt Bamford now has a new title: Mr. Mid-Atlantic Leather 2010. He was the judges' pick — as well as the clear crowd favorite — among six contestants vying to represent the nation's second largest leather event, organized by the Centaur Motorcycle. The contest was held Sunday, Jan. 17, at the 9:30 Club.
"I love that I'm so little," Bamford joked as countless men and a few women lifted the slight-framed leatherman off his feet with congratulatory hugs. "Bam Bam," as he's known in the community, may be relatively small, but he clearly has a big heart and a winning personality.
"Honestly, I had no idea. I didn't expect it all," he said shortly after the win. "Not with this amazing group" of contestants.
David Dean and Jeff Jarnigan were selected as the first and second runners-up, respectively. Also competing were Alan Peoples, James Botelho and John Truzz.
The 26-year-old Bamford, who's been part of the leather community for just two years, plans to continue the work of his predecessor, 33-year-old Kip Hollar, in unifying the leather community's older and younger generations.