"I love choreography," says The Washington Ballet's Jared Nelson, adding with a laugh, "When I can't kick my legs up anymore, I hope to do a lot more [of it]."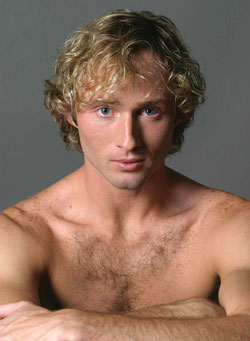 Jared Nelson
(Photo by Steve Vaccariello)
No worries for now. The 31-year-old guesses he's got about another decade of kicking up his legs as a professional dancer. But he dips his toeshoes into choreography every now and then, as with a new collaboration between The Washington Ballet and The In Series. The two have joined to create WAM!, a musical focused on Wolfgang Amadeus Mozart.
"We're kind of going through the life of Mozart, from the time he was a child to adulthood, trying to tell his story with humor and dance along with his music," says Nelson, who worked with Washington Ballet's Septime Weber and David Palmer on the choreography. Eleven of the troupe's studio company of young, "pre-professional" dancers perform, as six In Series vocalists sing many of Mozart's most beloved compositions and tell stories based on his letters.
"We're doing a lot of opera, a little bit of chamber music and quite a bit of piano solos," says the In Series's Carla Hübner, who selected the music and directed the singers. Hübner says the production is intended to make the music of the 18th century German composer, one of music's greatest geniuses, "less forbidding and remote."
Says Hübner: "There's a sense that this music belongs to all of us."
An accomplished classical pianist, Hübner was set to be the accompanist for this production until she broke her left arm in November. She doesn't yet have full flexibility, so will "only play about 5 percent of it," principally one short piano solo and then a piano duet with Carlos César Rodriguez, an expert on Mozart's music.
"He's the best in the business," says Hübner. "It must have been written up there that it would happen this way."
WAM! runs Jan. 23 and 30 at 8 p.m. and Jan. 24 and 31 at 3 p.m. A champagne reception celebrating Mozart's birthday follows the Jan. 30 show. At the Atlas Performing Arts Center's Lang Theater, 1333 H St. NE. Tickets are $38; $25 additional for the birthday bash. Call 202-399-7993 or visit InSeries.org.