Rubber. Love glove. Sheath. Condom. Whatever you call it, the reliable prophylactic is arguably the simplest tool in the human-sexuality toolbox. For hundreds of years, clever craftspeople have been finding ways to cover the penis as a method of birth control and protection from sexually transmitted diseases (STDs).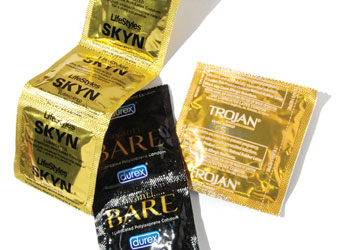 And the innovation shows no signs of slowing.
Among the latest offerings are the Durex "Bare" condom and the Lifestyles "Skyn" condom. Both are made from the latest material to be drafted to the cause: polyisoprene. The apparent advantage of this material is that polyisoprene is the pure polymer that gives the more complex latex its strength and elasticity, but leaving less likelihood of any allergic reaction, as sometimes happens with latex. Durex and Lifestyles also promote the material as remarkably thin and therefore allowing for greater sensitivity.
Additionally, Trojan Brand Condoms are touting the company's relatively new addition to its condom stable: "Ecstasy." This latex condom has a unique design, making it snugger at the base and quite roomy at the business end. Trojan calls it "super comfort shape."
Daren Phillips, a Dupont denizen who runs the fitness company Body Recondition, says it's not bad at all: "It's by far the best one. I would use the Trojan one again."
To get a feel for these new kids on the block, Metro Weekly recruited Phillips and two others to test these three condoms with their respective partners. Joining Phillips was Matt Bamford, aka Mr. Capital Pride Leather 2009, and spokesperson for DC TOOLK!T, a safer-sex program from The Center, the area's LGBT community center. The third tester was José Ramirez, a youth HIV/AIDS-prevention educator with La Clinica del Pueblo.
All three have the same general feeling about condoms. As Phillips puts it, "If there was a world where you didn't have to use them, it would be awesome. It just isn't that way. Do I like them? No."
Shopping around, however, Phillips has come to prefer one condom in particular, Trojan's "Magnum." And while he found the Ecstasy a pleasant change of pace, he was less than thrilled with the Durex Bare.
"It's probably my least favorite of anything I've ever tried," says this dedicated Trojan man. Similarly, the Lifestyles polyisoprene contender, Skyn, also left him wanting. "It didn't seem as thick [as the Bare], but I didn't like it. It didn't feel as much like plastic, but it didn't feel right either."
Bamford is also a dedicated Trojan user, though he shoots for variety, often purchasing Trojan's "Pleasure Pack," which includes four different types of condoms. But of these three newbies, he got the biggest bang out of the Skyn condom.
"It didn't feel like I was wearing a condom," he says of Lifestyles' Skyn. "It felt like barebacking."
And though Bamford was impressed with what Lifestyles does with polyisoprene, he wasn't as thrilled with Durex's Bare, saying if felt flimsy, which preoccupied him with the notion that it could break. Though Durex is the "world's No. 1 condom brand" and tests its condoms thoroughly – as do Trojan and Lifestyles – it's important that a user feel comfortable and confident with the condoms he chooses. Accordingly, Bamford says that while the Skyn was his favorite of the three sampled condoms, he guesses he'll stick with Trojan. As a member of the leather community, he offered an apt simile saying that Trojan's are like the leather in which he's so comfortable, while the two polyisoprene condoms are like neoprene – similar, but not as familiar.
Ramirez, meanwhile, did not care at all for the Ecstasy, even though he considers Trojan his regular brand.
"If I bottom, I like Trojan Magnums because they stay on and they feel good. It doesn't crunch up. I enjoy female condoms as well, and you can put them in hours before you use them. When I top, I like really thin condoms. The more you feel like you're having raw sex, the better."
And the Ecstasy?
"I ended up getting a rash around the ribbed area," he reports. "I had to take it off. I didn't like how it felt."
Ramirez was also somewhat fond of the Bare condom that was so out of favor with Phillips and Bamford. He particularly liked the Bare after he cut it in half and used it as a barrier for analingus, aka rimming, saying it offered a pleasant texture. His clear favorite, however, was the Skyn.
In a word, what he preferred about the Skyn was "everything."
"I just liked it. It's thin in a good way, and really strong. And there's no bad smell. I didn't have to lube it up that much."
While the opinions of the three testers show no clear winner, they do illustrate the variations in condoms and the differences in tastes, as well as how important it can be to find a condom that suits. Obviously, one size does not fit all.
"You should shop around," says Bamford, adding that for the first few years he was sexually active, he had no idea that any condom could allow him a reasonable amount of pleasure. "You don't have to use one brand. It's also about the acts you want to engage in. Am I able to come inside the condom while I'm inside of you? Do you enjoy the sensation of wearing a ribbed condom? … Find a condom that gives you the sensation and still protects you."
For more information about DC TOOLK!T, including an instructional video on the proper way to use a condom, visit dctoolkit.org. For information about La Clinica del Pueblo, call 202-462-4788 or visit lcdp.org.