Shea van Horn is giving it to us raw.
"Basically what we're trying to recreate is the dance scene in [the 1980 film] Cruising," says van Horn, referring to Green Lantern's RAW, the monthly party he throws with Karl Jones and Bil Todd. "It's a little sleazier, a little more overtly sexual.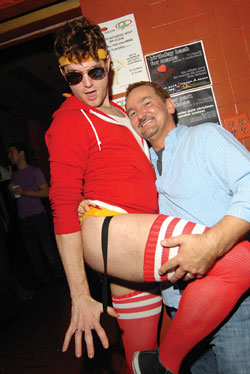 Raw at Green Lantern
(Photo by Ward Morrison )
"We're fully aware of the fact that [the name] also has connotations of having unprotected sex," he continues, "and we're certainly not encouraging that," noting that condoms are plentiful at the party. And, of course, no sex is actually allowed on the premise.
"We're not trying to encourage any illegal behaviors, or any irresponsible behaviors," says van Horn. "But we definitely want to stack the deck in the direction of things being dirty. [It's] a more id-driven party, [with] a more erotic energy."
RAW has a sleazy late-'70s/early-'80s aesthetic, complete with "naughty" pictures posted on the walls, jock-strapped go-go dancers and edgy performers. The promoters also encouraging patrons to dress the part, be it leather or fetish or "glam" or "retro-gay."
But it's not just a stand-and-cruise party — the key focus is on music and dancing. While Green Lantern is not thought of as a dance club, shaking your groove thing to RAW's carefully cultivated disco beats, both old and "nu," is de rigeur. Just don't expect the Bee-Gees – or Lady Gaga or Britney Spears. "The sound is really meant to be darker and edgier, more obscure," explains van Horn.
"There's a real tongue-in-cheek quality to all of this," he says. "We're not trying to be real hardcore. There are other parties that achieve a more hardcore, or authentic leather, feel."
After heading down the alley to get to the Green Lantern and then entering through the party's side entrance, you head upstairs to a fog-filled, strobe-lit space.
"We turn off as many lights as we can," says van Horn, leaving just enough "to make it interesting."
RAW happens the first Friday of every month, including next Friday, Feb. 5, from 10 p.m. to 3 a.m., at the Green Lantern, 1335 Green Court NW. Cover is $3 after 11 p.m. Visit greenlanterndc.com or rawdc.com.